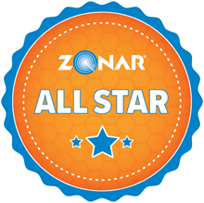 Zonar All Star Award Program
Do you have what it takes to be a Zonar All Star?
The deadline to enter is August 15 2020, 5:00 p.m. PT
What are the Zonar All Star Awards?
The Zonar All Star Awards is our way of recognizing organizations that use Zonar solutions to enhance their fleet's safety, efficiency, compliance and other fleet operations initiatives.
Who can participate?
Any Zonar customer or partner.
How do I submit my nomination?
Visit our Zonar All Star Awards page, and complete the short set of questions describing your Zonar projects. The more return on investment you showcase, the better your chances of winning.
Is there a fee?
No, there is no fee to nominate your organization for the Zonar All Star Awards.
What is the deadline to submit?
To qualify, you must submit your nomination by 5:00 p.m. PT on August 15, 2020.
When are winners notified?
Early July
Who is judging?
A panel of Zonar employees and industry experts, including:
Cristina Commendatore, executive editor at Fleet Owner
Susan Beardslee, lead analyst at ABI Research
Ryan Gray, editor and chief of School Transportation News
What do award winners receive?
Winners will be ranked by Gold, Silver and Bronze.
All winners receive:
A Zonar All Star Awards trophy
Inclusion in a Zonar press release recognizing your achievement
Mindshare of leading journalists and analysts (judges) in your industry
Inclusion in a case study highlighting your Zonar project (with your permission and collaboration)
Silver and Gold winners will receive:
Gold winners will also be invited to be flown and hosted at an upcoming Zonar User Group Meeting.
This all-expense paid trip includes:
Airfare
Lodging
Dinner with Zonar leadership
An invitation to participate on a panel with other Gold winners
If I am a Gold winner, will I be required to attend the Zonar User Group Meeting?
No, but we encourage you to join us. The Zonar User Group Meeting is an opportunity to meet with your peers and be recognized for your achievements.
Who do I contact if I have more questions?
Reach out to our Public Relations Lead, Ben Hohmann