Smart Fleet Management Solutions for All Markets
Have questions about fleet tracking software or services that fit your needs? Sign up for a live technology demo and quickly get answers from a Zonar specialist.
Here's what you gain with Zonar:
Enhanced Safety
Increased Uptime
Improved Compliance
Decreased Fuel Cost
Patented Technology
24/7/365 U.S.-Based Support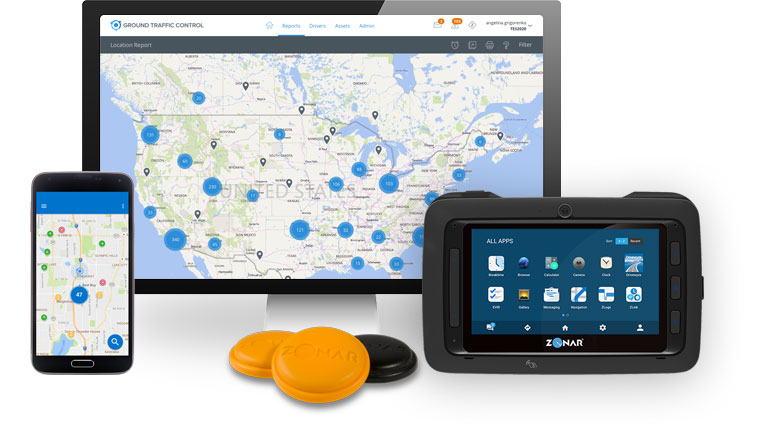 Edison Award for Innovation

Connected World Magazine's M2M Award for Innovation

Frost and Sullivan's North American Telematics Product Innovation of the Year
Contact Us
Fill out the form below and one of our specialists will contact you and take you through the main features.
Driving Technology. Fueling Efficiency. Empowering People.

Founded in 2001, Zonar had one simple idea: That electronically verified inspections could revolutionize the way pre- and post-trip inspections are conducted. By doing so, we could increase safety for everyone on the road and minimize the risk of on-the-road breakdowns.

Since its inception, Zonar has grown in size and scope to become a leading provider of complete technology solutions for smart fleet management. We've achieved that status by consistently innovating on technology that helps our customers and partners operate more efficiently across industries and verticals.
Now Over 450,000 Zonar Installations and Counting
Zonar is an FMCSA Self-Certified Solution
With the combination of Zonar's V3™ telematics hardware units and mounted and detachable Zonar Connect™ tablet, Zonar's ELD meets title 49 CFR 395 Electronic Logging Devices and Hours of Service Supporting Documents. When ready, moving from an Automatic On Board Recording Device (AOBRD) to an Electronic Logging Device (ELD) is a simple over the air update, without additional hassle or cost. What's more, Zonar's solution also provides a superior user experience for both drivers and back office personnel.
We can help with the transition
Zonar has dedicated experts with decades of experience in trucking compliance who are available for compliance consulting. Our customer care team boasts a 99 percent annual retention rate and is staffed by employees 24/7/365. With more than 450,000 units installed in North America, we assist customers daily with transition, implementation and training strategies for moving from paper logs to electronic devices.
A complete solution provider
Managing drivers and fleets stretches beyond just a compliant Hours of Service/ELD product. Zonar offers a full suite of technology solutions that help companies enhance the safety of their operations, increase the uptime of trucks, decrease fuel costs, and improve the accuracy of reporting and logging. In order to see a greater return on investment, it's wise for companies to look beyond simply meeting ELD requirements when selecting their provider.
Your trusted partner
We've proven we're a trusted provider with our decades of innovation—more than 100 patents registered; customer retention rate—more than 99% of our customers continue to do business with us; and the way we support our products after the sale—30 percent of the company is devoted to after-sale support. With the ELD mandate, there will be newer, smaller companies trying to squeeze into the fleet management technology space, but most will not have the infrastructure or resources to support its products like Zonar. Let us help you with your compliance needs.