Pupil Transportation
Smart Fleet Management Solutions
Increase passenger safety

•

Reduce paper forms

•

Ensure compliance

•

Improve fleet uptime
We are your K-12 school bus GPS tracking experts
With more than 15 years of experience and 170,000 school buses tracked, we understand the logistical challenge of transporting your students. We also understand the communication, cost, and compliance challenges you face every day. Zonar ensures your success with school bus tracking products designed to keep your kids safe and your fleet on track, backed by a trained customer support staff ready to answer your questions 24/7/365.

45% Idling Reduction
Douglas County School District reduced idle time through a Zonar-based driver incentive program.

50% Speed Reduction
Columbus City School District reduced speeding incidents, creating a safer fleet for students and drivers.

Pupil Industry Brochure
Transporting students safely is a top priority for your school bus fleet. Zonar's expansive set of solutions helps school bus fleet managers increase safety and security.
Increase safety and security
When an emergency occurs, district staff needs information fast. Zonar provides real-time school bus fleet tracking for instant reports on the location of each bus and the students onboard. Security and safety are further improved with alerts when buses aren't operated safely or when they need maintenance.
Save fuel and reduce costs
Zonar enables you to chart calculable improvements, showing where you increased efficiency and reduced costs. Dispatch and administration can review data through real-time reports and dashboards, or receive a text or email notification if drivers are idling, speeding, or in the wrong place, so dangerous and wasteful behavior are stopped immediately.
Affordable bundles
Bus fleet tracking is rapidly becoming essential, and our low monthly rates and no up-front investment package bundles make it more accessible than ever. Schools save money with verified electronic inspections, automated Medicaid reporting, and parent-facing applications that reduce calls to schools — all with partnering with a quality expert that has earned a 99% customer-retention rate.
Zonar's solutions are innovative and cost-saving

White Paper
Greater Security Threats Demand Greater School Bus Security
Download the white paper and learn how today's technology can help keep students safe on the school bus.

Adams 12 Five Star School District
Zonar helped overhaul school bus operations and student experience.

Freeport School District
Freeport School District double the return on technology investment in Medicaid reimbursements alone.
From our Customers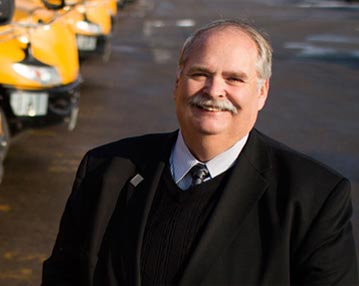 "Zonar allows us to monitor and comply with regulations that state that our buses cannot idle at any location for more than 5 minutes. Zonar not only allows us to comply but allows us to be more environmentally responsible and keep our own costs down… simply put there isn't another offering out there as robust as Zonar. "
Steve Simmons, Columbus City Schools