Keep your fleet moving, from one client to the next.
Leased and rented fleet vehicles spend most of their life away from home. Keep a remote, watchful eye on depreciation, usage and top-line health. Track vehicle location online to ensure recovery when the agreement ends. Track, monitor and keep each one in peak operating condition, wherever it's deployed, and for however long. And partner with a proven smart fleet management provider who puts the visibility you need at your fingertips.

Maximize long-term value with real-time insights.

Protect leased inventory from breakdowns & loss.

Maintain vehicle health & reliability for clients.

Deliver higher levels of uptime & performance.
More fleet visibility, more uptime, more safety and driver tools
More fleet visibility, uptime, safety and driver tools that deliver higher ROI every mile of the way. Take two minutes to learn how Zonar smart fleet management solutions help every member of your operation—behind the desk and behind the wheel—to get the job done more efficiently and effectively.
Bring visibility into focus, even in the field.
Whether short-term rental or long-term lease, your fleet spends most of its time in the field, where your insight into vehicle condition and health is limited. Monitor your fleet vehicle data, anytime, anywhere with Zonar Remote Monitoring Service™.
Discreetly track and monitor your fleet vehicles online to keep tabs on their health, status and location.
See current odometer readings, and schedule automated mileage reports for depreciation planning across the leased fleet.
View each vehicle's diagnostics and health status to help maintain performance and uptime.
Track unplanned or unauthorized movement, and pinpoint vehicle location for faster recovery.
Download the Remote Monitoring Service cutsheet
Download the ZTrak® cutsheet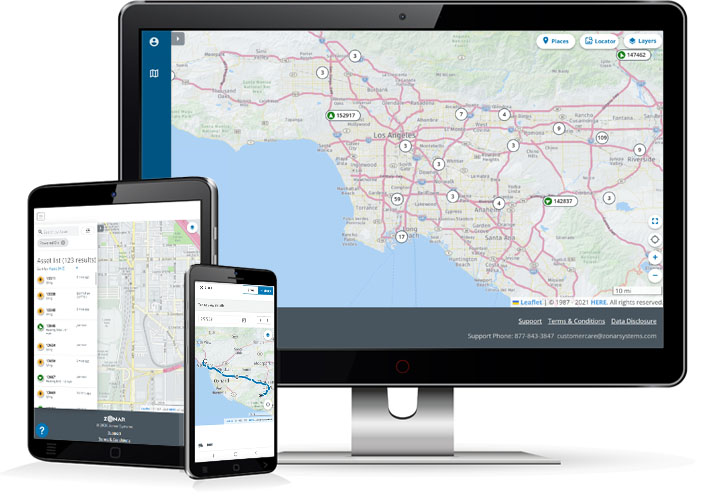 Maintain and protect your financial assets.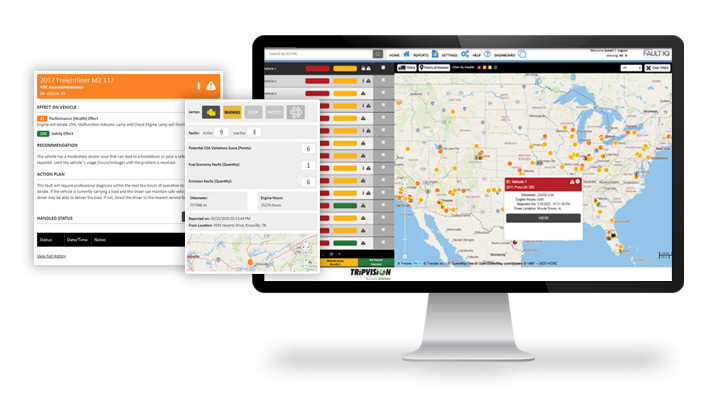 Maintain and protect your financial assets.
Manage maintenance for your leased vehicles? We got you. Use Zonar FaultIQ®, powered by Noregon, to keep vehicles at peak performance for customers' uptime—and in tip-top shape for higher resale value at lease end.
View one asset, one customer or all leased vehicles, and their health and safety status, in one view.
Schedule and track interval-based preventative maintenance.
Catch and fix critical issues early to protect uptime and maintain operating condition.
Address predicted progressive failures while vehicles are already in the shop.
Download the FaultIQ cutsheet
Protect tires with 24/7 remote monitoring.
Prevent tire failures, prevent their associated costs. Make sure each tire is properly inflated before it leaves with the customer. And keep an anytime eye on it while it's in the field with the Zonar and ContiConnect Live integrated solution.
Share tire pressure data with your customer—and the driver—with a bird's-eye view of each tire and its real-time status.
Prioritize service and avoid tire failures with real-time alerts for multiple levels of low pressure.
Use tire data to investigate possible causes of tire issues, breakdowns and failures.
Keep each tire properly inflated to help customers save on fuel and replacement costs.
Download the ContiConnect cutsheet