Transit Industries
Smart Fleet Management Solutions
Increase passenger safety

•

Reduce paper forms

•

Ensure compliance

•

Improve fleet uptime
Technology that makes a difference
Transit vehicles operate tirelessly throughout the day—serving passengers on evenings, weekends, holidays and in all weather conditions. Zonar helps fleet managers improve operational efficiency to allow more focus to be spent on ensuring on-time arrivals and creating a safe, enjoyable experience for passengers.
Comply with PTASP requirements
Effective July 19, 2019, the Public Transportation Agency Safety Plan (PTASP) final rule requires certain public transit agencies to develop safety plans. Already, agencies have begun implementing our patented electronic verified inspecting reporting solution to satisfy the vehicle inspection portion of the rule. Learn more about the PTASP rule and how we can help ensure your agency complies by the July 20, 2020, deadline.
Check the box for safety and security
The value of pre- and post-trip inspections goes beyond avoiding maintenance violations and maintaining DOT, OSHA and MSHA regulations. Our solutions can be custom-configured to verify that slip-seat inspections are being completed and ensure security inspections follow the Transportation Security Administration's (TSA) counter-terrorism guidelines for https://www.tsa.gov/for-industry/surface-transportation.
Shift to a proactive maintenance approach
Fleet managers and maintenance personnel can tap into the engine control unit of each vehicle to identify faults and schedule preventative maintenance before an operator ever sees a defect. A proactive approach drastically reduces the number of service calls. If an operator does log an issue during their inspection, that information is relayed electronically to the fleet manager and maintenance personnel. Improved visibility into data can help improve the uptime of buses on the road.

Transit Industry Brochure
The value of pre- and post-trip inspections goes beyond avoiding maintenance violations and maintaining federal regulations.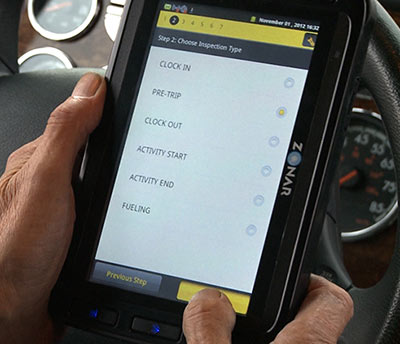 Stay compliant and "go green" – at the same time
Our tablet solutions feature the patented Electronic Verified Inspection Reporting (EVIR) system, the only one of its kind on the market today. A required physical check of each RFID tag—placed in pre-determined zones of the vehicle— promotes accountability and accuracy for inspections, while also putting an end to "pencil whipped" reporting and wasted paper. The Department of Transportation mandates that every carrier, operator and its representatives shall comply with pre- and post-trip inspections. Why not enlist Zonar's help to ensure you are 100 percent compliant?
Protect against audits
The inspection data captured by an operator can be transferred over the cloud to our powerful Ground Traffic Control™ web-based application. This gives fleet managers and maintenance personnel immediate insight into defects and the health of each vehicle. Everything you need to know (and more) is captured and stored electronically including important data used for audit reporting.
Customize and integrate
Because every business is different, we give you the option to customize your solution, something true of almost every Zonar product. Our tablets are purpose-built, which means they're built to last—different than some industry products meant to be thrown away or upgraded every couple of years. We also work closely with key third-party software companies to deliver a completely integrated solution for our customers.
Zonar's solutions are innovative and cost-saving

National Express Transit (NEXT)
With improved fleet monitoring, NEXT was able to identify issues earlier and take action more quickly.

Valley Metro
Valley Metro has automated its inspection process, ensuring compliance with DOT regulations.

Pacific Coachways
Since installation, the company has seen a reduction in idling times with the buses in the company's operation incidents.
From our Partner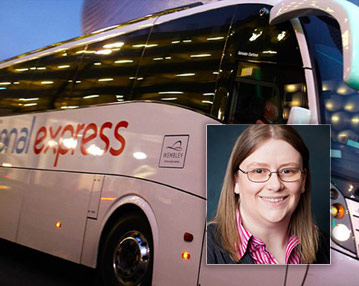 "Zonar has been a fantastic partner for us. They are absolutely willing to work to understand what our issues are and to provide us with tailored options; it wasn't like we were just buying off the shelf. People hear the name "Zonar" and they know who it is; Zonar has a great history in the industry."
Judith Crawford, CEO of National Express LLC