Zonar OTAir® Install Cummins Connected Software Updates using your mobile device.
Support
vehicle health and uptime
Save
money with fewer shop visits
Reduce
vehicle downtime by days
Simplify
engine updates for drivers
Turn downtime into drivetime.
Keeping your Cummins engines updated is now easier, faster and more cost effective.
On average, commercial vehicles travel more than 100,000 miles a year, and operate at all hours. They're not always in the yard when an update's available. Keeping their engines updated means coordinating expensive service appointments, and sending them to the shop so specialized technicians can perform the manufacturer-level updates. On top of those costs, vehicles in the shop are out of service for hours, maybe even days.
Now drivers and maintenance technicians can perform Cummins Connected Software Updates themselves, over the air, using the Zonar OTAir app on their smartphone.
See how much you can save with Zonar OTAir
Calculate how much you can save with Zonar's free Cummins program and Zonar OTAir.
z - OTAir ROI Calculator (solutions page)
Cummins Connected Diagnostics™ / Connected Advisor™


$72 / year

Zonar's free Cummins program can save up to:

$ per year
Engine Update


(Avg. cost $150 per vehicle)

Zonar OTAir can save you:

$ on updates to
3x Engine Updates per year


(Avg. cost $450 / year)

Zonar OTAir can save you:

$ on updates to per year
Savings with Zonar
$

per year
Update engines when it's convenient.
A trip to the shop for an engine update can take days. Using Zonar OTAir to perform Cummins engine updates take as little as five minutes. Anytime, anywhere. No tools or hardware. No appointment necessary.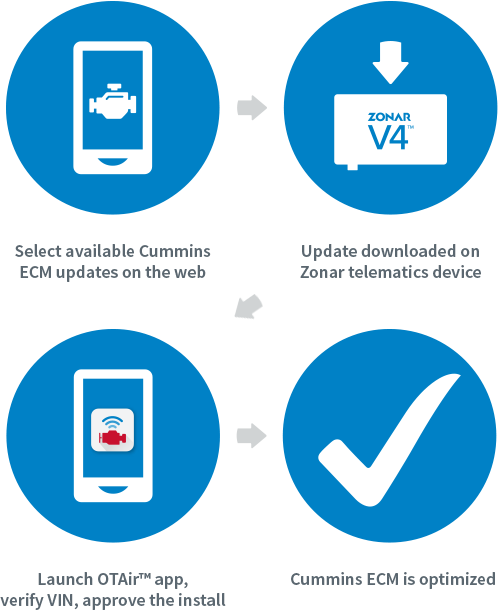 Maintenance personnel can update multiple vehicles at a time in the yard. Drivers can update their vehicle any time they're safely stopped, such as during rest breaks or pre-trip inspections.
Reduce expensive shop visits.
The cost for a typical shop visit for an engine calibration can start at more than $100. Factor in the resources needed to coordinate the visit and the vehicle's downtime, and the cost of an engine update climbs—quickly. Now eliminate the need for pricey shop visits—saving valuable time and money—by updating engines using Cummins Connected Software Updates through Zonar OTAir.
Keep Cummins engines at peak performance.
Over-the-air updates from Cummins Connected Software Updates help your engines stay healthy and performing at their best.
Vehicles running with the latest updates have an extra layer of protection while on the road.
VIN validation ensures that each vehicle receives the correct update.
If there's an issue, a soft¬ware rollback automatically restores the previous version.
Less downtime, more drivetime, lower costs. All by empowering drivers and other authorized personnel to download Cummins Connected Software Updates through their smartphone using Zonar OTAir.

Want to learn more?
Get the details and see some specifications. Download the Zonar OTAir cutsheet.

Zonar OTAir
Connected Over-the-Air Software Updates
Fill out the form below to request more information about Zonar OTAir.
Available in Google Play Store, Apple App Store and Microsoft Store
Engine update alerts
VIN validation with barcode scanner or manual entry
Software version rollback
24/7/365, U.S.-based technical support from Zonar Customer SuccessIntegrated with Zonar's Ground Traffic Control®
Download the cutsheet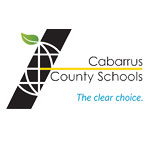 Cabarrus County Schools
Cabarrus County Schools reduces downtime and cut costs with a joint Zonar and Cummins solution.