Zonar and Daimler, two partners driven to deliver.
Hear what your Daimler vehicles are telling you.
The faster technology advances, the more OEMs need actionable insights that can only be gleaned from long-term access to detailed data. Early on, Daimler Trucks of North America wanted to see the how, why, when and what of everything that happens in each vehicle, so they can keep improving each vehicle's safety and level of quality. Daimler also knew its customers would benefit from having access to early vehicle data and the in-depth expert analysis if they experienced any issues.
That's why Daimler turned to Zonar in 2010 to help develop Detroit Connect® Virtual Technician®. All so fleets like yours can cut costs and improve safety for your Daimler vehicles using critical fuel and safety insights.
Prevent downtime, drive more uptime.
Save money by servicing vehicles only when needed.
Discover engine issues before they turn into costly downtime.
Trust swift analysis from experienced technicians for faster resolution.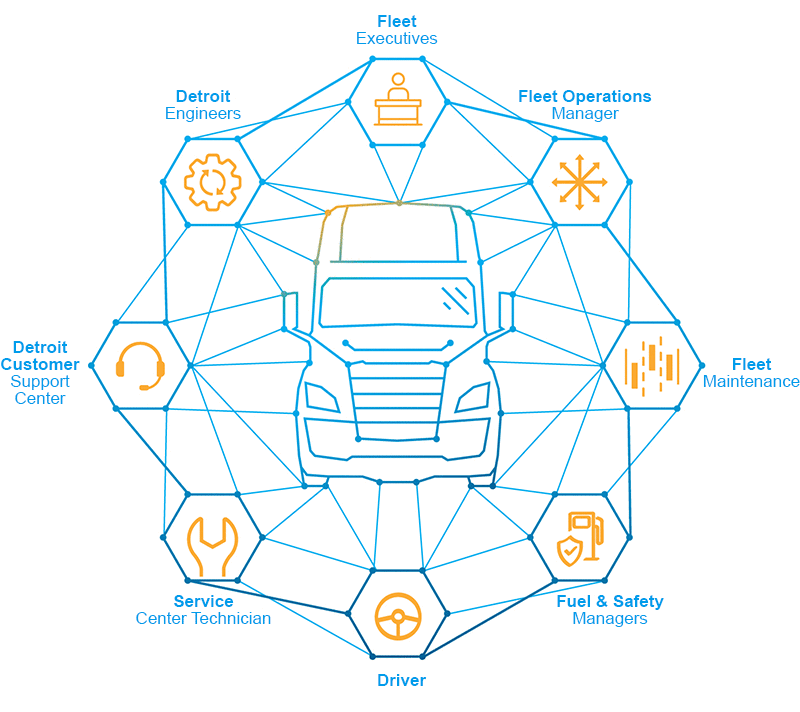 Renew or get assistance with Your Detroit Connect Virtual Technician or Ground Traffic Control account.
Maximize uptime with better data and support.
Detroit Connect Virtual Technician comes standard with select Freightliner and Western Star trucks, as well as Thomas Built Buses, powered by Detroit Diesel engines. Virtual Technician records before, during and after a fault occurs, giving Detroit engineers a 360-degree diagnostic view to interpret the event quickly and effectively.
Vehicle performance data is translated into real-time information, so you can maintain optimal vehicle health.
Make informed service decisions within minutes of a fault event.
Discover engine issues before they sideline the vehicle.
Turn to the experts in the Detroit Customer Support Center when you need assistance.
How Detroit Connect Virtual Technician works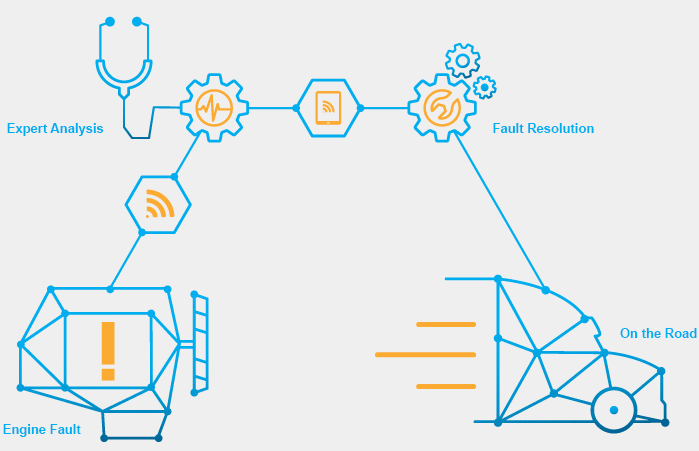 ●
Virtual Technician detects an engine fault code.
●
A report is automatically sent to Detroit Customer Support.
●
If the issue is severe, Detroit Customer Support engineers investigate and identify solutions.
●
You receive an email report, with diagnosis and recommended action plan.
If the fault code requires immediate attention, engineers direct you to the closest service outlet that already has the necessary parts on hand.
Analyze, optimize and improve performance.
Zonar is the exclusive Detroit Connect Analytics aftermarket provider. Working with our Daimler partners, our proven OEM telematics platform has been extended to enable the Detroit Connect platform with Detroit Connect Analytics. Deeper data, deeper analysis, more advanced diagnostics.
See more than a dozen factors that affect your fuel economy—per vehicle and across your fleet.
Identify which vehicles are in most need of improvement.
View comprehensive vehicle and driver safety data to determine areas for specific improvement.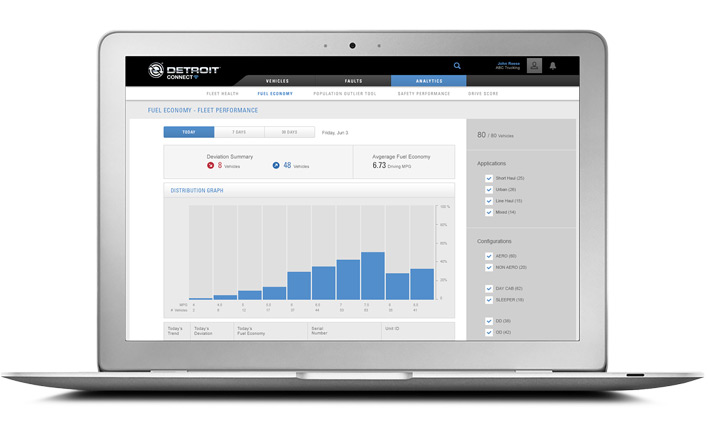 One of the most respected names in the industry, Freightliner builds its commitment to innovation and technology into every vehicle. Freightliner M2 and the M2 106, 108SD and 114SD vehicles come line-fit with the Zonar V4™ TCU.
With Zonar technology already on board and a 3-year Virtual Technician subscription for your Detroit Diesel engine included in the vehicle's standard warranty, Freightliner opens the door for deeper insights and analytics to keep your vehicles in optimal operating shape.

Time is money. Western Stars are engineered to save you more of both by making smarter service decisions. Zonar technology comes standard on Western Star 4700, 4800, 4900, 5700 and 6900 vehicles.
Combine leading on-board telematics technology and a free, 3-year subscription to Virtual Technician for your Detroit Diesel engine, and you're empowered to keep your Western Stars operating at their finest for years to come.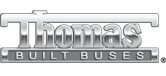 Choose to have your new Saf-T-Liner®, Minotaur® and C2 Jouley® bus line-fit with the Zonar V4™ TCU to go beyond diagnostics. Monitor and manage your Zonar-enabled buses through Ground Traffic Control®. Track each vehicle's location, speed and idling—in real time, while it's on route. And access a full suite of Zonar services and reports, as well as real-time data on dozens of bus functions.
If you have buses with a Zonar V4 already on board, activate Zonar's 60-day free trial. That's leading smart fleet hardware and a lower TCO already installed at the time of purchase. Plus, a 5-year Virtual Technician subscription for your Detroit Diesel engine is included in the vehicle's standard warranty.