Streamline daily dispatch operations from one platform.
Integrate
scheduling, payroll, GPS & routing
Mitigate
the impact of daily surprises & changes
Ensure
drivers are paid appropriately
Empower
parents with a flexible bus tracking app
Manage every little detail more easily with one platform integration.
Open a 360-degree view into your school bus fleet to manage operations more efficiently, and make better use of resources and budget. Safeguard students and arrive on time by integrating Bytecurve solutions with Zonar smart fleet management.
Four solutions together on a one platform for a single-view dashboard of daily operations. With one plug-and-play integration.
Scheduling and Dispatch: Elevate on-time arrival rates to serve your community more reliably.
Time and attendance: Manage employee hours to the minute to ensure drivers are paid appropriately.
Driver communication: Keep drivers and dispatch on the same page with a clear communication platform.
Parent application: Reduce incoming call volumes by empowering parents with a user-friendly bus tracking app.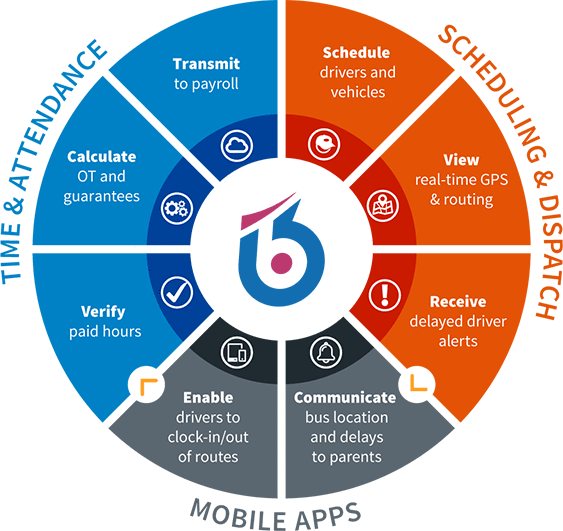 Elevate on-time arrival rates.
Elevate on-time arrival rates.
Using whiteboards and spreadsheets to dispatch buses makes keeping up with changes difficult. Serve your community more reliably with efficient tools for making the most of every driver, bus and route. Bytecurve Scheduling and Dispatch is the only platform to integrate data from route planning systems with Zonar telematics technologies.
Stay a step ahead by creating and maintaining annual schedules.
Manage daily bus and driver substitutions on the fly.
Stay in the know with real-time alerts for late driver check-ins and vehicle yard departures.
Track on-time performance at specific stops and schools to troubleshoot problems.
Compare planned versus actual route data to analyze your strategies.
Stay nimble by splitting routes based on daily changes.
Manage employee hours to the minute.
Paper timesheets are prone to mistakes. Minimize lost labor costs with digital control over the timeclock. Integrate with Scheduling and Dispatch for more control over your operation and ultimately, your budget. Plus, look forward to fewer papercuts.
Prevent early clock-ins, and reduce distracting driver walks to the office.
Automate guarantee and overtime calculations based on pre-set rules.
Clearly compare planned versus actual hours worked.
Finalize gross payroll with one-click submission of the pay file.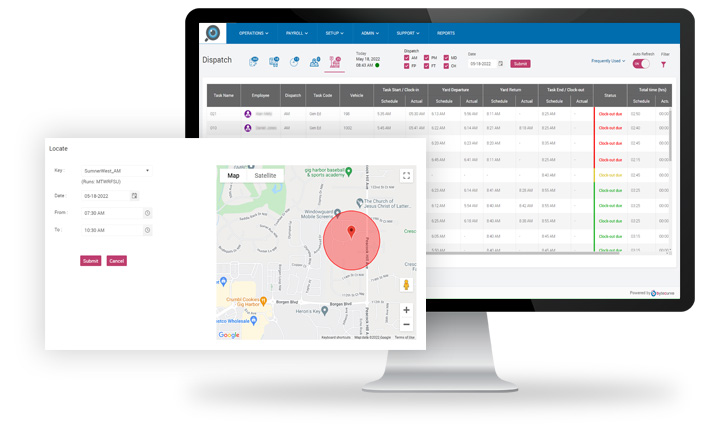 Keep drivers and dispatch on the same page.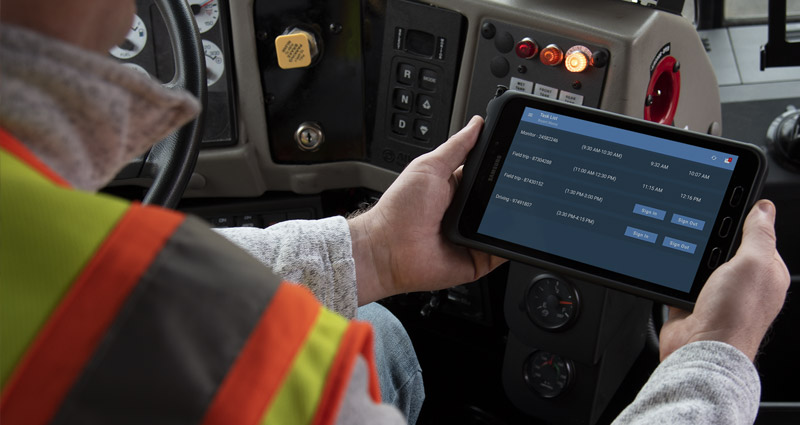 Keep drivers and dispatch on the same page.
The more easily drivers and dispatchers communicate, the more smoothly everyone's day runs.
Zonar Access is a user-friendly online platform for managing employee hours, tasks and two-way communications. Even with route changes, last-minute field trips, traffic snafus and bad weather, both sides of conversation know what's going on and what needs to be done.
Drivers: Clock-in and -out of routes and tasks. View daily and weekly schedules. Send trip notes, and communicate reasons for delays. All from their tablet.
Dispatch: Send messages. And communicate schedule changes in real time, which drivers receive on their tablet. All online, from the Bytecurve portal.
Put parents' minds at ease.
Transparency creates peace of mind, for schools and for parents. Zonar MyView enables you to push timely communications to parents' mobile devices—even that same day. And the MyView app enables parents to track their child's school bus without calling you.
Parents: Use the MyView app to track their child's bus, create alert zones and customize alerts. Plus, make sure they're at the bus stop on time.
Districts: Communicate changes, delays and breakdowns to parents through the Bytecurve portal.
Better communication. Greater transparency. And safer students. Everyone gets to rest a little easier.