Zonar MyView™
Track each bus with precision.
Eliminate
route-based errors
Capture
student ridership
Transparency creates peace of mind.
Clear communication about where a child's school bus is puts parents and school districts more at ease. Zonar MyView provides full visibility into bus locations, changes and estimated times of arrival so only those who need to know can stay in the loop.
The MyView back-end portal serves as a district dashboard used to communicate bus changes, delays or breakdowns.
Parents use the MyView mobile app to see where their child's bus is located, create zones and customize alerts.
Parents also view and receive instant alerts with the details of their child getting on and off the bus.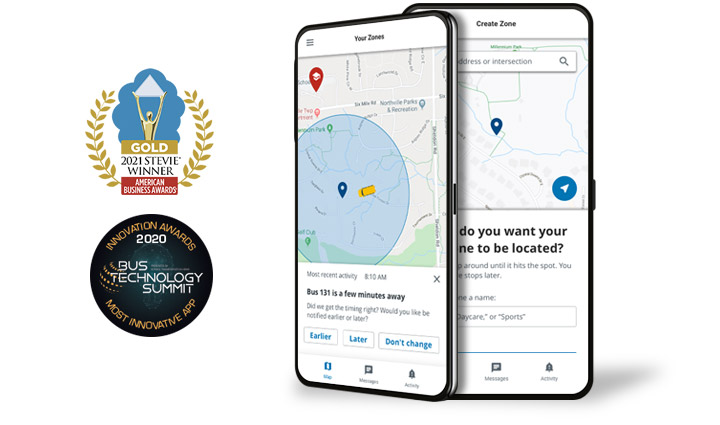 Smooth the daily routine.
Modern family schedules are complex. Knowing when the bus will arrive makes planning ahead and timing schedules easier on parents and guardians. Wake the kids when they need to, get to the bus stop when they need to. And avoid waiting outside in bad weather. Learn more.
Parents and guardians use the MyView app to:
check on the school bus whenever they need
receive timely updates regarding bus or route changes
custom-build zones and create proximity-based SMS alerts
add multiple zones for different drop-off destinations
eliminate unnecessary alerts by associating each zone to relevant buses
Fit modern families.
Not every family is structured the same, but they all need to know when the bus will get there. Once the custodial guardian sets up the account and grants shared access, all authorized guardians can view the bus's location.
The custodial parent:
sets up the student and bus information
easily and securely share that information with other caregivers
edits, adds and removes other users as the family situation changes
Reduce the volume of parent calls.
Clear communication and timely information reduce parents' need to call looking for the bus. Use the MyView back-end portal to set up zones around schools and seamlessly manage bus substitutions. Dispatches send one-way messages to appropriate parents if a bus route is changed or delayed. And parents follow the appropriate bus or route on their MyView app instead of calling your district.
Parents also receive alerts when the bus:
arrives and departs from school
arrives and departs the parents' customized zone(s)
has a change of plan en route
Key features
Real-time, map-based bus locator
Support Assistant to answer parent questions
Parent and guardian registration
Secure parent and student information privacy
Custom zones for each stop and facility
SMS messages
Zonar V4™ GPS tracking integration
Rapid Response Rate for a ping rate of every 10 seconds
Available on smartphones, tablets and computers
iOS and Android app
GPS, telematics and routing data analytics
24/7/365 U.S.-based Customer Support
Answer common questions, solve common problems.
Answer common questions, solve common problems.
Fewer parents will call looking for the bus. But some may call for help with MyView. Dispatchers use the MyView Support Assistant to view their basic account information and answer common questions.
Help parents with:
push notifications
zones and alerts
notification histories
Capture ridership details for yourself and parents.
Equip each student with a passive, Zonar-issued RFID card. They scan their card upon boarding and exiting the bus, which captures the exact time, location and bus number.
You see inside bus ridership so you can better serve students and parents. Parents can view and receive instant alerts with the details of their child getting on and off the bus. Useful insight for you, peace of mind for parents.
Student info stays secure.
Ensuring MyView data security relies on only a few simple steps. The district supplies a unique access code to the custodial contact for each individual student. Users add their child's unique district ID to track the correct bus—and none other. Additional password protection locks down all the information and controls access.