Zonar Coach™ Smart dashcam with real-time, in-cab coaching
Protect
drivers
and fleets
Capture
videos & photos
of events
Don't think poor driving is costing you money? See for yourself.
Take a moment to calculate how much money safer driving could save your fleet—each year, month and per asset. And see how much you'd save with as little as 10 percent fewer fleet accidents. No detailed information required, but your results could be eye-opening. Visit our Safe Driving ROI Calculator.
Coach drivers before they have an incident.
Easily extend the reach of your safety program. Coach provides real-time audible violation warnings so drivers can take corrective action when it's most critical to mitigating accidents. The solution monitors the road and provides voice feedback when drivers exceed posted speed limits, tailgate, don't stop at stop signs, lane drift, brake too hard, corner too fast, or rapidly accelerate.
Designed for drivers
Drivers are encouraged to proactively monitor their performance with an easy-to-use intuitive dashboard. Drivers can access video based scorecards to track individual progress and check their development compared to the fleet's average. They also can conveniently review videos and images of events as well as challenge captured incidents.

Zonar Coach Printable Product Brochure
Protect drivers and fleets with the most effective in-cab driver coaching solution. Coach provides real-time audible violation warnings so drivers can take corrective action.
Insights to reward safety
Increase driver engagement and participation in safe driving by gamifying the coaching experience. Fleet managers can reward the safest drivers while correcting hazardous ones with insights from Coach. Fleet managers can easily access reports on fleet and driver performance, view video and images of incidents, and customize configurations.
How Zonar Coach works
Coach uses a forward facing smart dashcam and machine vision to detect objects on the road and capture video of critical events. Drivers receive 7 audible warning notifications that include: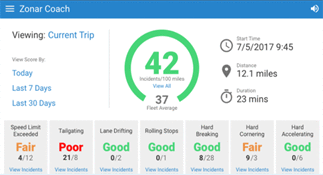 Additionally, drivers receive a scorecard at the end of each trip to incentivize safe driving behavior.
Assurance with contextual evidence
Coach utilizes a forward facing camera to detect objects on the road and record incidents. With video and photographic evidence of driving events in hand, drivers are encouraged toward safer driving habits along with when needed, proof for exoneration in case a driving event contained extenuating circumstances.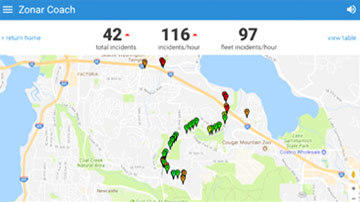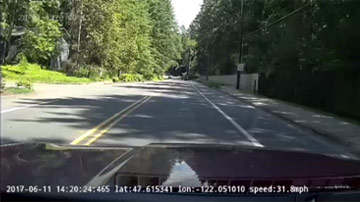 Connect your operation
Optimize Coach by leveraging Zonar's other fleet telematics solutions to digitize your operation in one comprehensive platform.
Features and Capabilities
Real-time audible coaching
Event-based driver scorecard
Visual analytics and G-sensor based event detection with warning audible sensors
Video and photographic evidence of incidents for driver accountability and exoneration
Adjust scoring weights based on the vehicle duty type
Mapped location of incidents
Trip summary reports
24/7/365, U.S.-based technical support from Zonar Customer Care