See what happened, inside the cab and out.
Protect
everyone on the road
Empower
drivers and managers
Exonerate
falsely accused drivers
Reimagine
driver training
Build a safer fleet from the driver up.
Everyone can operate more safely. Coach rides along with your drivers to monitor the road ahead and capture footage of critical events—as well as vehicle data that shows real-world performance. The moment it detects a specific unsafe behavior, Coach alerts drivers to self-correct before they cause an accident.
Drivers are empowered to proactively own their performance; you're empowered to build a safer fleet based on data. Best of all, the roads are safer for everyone.
Take a moment to calculate how much safer driving could save your fleet with our Safe Driving ROI Calculator.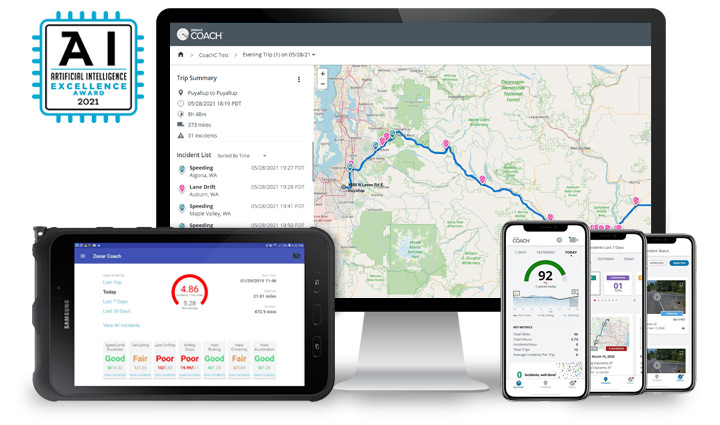 Prevent accidents instead of just analyzing them.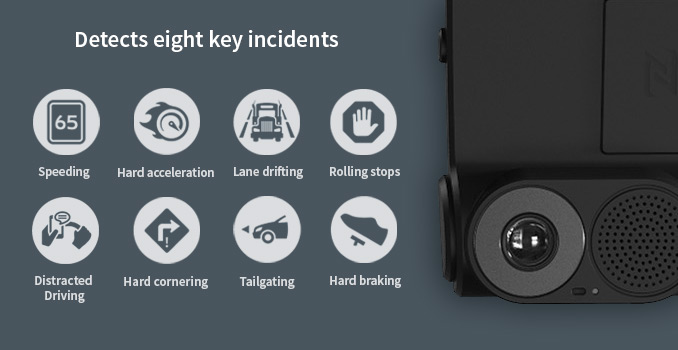 Prevent accidents instead of just analyzing them.
The dashcam's HD lens uses artificial intelligence and a g-force accelerometer to detect eight key unsafe behaviors. When it does, Coach alerts the driver to self-correct then and there.
Coach even reads speed signs—in real time—so you can understand each speeding incident and citation in full context.
See the full context with crystal-clear HD footage.
Protect your drivers and operation from false claims, and address unsafe behavior with on-demand video. Coach's dual-facing dashcam with HD lens analyzes the road ahead and captures behavior behind the wheel.
Watch what happened inside the cab and out. Day or night.
On the road
720p HD footage
110-degree view


In the cab
720p HD footage
140-degree view
Night vision
Review what's captured—online, anytime.
Review footage and data when you need. Coach transmits the data and footage to its cloud-based portal, where you can instantly review critical incidents, collisions and near misses.
Capture on-demand footage around an event's time and location in minutes.
Watch driver and road-facing footage with picture-in-picture viewing.
See if drivers were distracted, overly tired or multitasking inappropriately.
Exonerate drivers who are falsely accused of operating unsafely.
Build a modern, data-based safety program.
Data's hard to argue. So is video footage. By capturing both, Coach provides an objective, digital platform from which to define clear goals, monitor performance and track progress. For your fleet and your drivers.
View detailed, real-time KPIs to evaluate actual, real-world performance. Open productive conversations with drivers by reviewing Coach's footage and metrics together. And make your company policies regarding video sharing with on-the-scene law enforcement available on drivers' tablet or other mobile device, so they know how to cooperate appropriately.
Key features
Standalone, dual-facing dashcam
Real-time, in-cab audible alerts
720p HD video footage
110-degree view of the road
140-degree view of the cab's interior
Infrared camera for night driving
Driver scorecards
Incident reviews
On-demand recording
Real-time performance KPIs
Installs in minutes
24/7/365, U.S. support
More than just a dashcam. A complete driver safety solution.