Manage every bus with one leading solution.
Your electric and internal combustion engine (ICE) buses work side-by-side. Our Electric Vehicle Services Program includes all necessary technologies and services for seamlessly managing your battery-powered buses alongside your ICE-powered buses—with a single smart fleet management solution. Take your next step in transportation with a provider who supports every bus in your barn.

Monitor each electric bus on a single online platform for detailed, real-time visibility.

Ensure proper inspections with an EVIR® configuration tailored to electric buses.

Digitize drivers' tasks with a Zonar-enabled tablet, featuring trusted productivity apps.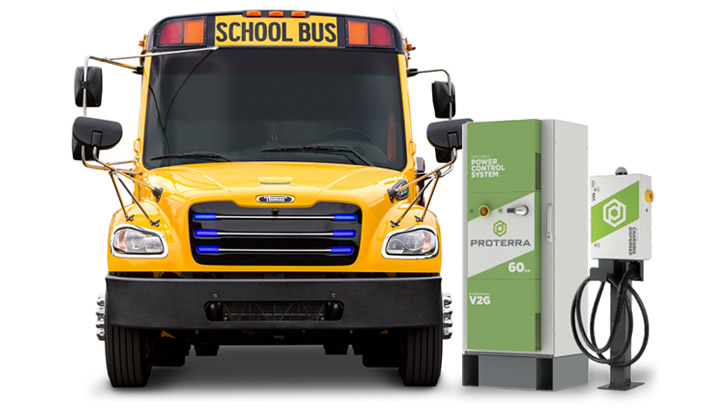 Chesapeake Public Schools outfits their electric buses with Zonar
Chesapeake Public Schools outfits their electric buses with Zonar.
The Chesapeake Public Schools district has implemented Zonar solutions on its mixed fleet of electric and ICE-powered school buses.
We develop solutions and features based on real-world customer needs. So we recently visited onsite with Chesapeake Public Schools director of transportation, David Benson, and assistant director of transportation, Herbert Byrd to see how our smart fleet technology actually performs on the district's electric buses.
Watch the video to hear Bryrd explain how he can redirect a driver to a different route with better conditions to avoid draining the electric bus's battery.
On Zonar Coach
"Mixed fleet or not, the technologies that were shown today on the Coach drive were just awesome."
On EVIR
"I can verify EV charger connection status - disconnect charger prior to travel, remember to connect charger on return."
Monitor each bus in real time, on one platform.
Track your fleet—electric and ICE-powered—using our secure online portal, Zonar Ground Traffic Control®. See the whole picture so you can make timely, informed decisions faster.
Check each bus's location and status anytime.
View path data, including the total time an electric bus was powered on.
Track how many miles you get per electric bus.
Define zones and geofencing criteria for each bus.
View your entire fleet on a map that refreshes itself. And access services such as alerts and reporting. Your entire fleet, at your fingertips—including the electric buses.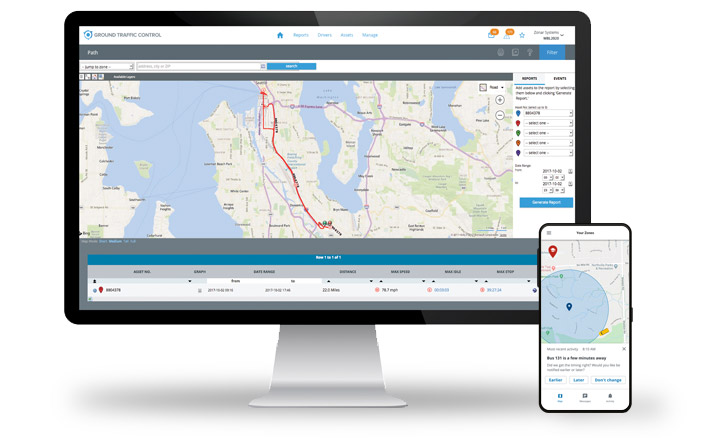 Electronically verify inspections.
Electric school buses still require inspections—and can still be sidelined if defects are overlooked. Our patented electronic verified inspection reporting (EVIR) system features a configuration tailored specifically for electric school buses. EVIR is available on driver tablets—and smartphones.
Electronically verify each and every inspection is performed properly.
Digitally capture and report defects for faster repair prioritization.
Ensure electric buses are adequately charged for their route.
Integrate inspection results, repair and maintenance records.
Outfit drivers with a tablet full of possibilities.
Outfit drivers with a tablet full of possibilities.
Digitize and streamline everyday driver tasks with a ruggedized Zonar tablet. Cherry-pick the productivity tools best suited for your fleet. Then expand the tablet's core capabilities with access to our library of trusted Zonar and third-party apps.
Easier productivity. Clear communication. Less paperwork. Sometimes you can have it all.
Track ridership across your fleet.
Zonar Z Pass™ records the date, time and school ID number of every student on the bus, even electric ones. Every bus matters. Know your ridership, optimize your routes.
Pinpoint when and where a student boards and exits in real time.
View ridership data online and run reports for in-depth visibility.
Reduce power consumption with the Z Pass reader's Low Power mode.
See how every bus in your fleet is used so you can meet today's logistical challenges head on.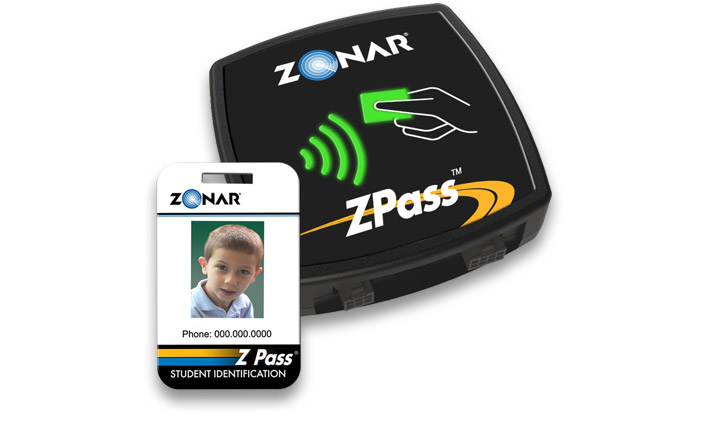 Coach every driver to protect every student.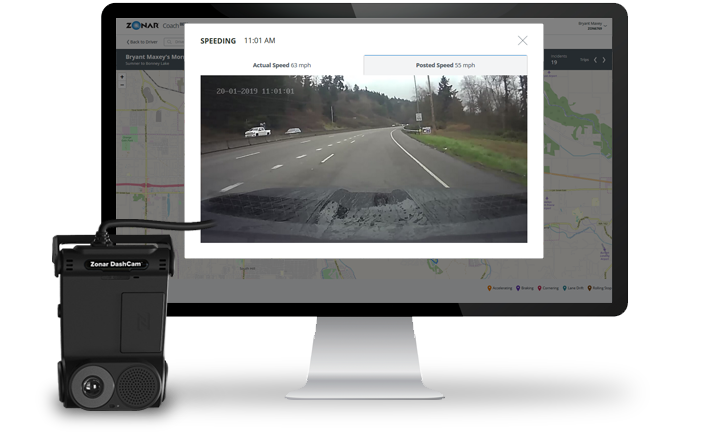 Coach every driver to protect every student.
Zonar Coach™ provides real-time coaching, so drivers can self-correct when it detects certain unsafe events. Coach also captures on-demand footage so you can see what really happened.
View trip summary reports to see how safely your fleet operates.
Map locations of any recorded incidents to understand context.
Exonerate drivers falsely accused of operating unsafely.
The bus may be battery powered, but it's still driven by a person. Safe fleets start with safer drivers.

Start your insights on the TBB Saf-T-Liner® C2 Jouley® line.
Choose to have a Zonar V4™ line-fit at the factory. Your new bus will come equipped to provide insightful vehicle data to manage fleet efficiency, increase safety and maximize uptime. Or, if the bus already has a Zonar V4 on board, activate your 60-day free trial.
Contact a Zonar specialist to get started
.