Embrace electric vehicles with a full-fleet provider.
Optimize
EV use with informed decisions
Electrify
with leading OEM hardware
Manage
all your buses side by side
Increase
EV range awareness
Manage every bus with one leading solution.
Every bus in your fleet works side by side, together. Seamlessly manage them side by side, too. All in real time, with our Electric Vehicle Services Program. Monitor, track and optimize your battery-powered school buses alongside your propane and internal combustion engine (ICE) buses with a single, proven smart fleet management solution. Electrify your fleet at your pace with a provider who supports every bus in your barn.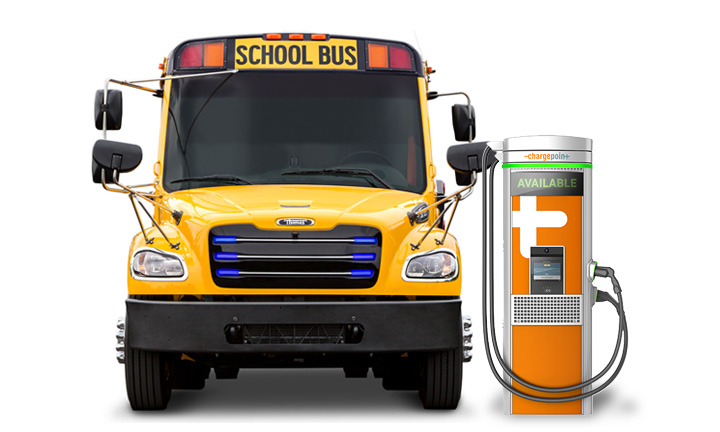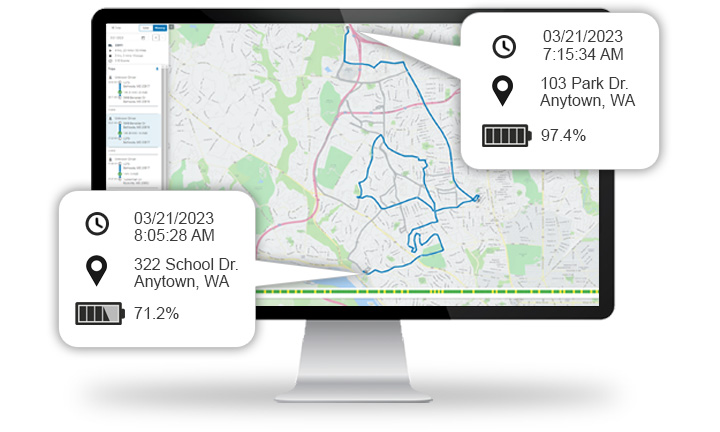 Optimize your EV fleet.
Electric school buses need to earn their purchase price. Make informed decisions for each one—faster—by managing your EVs next to your other school buses using Zonar Ground Traffic Control®, our secure online portal.
Increase range awareness and use each electric school bus to its best advantage with one comprehensive, real-time view of your entire fleet.
See where each electric bus is located in real time.
Dispatch electric buses based on their current state-of-charge (SoC).
Optimize their routes by reviewing trip history, including stop-by-stop analysis.
View how much battery each route consumes.
Identify EVs that aren't charged as planned, so you can nip potential inefficiencies and issues in the bud.
Electrify your fleet with leading OEM hardware.
Bring us your bus and trust the data being captured. The OEM-grade Zonar V4™ telematics control unit (TCU) already supports leading manufacturers.
Lion Electric Co.
Blue Bird®
IC Bus
Thomas Built Buses
See the EV's real-time location, historical path, individual starts and stops, as well as OEM-specific data such as SoC.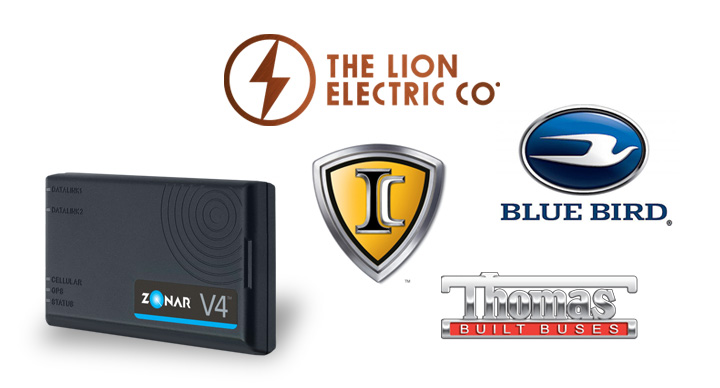 Start your insights on the TBB Saf-T-Liner® C2 Jouley® line.
When you invest in a bus from the Thomas Built Bus Saf-T-Liner
®
C2 Jouley
®
line, choose to have a Zonar V4 line-fit at the factory. If you have a bus with a V4 already on board, activate your 60-day free trial.
Contact a Zonar specialist.
Electronically verify every school bus inspection, including EVs.
Ensure every school bus in your fleet is inspected properly with an appropriate inspection configuration. Our electronic verified inspection reporting (EVIR®) system features a configuration for traditional school buses and one tailored specifically for electric school buses.
Electronically verify that each school bus inspection is performed properly.
Inspect EV charge level, charge connection and charging station.
Digitally capture and report defects for faster repair prioritization.
Perform inspections using a driver tablet or smartphone.
Eliminate wrong turns and increase range.
Eliminate wrong turns and increase range.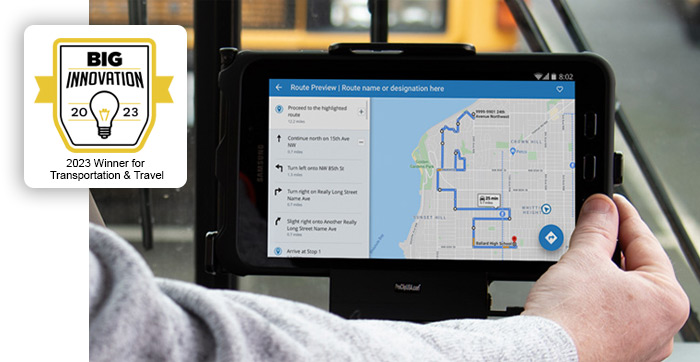 Eliminate wrong turns and increase range.
Enable every driver, including temporary and substitutes, to navigate every route correctly. Zonar OnRoute™ is our route provider agnostic, turn-by-turn navigation solution that directs drivers curbside every time.
Navigate unfamiliar routes with precision.
Record routes on the fly for dispatcher approval.
Capture what mapping providers can't.
Streamline route management on the back-end.
Fewer wrong turns mean less battery consumption and longer intervals in between charges. Put them all together and your EVs will have longer range.
Outfit drivers with a tablet full of possibilities.
Digitize and streamline everyday driver tasks with a ruggedized Zonar tablet. Cherry-pick the productivity tools best suited for your fleet. Then expand the tablet's core capabilities with access to our library of trusted Zonar and third-party apps.
Easier productivity. Clear communication. Less paperwork. Have it all and still comply with regulations regarding driver tablets on school buses.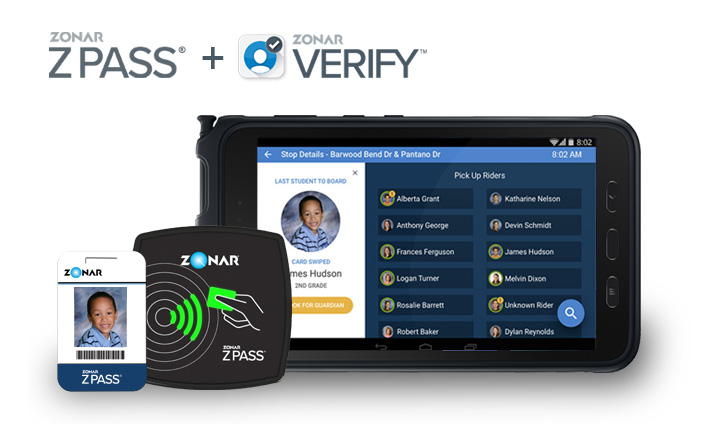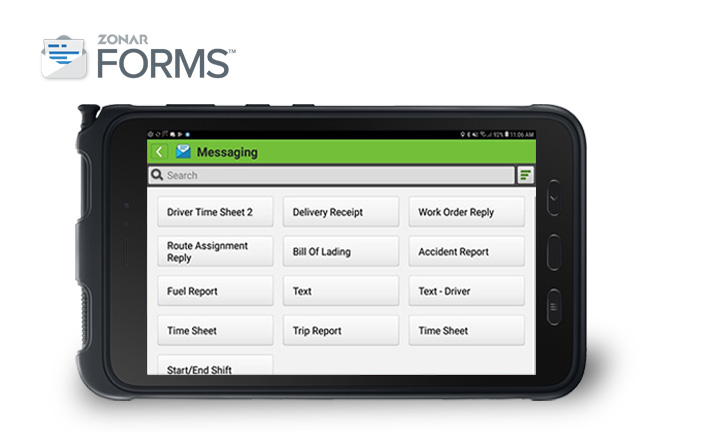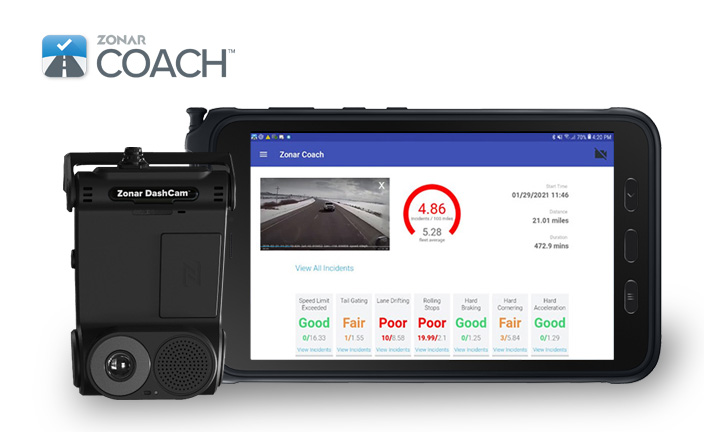 Chesapeake Public Schools outfits electric and ICE buses with Zonar.
Hear Assistant Director of Transportation Herbert Byrd explain how he can redirect a driver to a different route with better conditions to avoid draining the electric bus's battery.
"With a fleet of 583 buses, having customer experience team support has been ideal. When the Zonar customer experience team goes the extra mile to address our needs there are no traffic jams along the way"
Dr. David Benson | Chesapeake Public Schools Transportation Director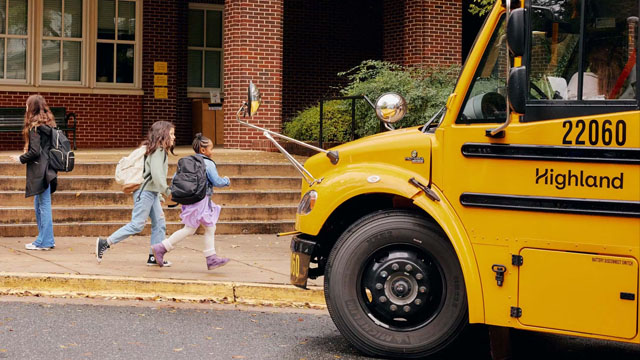 Highland Electric Fleets becomes a leader in fleet electrification.
Highland provides a turnkey solution to simplify the diesel-to-electric school bus fleet transition. To best support their customers, Highland turned to Zonar to capture bus location, activity and SoC data.
"Our goal is to use EV buses as effectively as possible, for as many hours of the day as possible, and most importantly, as safely as possible. We can't do that unless we know what each bus is doing minute by minute. That's what Zonar does for us."
Sean Leach | Director of Technology and Platform Management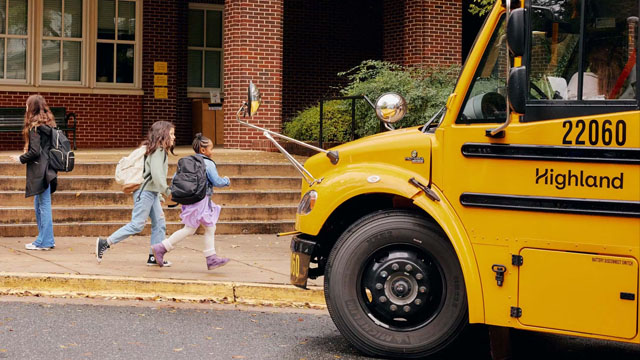 Leave charging stations to a leader.
Our partner ChargePoint provides industry-leading expertise to assess and outfit your fleet with charging stations. ChargePoint's dedicated project management service handles the entire process, including infrastructure design, equipment procurement, contract negotiation and construction oversight.
Once the charging stations are in place, ChargePoint's platform provides detailed insight to optimize your EV fleet performance.
View real-time EV station status and health.
See automated charging based on time of day.
Increase uptime and optimize battery health.