Digital employee time and task management
Streamline
payroll processes
Manage
driver schedules online
Eliminate
paper and manual entries
Manage employee hours online, on one platform.
Time lost is budget lost. Access is your single, online platform that delivers a complete operational view, and easier control over scheduling, payroll and routing. A flexible, digital solution that streamlines how you manage employee hours—with greater precision and fewer stress headaches.
Clearly compare planned versus actual hours worked.
Easily manage and communicate day-of schedule changes.
Track late sign-outs and on-time performance.
Prevent early clock-ins to minimize lost labor costs.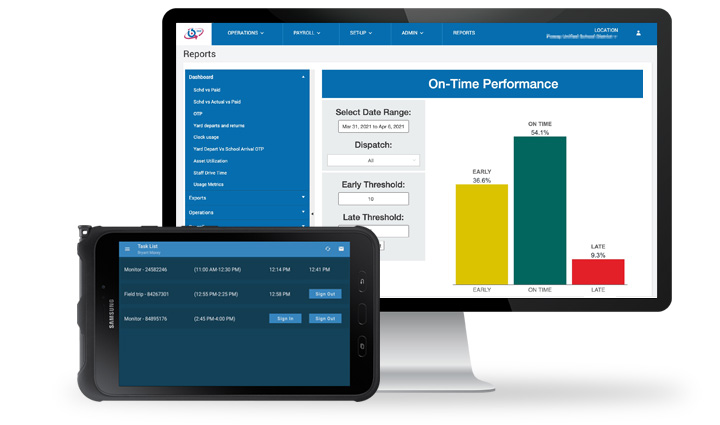 See your complete operation, with digital precision.
See your complete operation, with digital precision.
Paper timesheets are famous for errors and tiny cuts. Digitally captured data offers tighter control over costs through deeper, more reliable insights. Put away the bandages and manage employee hours to the minute so you can make the most of your budget.
Generate detailed reports for full visibility into your operation.
See clock-ins and clock-outs in real time.
Identify who's available and has working hours for extra runs.
View calculated guarantee and overtime based on pre-set rules.
Finalize gross payroll with one-click submission of the pay file.
Put a digital timeclock in drivers' hands.
Equip drivers with a Zonar-enabled tablet for clocking in and out without a trip to the office. No crowds, no manually punching a clock, no written timesheets. And no distractions as they walk to or from their vehicle. They use Access on the tablet, in their assigned vehicle, to digitally and precisely capture their time before and during their route.
Send them a message or day-of scheduling update, and they can view that on the tablet, too.
Key features
Available on driver tablets
Online annual schedules
Real-time day-of changes
Early clock-in control
Inspection time threshold
Buffer time for crossing the yard
On-time performance monitoring
Insight into planned and worked hours
Instant notifications of late clock-ins and clock-outs
Automatic dashboard updates
Overtime calculation
24/7/365, U.S. support
Make daily driver life easier.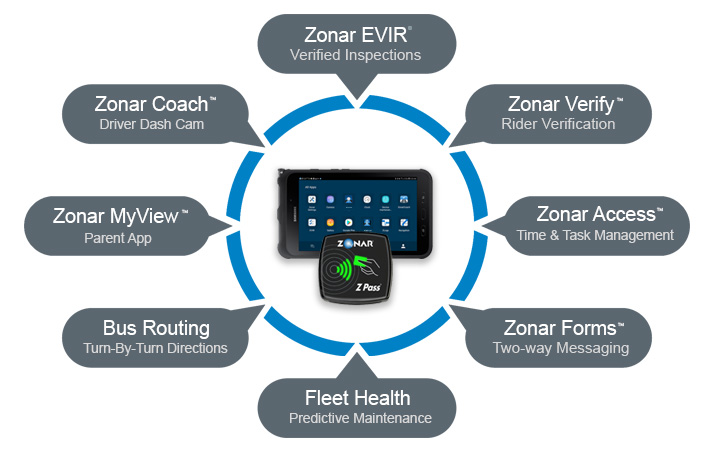 Make daily driver life easier.
Drivers with an in-cab Zonar tablet have every daily task at their fingertips—for easier productivity every step of the day.
View schedule. Clock-in and out of daily tasks.
Complete pre- and post-trip inspections and child checks.
Receive turn-by-turn directions for each route.
Verify each student boards and exits at the correct stop.
Use two-way communication for information or schedule changes.
A complete workflow, all on the driver's tablet.