Zonar FaultIQ®
Powered By Noregon
Maximize vehicle uptime.
Decode
fault info into plain English
See
all fault data in one view
Receive
expert guidance for repairs
Prevent
costly tows and driver downtime
Don't just fix it. Predict it.
Each breakdown and tow you prevent is money back to your bottom line. Zonar FaultIQ, powered by Noregon, is a single online, predictive maintenance platform for monitoring your fleet's health, down to each vehicle's health and safety score. Know what's going on inside each vehicle, schedule necessary repairs, and keep each asset running better, longer.
More importantly, save thousands in critical-issue repair costs.
Prevent roadside breakdowns and service disruptions.
Reduce frequency of towing fees, shop fees and vehicle substitutions.
Consolidate shop visits for greater uptime.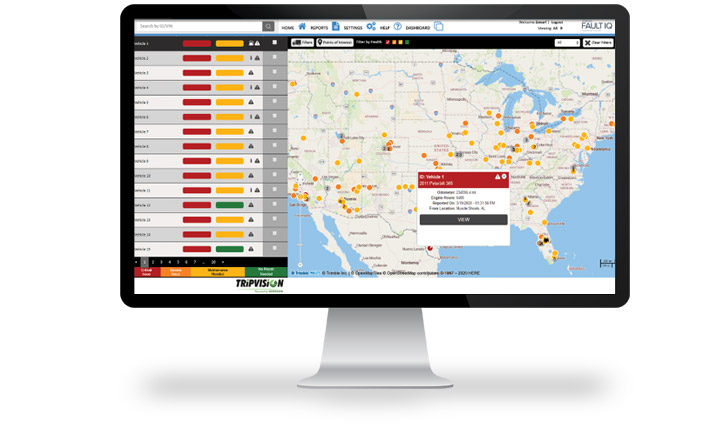 Take a few moments to calculate your potential cost reduction and monthly savings per vehicle.
Your entire fleet, one dashboard.
Your entire fleet, one dashboard.
Zonar FaultIQ puts each vehicle's health, fault codes and location at your fingertips, in a single view. Also set up text and email alerts to notify you of future issues.
View all makes, models and components on a single dashboard.
Identify assets that need immediate attention and why.
See which faults impact CSA scores, fuel economy and emissions.
Pull fault codes from all major vehicle components—and understand what each means.
Review expert-recommended action plans for each fault.
Predict future maintenance.
Be notified of defects, problems and issues that often lead to downstream faults–predicted faults that aren't fixed. Noregon's data team analyzes historical fault data that consistently escalates into downstream faults. Predictions are updated and improved regularly each month. Consider it an early warning system for your fleet maintenance.
Send it to the nearest expert.
Each vehicle's location is indicated in the dashboard's map view. When a vehicle indicates a fault or has an issue away from home, find a fuel station, repair shop, dealer or part distributer near its current location.
Key features
All makes, models and components
Customizable alerts
Vehicle health scores
Vehicle safety scores
Fault severity levels
Recommended action plans
Zonar Ground Traffic Control®
24/7/365, U.S.-based technical support from Zonar Customer Success
Resolve certain faults for immediate savings.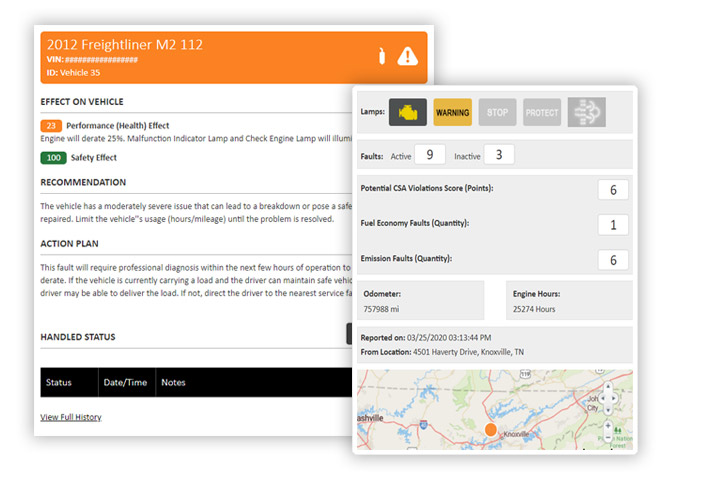 Resolve certain faults for immediate savings.
Fixing specific types of vehicle problems can save costs now. Filter for certain types of faults that, when resolved, deliver:
improved fuel efficiency
reduced emissions
improved CSA scores
reduced risk of accidents
Know your next steps.
When an engine throws a fault code, FaultIQ displays an easy-to-understand description—and provides an action plan. All staff, from dispatchers to experienced maintenance technicians, can understand the easy-to-digest expert guidance for repairs and detailed action plans FaultIQ provides.
Easier fault identification. Recommended action plans. More driver and vehicle uptime.