EVIR® Electronic Verified Inspection Reporting
Accurate
pre- & post-trip inspection reports
Comply
DOT, OSHA and MSHA inspection regulations
Efficient
automate service repair scheduling
Patented
technology and the only one of its kind
The only electronic inspection system of its kind
There are many electronic driver vehicle inspection report (eDVIR) systems in the market today. But there's only one patented Electronic Verified Inspection Reporting (EVIR®) system. EVIR® uses the innovative "Tag Once, Inspect Regularly, Know Always" approach to capture, transmit and record inspection, compliance and maintenance data. Improve compliance and accountability for your operations with the only verified, visual inspection system available in the market today.
ARTICLE: Where DVIR and eDVIR stop, EVIR® ensures compliance.
Return on investment
Reduce the processing time for inspections by more than 50 percent by shifting from traditional paper-based driver vehicle inspection reports (DVIR) to the EVIR system. Maintenance and fleet managers can plan for repairs more efficiently, which translates to increased uptime for vehicles on the road. Many of our customers see the benefits immediately when shifting from paper-based process to our electronic, verifiable solution.

EVIR® Printable Product Brochure
The patented EVIR technology improves and simplifies the pre and post-trip inspection process, and entirely eliminates paper based reporting.
Tag, inspect and transmit - it's that simple
TAG – Data-encoded RFID tags are placed in each inspection zone of a vehicle or asset. In a commercial trucking environment, for example, tags are placed in inspection zones that adhere to DOT compliance requirements for pre- and post-trip inspections. Many school districts place tags at the back of a bus to ensure that drivers perform their end-of-shift check for students.
INSPECT – The individual performing the inspection must physically scan each tag on the vehicle. The tablet device must be within two inches of the point of inspection, which helps to verify that a check was performed and the vehicle is up to operating standards—no traditional DVIR or electronic DVIR solutions on the market can guarantee this. EVIR acts as an electronic, verifiable log to prove that inspections are being performed accurately and consistently.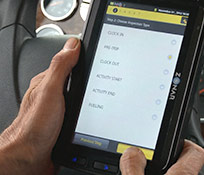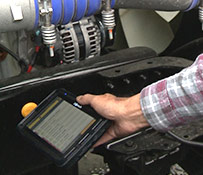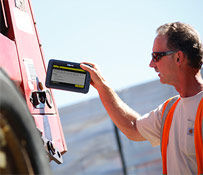 TRANSMIT – Defects or vehicle damage can be captured with Zonar's tablet device. Equipped with a 5 mega-pixel camera, drivers can easily transmit photos to give maintenance a heads-up as to what they are seeing. After the tablet is docked inside the vehicle, the inspection data is seamlessly transferred back to Zonar's web-based application, Ground Traffic Control®. Fleet managers and maintenance personnel have immediate access to the inspection data from the field, helping them to prioritize and schedule repairs.

Not just for vehicles
The EVIR system is as flexible as our customers' unique needs. While most commonly used to verify the pre- and post-trip inspection process for fleets across all industries, EVIR use spans to wherever there's a need to verify a process is being followed.
A complete solution provider
Zonar offers a full suite of smart fleet technology solutions that improve safety, decrease downtime of vehicles, reduce fuel costs, coach driver performance, and streamline back-office reporting.
Unparalleled customer service
From onboarding to installation, our U.S.-based Customer Care team makes sure that you're set up for success. There's a reason more than 99 percent of our customers that choose to do business with us, stay with us. More than 30 percent of our company is devoted to after-sale support, which means you can always reach a live Zonar employee—24/7/365.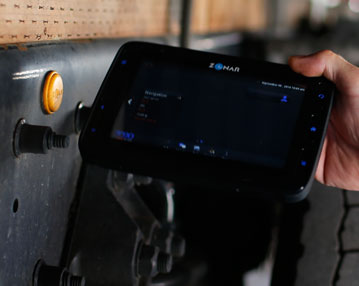 "The paper inspection report we used previously was a non-descript form with only 40 boxes. With Zonar EVIR® and its 11-zone system that details nearly 1000 conditions, the driver inspection reports are much more complete and provides our mechanics much –needed details to keep our fleet of trucks and trailers in top-top shape."
Mark Munds, President, V&M Transport

Smoot Brothers
Smoot Brothers improves the efficiency and safety of their operations.

Superior Bowen Asphalt
Deployed Zonar tracker technologies and RFID tags to gain better visibility into their equipment.