Zonar EVIR®
Verify inspections, save lives, stay compliant.
Comply
with DOT, OSHA, MSHA & PTASP
Ensure
accurate, verified inspection reports
Reduce
risk of failures on the road
Automate
service scheduling & reporting
Verify inspections, save lives, stay compliant.
One pencil-whipped miss can cause a costly accident. Instead, use our EVIR system to make sure each one is performed correctly and the results are captured accurately—every time.
Place a Zonar tag on each inspection zone of the vehicle or piece of equipment.
Drivers and operators must physically scan each tag when they inspect that zone's components.
As they perform the inspection, they mark defects, add notes and capture photos.
When the inspection is complete, the results are uploaded into our fleet management platform.
EVIR complies with all DOT, OSHA, MSHA and PTASP regulations. And, unlike DVIR and eDVIR solutions, EVIR inspections are truly verifiable.
Fit each asset with the right inspection.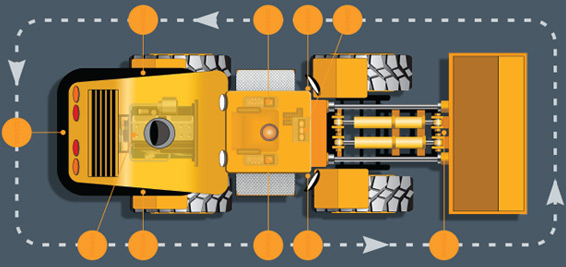 Front loader configuration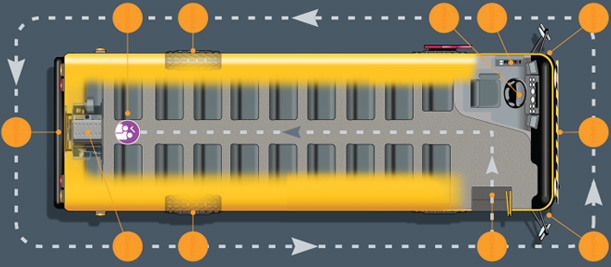 School bus configuration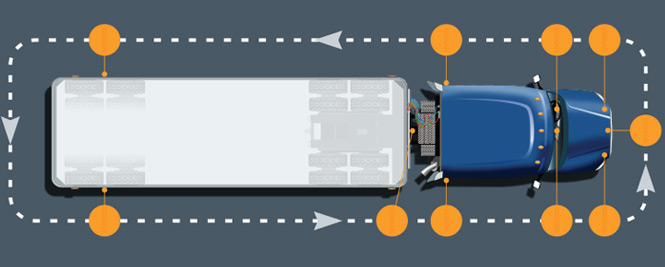 Tractor trailer configuration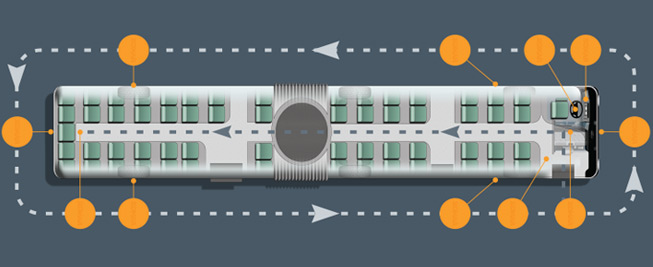 Transit bus configuration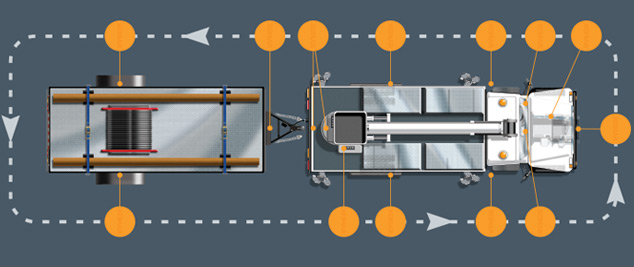 Utility vehicle configuration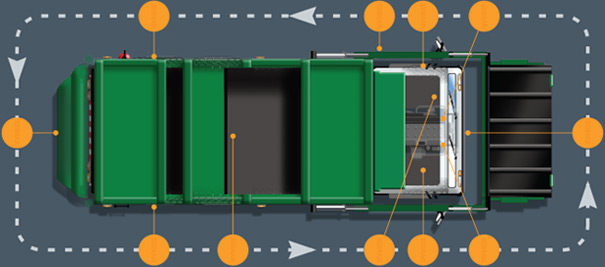 Sanitation vehicle configuration
Fit each asset with the right inspection.
EVIR features inspection configurations for different types of vehicles and equipment, across industries. And has even been deployed to new electric school buses.
Spend 50% less time performing inspections.
Cut out the paperwork and streamline the process. Start to finish, EVIR reduces inspection time by up to 50% compared to paper-based DVIR inspections.
Each Zonar tag is digitally associated with the vehicle to verify its identity and ensure the correct information is uploaded.
Drivers and operators use the EVIR app to scan the tags and perform the inspection.
Date and timestamps show if any part of the inspection was rushed.
No tracking down information, and no physical paperwork.
Deploy EVIR to your Zonar-enabled tablets such as the Samsung Galaxy Tab Active3. Or, download EVIR from the Google Play or Apple stores to your preferred fleet tablets and smartphones.
Build and customize your own inspections.
Design new and edit existing inspection configurations to fit your own workflows using Inspection Builder, which is included with EVIR Mobile.
The power to customize is in your hands. Incorporate timecards for payroll, fuel level and receipts, and sanitization requirements. And include standalone, deep dive inspections on specific components such as tires and brakes.
Modify tag placements and zone numbers for each inspection type.
Edit, move, remove or rename inspection zones and their components.
Create additional inspection types outside of pre- and post-trip inspections.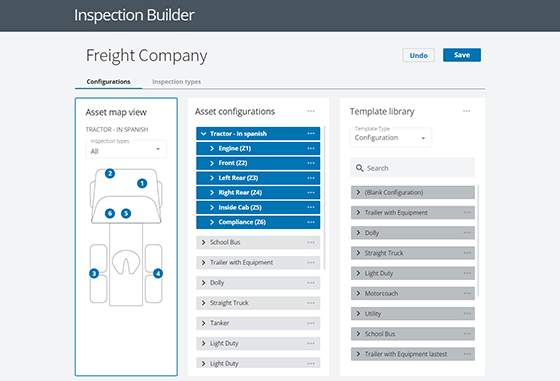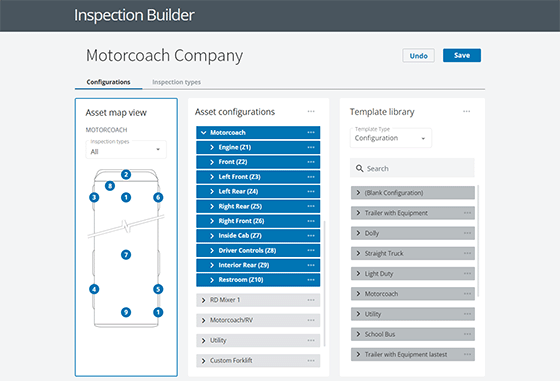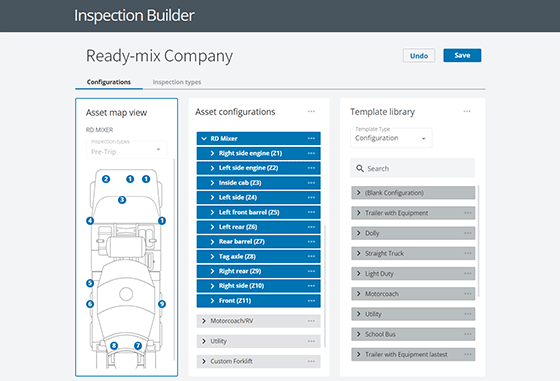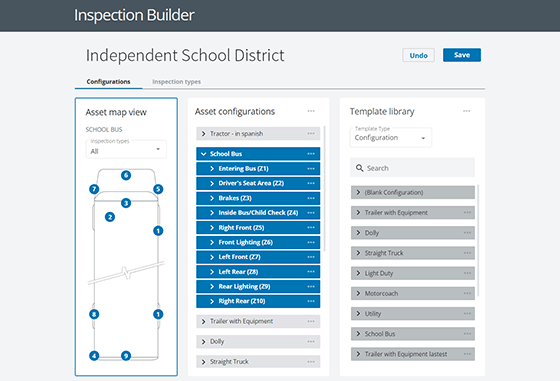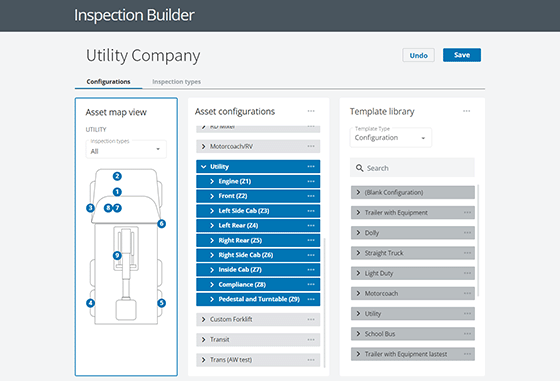 Ensure rentals are inspected, too.
Ensure rentals are inspected, too.
Make sure temporary vehicles and equipment are inspected—without tagging them.
Use the tagless option in the EVIR app. Follow the same inspection process, use the same configurations and upload the results just as you would if the asset was tagged.
Streamline roadside inspection audits.
During roadside inspections, drivers can easily pull recent EVIR inspection reports for a complete vehicle inspection history of up to 12 months. They can also pull inspection zone timestamps, driver certification, defect photos and so on.
Comply with regulations, complete the audit quickly, then get rolling again.
Catch critical defects before they become downtime.
Integrate EVIR inspection reports with your maintenance platform. Faster reporting, faster prioritization, faster resolution—together, they deliver more uptime.
View all open defects across your fleet by specific locations or vehicles.
Prioritize maintenance and repairs based on defect severity, and document repair work orders.
The finished work orders are communicated back to the EVIR app so the vehicle or equipment can get back to work quickly.
If you're looking for an integrated solution, learn more about our maintenance software partners.
Follow complex sanitization procedures more easily.
EVIR features a specific inspection configuration to streamline and standardize how your fleet follows complex, detailed sanitization procedures.
Comply with the FTA's safety advisory to execute all routine cleaning and surface disinfection.
Document which areas are sanitized, when, by who and with what type of disinfectant.
Monitor cleaning routines to standardize methods and maximize efficiency.
Key features
First patented electronic inspection system
Customizable for different vehicle and equipment types
Supports rented and leased vehicles, trailers and assets
Supports compliance during roadside inspections
Integrates with popular fleet maintenance platforms
Reporting and photo capture for minor and major defects
Alerts for proactive maintenance
Fleet management reporting and audit trail
Maintenance dashboard for mechanics and technicians
Available on Zonar, Android and iOS devices
24/7/365 Customer Support