Zonar Logs™ Ensure compliance, then get on with business
Prevent
violations with preemptive alerts
Ensure
compliance with the latest laws
Identify
trends and most common violations
Monitor
driver compliance and safety
Turn to a tested, trusted ELD solution.
Zonar Logs is our Hours-of-Service (HoS) application, accessible through our secure web portal, Ground Traffic Control®. Automatic and tamper resistant, Zonar Logs helps you ensure your drivers operate safely and comply with the U.S. electronic logging device (ELD) mandate and the Canadian ELD mandate. It even automatically updates as laws change, so you can stay in compliance without being caught off guard.
Self-certified with the FMCSA website and third-party validated
Successfully completed testing with the FMCSA to confirm end-to-end data transfer to an authorized safety official's laptop via web services
Meets title 49 CFR 395 Electronic Logging Devices and Hours-of-Service Certification
Meets Canadian regulations for Cycle 1 and Cycle 2
Supports various rulesets and exemptions for U.S. intrastate, interstate and passenger carrying fleets
Make compliance easier for drivers—and for you.
The easier an ELD is to use, the easier it is for drivers to stay compliant. And you to ensure regulations are followed.
Drivers can access Zonar Logs on their Zonar tablet to:
electronically submit their HoS records
view their available hours
edit a previous status
update their duty status
export their logs
Zonar Logs automatically updates driver status based on vehicle data, and alerts them when they're approaching violation.
You can access Zonar Logs data online to:
view live driver statuses, violations and availability
view driver logs by day, week and month
spot trends in violations
assign unidentified driving time
identify vehicle malfunctions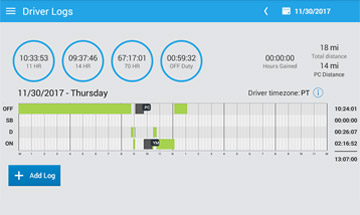 Securely manage compliance online.
Compliance Insights is an intuitive, efficient dashboard that makes the data provided by Zonar Logs available within Ground Traffic Control.
See each driver's live status, real-time location and who's at risk of being in violation—or already is. Zero in on trends and common violations. Know who's available for upcoming trips and for how many hours. Quickly identify which vehicles are sending out malfunctions and which drivers are impacted.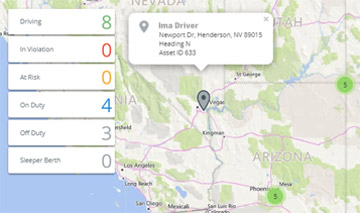 Work with a team of experts.
Our dedicated team of safety and compliance experts have more than 30 years of combined experience in transportation. They're here to work with you, even after implementation. If you have questions about current or proposed industry regulations, contact them for a complimentary consultation.

Learn more
Download the printable Zonar Logs cutsheet to learn more about the solution and how it helps you ensure compliance across your fleet.

Watch the Demo
Zonar Logs
Self-Certified ELD Solution
Watch our vice president of Compliance, Fred Fakkema, demonstrate how Zonar Logs works.
Self-certified FMCSA ELD
Meets Canadian regulations for Cycle 1 and Cycle 2
Meets title 49 CFR 395 ELD and HoS supporting documents
Dedicated team of Compliance experts
Supports a variety of rulesets
Alerts drivers of approaching violations
Unassigned driving time management
Live Status map view
HoS violation reporting
Malfunction reporting
Easy-to-use driver app
Driver Dashboard™
Automatic software updates with new and updated laws
24/7/365, U.S.-based technical support from Zonar Customer Care