Zonar Logs™ Ensure compliance, then get on with business
Prevent
violations with preemptive alerts
Ensure
compliance with the latest laws
Automate
logs and HoS reporting
Monitor
driver compliance and safety
Ensure compliance. Protect your drivers.
Zonar Logs is our Hours-of-Service (HoS) application, accessible through our secure web portal, Ground Traffic Control®. Automatic and tamper resistant, Zonar Logs helps you ensure your drivers operate safely and comply with the electronic logging device (ELD) mandate. It even automatically updates as laws change, so you can stay in compliance without being caught off guard.
Meets title 49 CFR 395 Electronic Logging Devices and Hours-of-Service Certification
Meets the AOBRD standards in Title 49 of the Code of Federal Regulations Part 395.15
Meets Canadian regulations for Cycle 1 and Cycle 2
Make it easy for drivers—and for you
The easier it is to use, the easier it is for drivers to stay compliant. And the easier it is for you to ensure regulations are being followed.
Drivers can access Zonar Logs on their Zonar tablet to:
electronically submit their HoS records
easily see their available hours
update their duty status
receive alerts when they're approaching violations
You can access Zonar Logs and Compliance Insights through Ground Traffic Control:
view availability, performance and HoS records
view driver logs by day, week and month
spot trends in violations
assign unidentified driver trips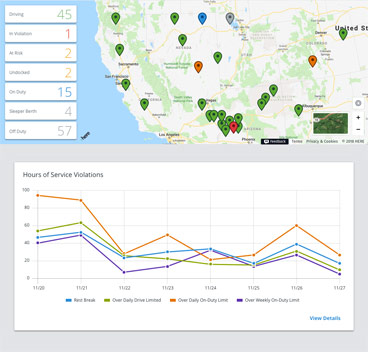 Roadside View
™
The Roadside View™ feature makes it easy for law enforcement to view the driver's logs during a commercial vehicle roadside inspection. The Roadside View interface provides all required HoS information in a clean, easy-to-read view modeled after a paper log form. It also keeps other information on the tablet secure by locking down access to additional screens on the tablet.
Roadside View and back-office view also display information uniformly, so drivers and dispatch can communicate more easily.

Want to learn more?
Get the details and see some specifications. Download the Zonar Logs cutsheet

Watch the Demo
Zonar Logs
Self-Certified ELD Solution
Watch our vice president of Compliance, Fred Fakkema, demonstrate how Zonar Logs works.
Meets Canadian regulations for Cycle 1 and Cycle 2
Meets title 49 CFR 395 ELD and HoS supporting documents
Self-certified with FMCSA
3rd Party verified and FMCSA tested
Indication of approaching violations to drivers
Roadside View for easier inspections
Unidentified drivers logs
Live Status map view
Count per violations
Automatic software updates with new and updated laws
NAPA Exemption
24/7/365, U.S.-based technical support from Zonar Customer Success