Zonar today announced the recipients of the 2019 Don Carnahan Grant. Each of these 14 districts will receive up to $50,000 in Zonar's industry-leading fleet management hardware and student tracking technology.

Zonar Awards 14 School Districts, Two Thirds Of Them Based In California, Texas, And New Jersey, With Nearly $400,000 in Smart Fleet Management Hardware to Improve Pupil Safety
Seattle Wash. – Nov 5, 2019 - Zonar, the leader in smart fleet technology, and the National Association for Pupil Transportation (NAPT), today announced the recipients of the 2019 Don Carnahan Grant. Each of these 14 districts will receive up to $50,000 in Zonar's industry-leading fleet management hardware and student tracking technology to improve the safety, effectiveness, and efficiency of their pupil transit efforts ensuring school buses remain the safest form of student transportation.
Whittier Union High School District, CA
Brazosport Independent School District, TX
Southwest Transportation Agency, CA
Liberty County School System, GA
Comal Independent School District, TX
Santa Fe Independent School District, TX
Garden Grove Unified School District, CA
Johnstown-Milliken School District, CO
Foley Public Schools, MN
Springfield Public Schools, OR
Storer Transportation, CA
Antioch Unified School District, CA
West Orange Public Schools – Bussing, NJ
West Orange for Hunterdon County, NJ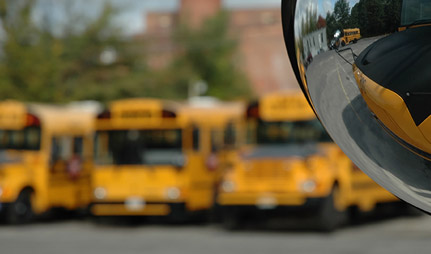 Solutions covered by the grant includes:
Electronic Verified Inspection Reporting (EVIR®), which streamlines pre- and post-trip inspections, making it easier for drivers to ensure their vehicles comply with safety regulations;
Zonar Coach, which monitors the road and provides voice feedback when drivers exceed posted speed limits, tailgate, don't stop at stop signs, lane drift, brake too hard, corner too fast, or rapidly accelerate.
Global Position System (GPS) and Real Time Engine Diagnostic Reporting (V4™), which allows transportation officials and drivers to instantly adjust the routes of buses based on accidents and traffic, resulting in more efficient arrival times and reduced fuel usage;
Student Tracking (Z Pass™), which administrators can use to locate students and buses; and
Ground Traffic Control® web-based software, which automatically monitors engine use, reducing repair costs.
According to Zonar's internal data there are an estimated 480 million school buses on the road in the U.S. - solutions like these can help prevent the over 109 bus accidents that occur annually. From 2013 to 2015 there was an estimated 328 bus related accidents, but only one involved a Zonar vehicle (0.3 percent).
"With more than 23 million students riding a school bus every day, we want school districts everywhere equipped with the latest safety technology, so that parents can enjoy peace of mind when they wave goodbye to their children every morning," said H. Kevin Mest, senior vice president and general manager of passenger services at Zonar. "With this grant, some of the top districts in the country can now experience the benefits of improved transportation safety while reducing the cost of investment."
Recipients of this year's grants will be recognized at the NAPT's Annual Conference & Trade Show in Columbus, OH on November 2nd – 5th.
In addition to the Don Carnahan Memorial Grant, and in an effort to encourage its customers to attend, Zonar awards eligible customers with a scholarship to offset the cost of registration for the NAPT Conference. For information on next year's scholarship opportunity visit www.napt.org when the 2020 conference registration opens.
For more information on the Don Carnahan Memorial Grant, visit www.zonarsystems.com/grant-program
About Zonar Founded in 2001, Zonar has pioneered smart fleet management solutions throughout vocational, pupil, mass transit and commercial trucking industries. Zonar's mission is to enhance the safety, performance and success of our customers by transforming the delivery of innovative insights for commercial fleets around the world. Zonar achieves this by helping fleets of all sizes maximize the use of their assets with solutions dedicated to improving compliance, efficiency, maintenance, ridership visibility, safety and tracking. Cloud-based services with open APIs drive Zonar's smart fleet solutions by making it easy for fleet owners and managers to stay connected to their fleets and drivers and operators to dispatch. Headquartered in Seattle and majority-owned by technology company Continental, Zonar also has a Technology Development Center in downtown Seattle, a regional office in Cincinnati, and a distribution center outside of Atlanta. For more information about Zonar, go to www.zonarsystems.com
About NAPT NAPT is the school transportation industry's largest and most diverse membership organization with members throughout the United States and Canada, as well as several countries in Europe, Asia and the Middle East. NAPT is headquartered in Albany, NY. www.napt.org
Our History
2001: Zonar established.
2002: Grows to 11 employees.
2003: EVIR® patent awarded; First Student becomes customer.
2004: Approximately 30 First Student sites installed.
2006: Filed for Ground Traffic Control® patent.
2007: HQ moves to current building.
2008: 50 million verified visual inspections conducted in U.S.
2009: 100th employee hired.
2010: Introduced Z Pass™; Zonar featured on NBC's Today Show.
2011: Partnership with Daimler.
2012: V3™ and 2020® released.
2013: Virtual Technician wins Edison Award.
2014: Exceeds 300,000 subscribers.
2015: Announces DTNA strategic investment.
2016: Announces Continental's majority investment
2016: Launches Connect™ next gen tablet and software ecosystem
2017: Integrates with ContiPressureCheck™ tire sensors
2017: Introduces Zonar Coach™ an in-cab driver coaching solution
2018: Frost & Sullivan Company of the Year
2018: Puget Sound Business Journal Best Places to Work
2018: Launches Zonar Verify™
2018: Zonar Reseller Program announced