Zonar Verify™
Verify each rider, stop by stop.
Verify
right student, right bus, right stop
Increase
student safety measures
Benchmark
real-time performance metrics
Better verified than lost.
Prevent wrong bus and wrong stop incidents before they become a safety concern—or turn into a frantic parent phone call. Zonar Verify is a mobile app that resides on driver tablets and empowers every driver, including substitutes, to safeguard student riders. More visibility for greater student safety.
Using Zonar Z Pass® RFID student cards, riders scan their entry and exit from the bus.
As they do, Verify automatically confirms from the daily routing information that it's the right student, right bus and right stop.
If there's an exception, Verify alerts the driver visually and audibly, so the driver can immediately take corrective action.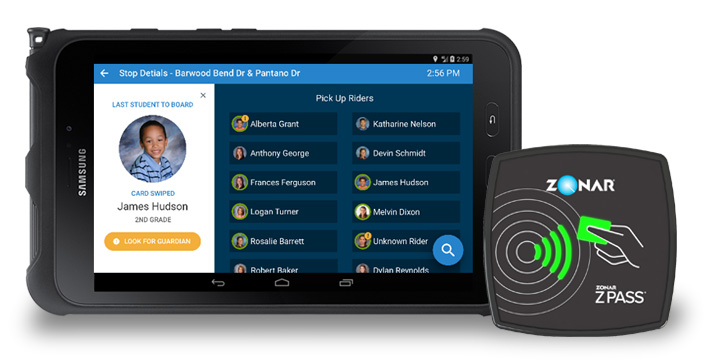 Verify provides scheduled trip & stop-by stop manifests.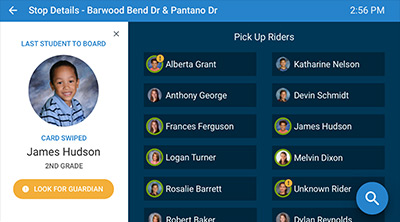 At each stop, Verify displays a roster of riders & their grade level.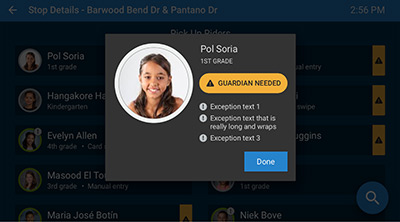 Verify issues a visual & audible alert when it detects an exception.
Empower every driver, at every stop.
Empower every driver, at every stop.
Enable all drivers—especially substitutes—to protect students and easily navigate ever-changing rider activity.
Verify delivers daily routing and pre-trip student roster data to the driver's in-cab tablet. Along the route, stop-by-stop passenger manifests are automatically activated and displayed for easy visual verification and intuitive exception management. Plus, Verify displays a roster of student riders for each stop, their photo and grade level.
Post trip, drivers view and confirm full route passenger manifests, including absent riders.
Put more control in the back-end.
Route coordinators and dispatchers use Routeboard, Verify's online management portal, to push day-of changes directly to the app on drivers' tablets.
Dispatch and administration use Routeboard to benchmark specific metrics in real time to maintain optimal fleet performance.
Route status: Check which trips are complete, in progress or not yet started.
Real-time performance: Confirm how many trips are running on time or late.
Unassigned routes: See how many routes have and have not been assigned to a driver.
Look deeper at bus, stop and route utilization to uncover opportunities for improved efficiency. Identify gaps in processes to enhance reliability and on-time performance to make parents' lives easier. Plus, review and analyze alerts and rider exceptions for trends so you can safeguard students by addressing recurring problems.
Key features
Stop-by-stop & full route passenger manifests
Real-time rider exception management
Visible & audible rider exception alerts
Required child-check prompts after every route
Automatic daily routing info downloads
Transfinder & BusPlanner® integration
• Available on Samsung Galaxy Tab Active3 driver tablets
24/7/365, U.S.-based technical support from Zonar Customer Success
Digitize Medicaid ridership reporting.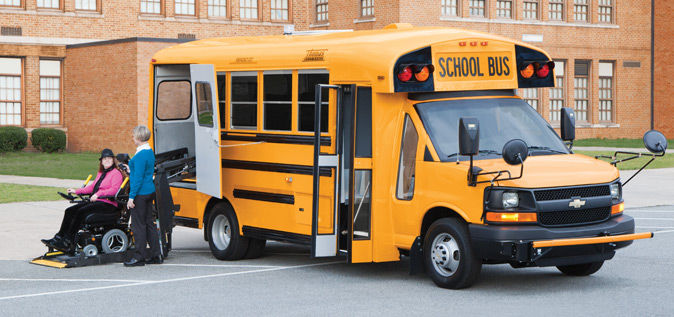 Digitize Medicaid ridership reporting.
Use Verify in conjunction with Z Pass to maximize reimbursement dollars with digital ridership reporting. Replace error-prone manual ridership tracking by capturing and verifying each time a qualified student rider gets on and off the bus.
Look deeper into current and historical rider activity to ensure qualified ridership is being tracked accurately to maximize reimbursement and lower the risk of an audit.