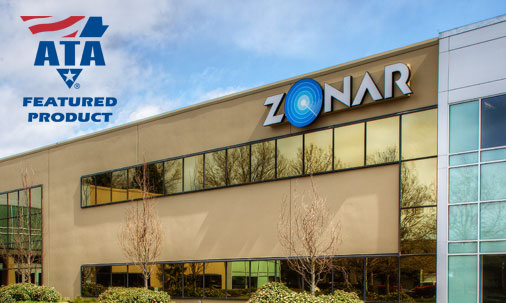 Arlington, Va. – Today, American Trucking Associations announced Zonar, an industry leader in smart fleet technologies, as an ATA Featured Product Provider.
"Technology and connectivity continue to shape the future of the trucking industry by improving safety performance, reducing emissions and increasing productivity," said ATA President and CEO Chris Spear. "Throughout the industry, we're seeing a greater demand, each day, for the wide-range of products developed by innovative companies like Zonar, and we are excited that so many of these products are focused on our industry's biggest priority: safety."
Zonar pioneered smart fleet telematics with patented and award-winning operations technology across all commercial transportation markets: commercial trucking, vocational and passenger fleets. The complete suite of solutions drives safety, efficiency and fuel savings—from drivers to dispatch to administrative operations. Notable patents include the only Electronic Verified Inspection Reporting system available today, which ensures pre- and post-trip inspection compliance. The tablet technology is AOBRD self-certified and ELD-ready. Zonar is also the exclusive OEM partner for Daimler Trucks North America's Virtual Technician solution installed on more than 200,000 Daimler trucks.
The Zonar platform is intelligently designed to help trucking companies ensure regulatory compliance, increase fleet uptime, maximize fuel efficiency and improve driver behavior.
"We are proud to partner with ATA as a Featured Product provider driving technology, fueling efficiency and empowering ATA members with smart fleet management solutions and expertise," said Brett Brinton, co-founder and CEO of Zonar Systems. "We are focused on delivering comprehensive driver-facing and back office solutions that enable fleet managers to improve efficiencies, safety and margins in the trucking industry. Zonar is continuously innovating, recently introducing purpose-built applications like ZFuel to measure driver efficiency and ZForms to automate paper processes on our growing software platform for today and into the future. We are honored to serve the trucking industry and remain in this for the long haul."
To learn more about the ATA Featured Product program, visit www.atabusinesssolutions.com or call 866-821-3468.

Founded 15 years ago, Zonar has pioneered smart fleet management technology by providing innovative technology that has changed fleet operations in the vocational, pupil, and commercial trucking industries With a unique focus on this field, the Company offers a complete suite of solutions and specialized platforms for our customers in multiple markets. Our patented, award-winning technology keeps fleet owners and managers connected to their fleets and drivers to dispatchers. Headquartered in Seattle, Zonar also has a Technology Development Center in downtown Seattle, an office in Cincinnati, and a distribution center outside of Atlanta. For more information about Zonar Systems, go to www.zonarsystems.com
American Trucking Associations is the largest national trade association for the trucking industry. Through a federation of 50 affiliated state trucking associations and industry-related conferences and councils, ATA is the voice of the industry America depends on most to move our nation's freight. Follow ATA on Twitter or on Facebook. Trucking Moves America Forward.