For schools on the road to compliance, Zonar created a checklist decision- makers can print out to help with the process.
Printable Zonar checklist helps schools and contractors ensure compliance before the 2019 -2020 school year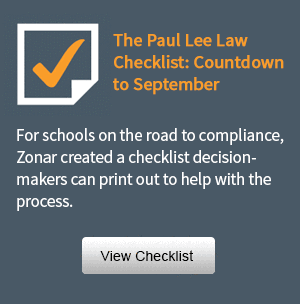 Seattle Wash. - June 27, 2019 - With less than three months to ensure compliance with California's Paul Lee School Bus Safety Law, some school districts are still struggling to upgrade fleets with a child safety alert system that meets state standards. Zonar - the leader in smart fleet management technology – created a printable checklist to help state schools, businesses, and organizations that provide transportation to students ensure full compliance before the September 2019 deadline.
In 2016, the Paul Lee School Bus Safety Law was passed into effect after the tragic death of a student the previous year. Hoon Jun "Paul" Lee, a nonverbal autistic, died after he was unintentionally left behind on a school bus during a heatwave with the windows shut. The driver did not conduct a proper vehicle check and failed to notice Lee before exiting the bus. The law, intended to prevent passengers from being left behind, requires school buses to be equipped with a safety alert system, child-safety training for drivers, and enforces numerous penalties for officials who fail to notify the California Department of Motor Vehicles (CA DMV) of students that have been left unattended on a school bus.
"We believe that anyone who works with children understands the great responsibility they are charged with. Sadly, even the best-intentioned person can make mistakes which can have tragic consequences," says H. Kevin Mest, senior vice president of passenger services for Zonar. "We want to help school districts ensure the safety of their students and passengers which is why we developed an easy-to-use guide for those needing help through the decision-making process."
Vehicles dedicated to transporting special needs students must already be compliant. Due to the complexities involved with updating each school bus in a fleet, lawmakers granted an extension for all general passenger school buses to have the necessary technology on board by September. School officials can find the downloadable guide here. This includes:
A workback calendar in checklist form
Survey and assessment questions for drivers and stakeholders
An easy equation to forecast installation time per vehicle
A guide on identifying and choosing the right vendor
Zonar creates technology solutions that collect and analyze data from a wide-variety of vehicles including trucks, school buses and construction equipment. This information empowers drivers and fleet managers with the data and analysis needed to better navigate any route and safely manage passengers. Zonar technology is on over nearly 200,000 school buses nation-wide, helping school districts bolster and improve the safety of school bus passengers, providing parents peace-of-mind by ensuring they know where their children are while on the road.
About Zonar
Founded in 2001, Zonar has pioneered smart fleet management solutions throughout vocational, pupil, mass transit and commercial trucking industries. Zonar helps fleets of all sizes maximize the use of their assets with solutions dedicated to improving compliance, efficiency, maintenance, ridership visibility, safety and tracking. Cloud-based services with open API's drive Zonar's smart fleet solutions by making it easy for fleet owners and managers to stay connected to their fleets and drivers and operators to dispatch. Headquartered in Seattle and majority-owned by technology company Continental, Zonar also has a Technology Development Center in downtown Seattle, a regional office in Cincinnati, and a distribution center outside of Atlanta. For more information about Zonar, go to www.zonarsystems.com