Zonar and Cummins today announced that they are offering joint customers Cummins Connected Diagnostics with Connected Advisor, two wireless uptime technologies that are included with Cummins engines.
Zonar customers with Cummins engines to be empowered by Cummins to make critical business decisions with analysis from Cummins engine experts in real-time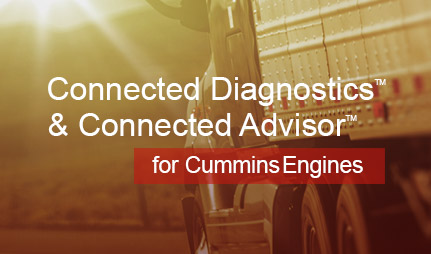 SEATTLE Wash. – October 30, 2018 - Zonar the leader in smart fleet management technology, and Cummins Inc. (NYSE: CMI), the leading independent manufacturer of diesel and natural gas engines, controls and emission solutions today announced that they are offering joint customers Cummins Connected Diagnostics with Connected Advisor, two wireless uptime technologies that are included with Cummins engines. Connected Advisor provides customers with daily and monthly health reports that consist of prioritized, time-based recommendations to distinguish between immediate repair needs and those that can be scheduled a few days out. The solutions enhance and deliver actionable information to customers by intelligently interpreting diagnostics codes delivered from Cummins engines via Zonar's telematic control unit and Cummins Connected Diagnostics.
"We're pleased to work with Zonar to enable our joint customers with access to engine fault reports, including suggested root causes and recommended actions, so fleet managers can act strategically and in a timely manner, depending on the sense of urgency," said Todd Mysak, Executive Director at Cummins. "By delivering Connected Advisor to our customers, Zonar and Cummins can ensure that more fleets are keeping their vehicles on the road by eliminating the guess work and ambiguity from vehicle service scheduling."
Transmitting data through Zonar's telematics control units, Cummins Connected Diagnostics wirelessly connects engines to Cummins for continuous monitoring and diagnosis of engine fault alerts. Using advanced analytics and proprietary algorithms, Connected Advisor prioritizes engine fault information and translates it with expert recommendations from Cummins, that are immediately sent to operations managers. With Connected Advisor, customers receive enhancements designed to isolate and interpret key engine and aftertreatment data every day, along with suggested time frames to take action. Connected Advisor notifications are sent via email and can be configured so the appropriate representatives receive the right types of messages.
"Cummins and Zonar have the shared goal of ensuring our customers' vehicles are running safely by keeping them informed on the health of their engines," said Gary Schmidt, vice president of business solutions at Zonar. "With Connected Advisor, customers get an additional level of support in interpreting engine issues so that they can better understand and prioritize issues requiring attention, improving overall operational efficiency."
The joint program between Zonar and Cummins delivers Connected Advisor throughout the engine warranty period. For more information on Connected Advisor please visit: https://www.cummins.com/parts-and-service/electronic-service-tools/connected-advisor
For more information on Zonar, please visit: https://www.zonarsystems.com
About Zonar Founded in 2001, Zonar has pioneered smart fleet management solutions throughout vocational, pupil, mass transit and commercial trucking industries. Zonar helps fleets of all sizes maximize the use of their assets with solutions dedicated to improving compliance, efficiency, maintenance, ridership visibility, safety and tracking. Cloud-based services with open API's drive Zonar's smart fleet solutions by making it easy for fleet owners and managers to stay connected to their fleets and drivers and operators to dispatch. Headquartered in Seattle and majority-owned by technology company Continental, Zonar also has a Technology Development Center in downtown Seattle, a regional office in Cincinnati, and a distribution center outside of Atlanta. For more information about Zonar, go to www.zonarsystems.com
About Cummins Inc. Cummins Inc., a global power leader, is a corporation of complementary business segments that design, manufacture, distribute and service a broad portfolio of power solutions. The company's products range from diesel and natural gas engines to hybrid and electric platforms, as well as related technologies, including battery systems, fuel systems, controls, air handling, filtration, emission solutions and electrical power generation systems. Headquartered in Columbus, Indiana (U.S.A.), since its founding in 1919, Cummins currently employs approximately 58,600 people committed to powering a more prosperous world. Cummins serves customers in about 190 countries and territories through a network of some 500 company-owned and independent distributor locations and approximately 7,500 dealer locations. Cummins earned $1 billion on sales of $20.4 billion in 2017. Press releases can be found on the Web at www.cummins.com. Follow Cummins on Twitter at www.twitter.com/cummins and on YouTube at www.youtube.com/cumminsinc.