Zonar, in partnership with the National Association of Pupil Transportation (NAPT), today announced that the Don Carnahan Memorial Grant is now open for applications.
The 2019 grant provides up to $50,000 in smart fleet technology to help keep students safe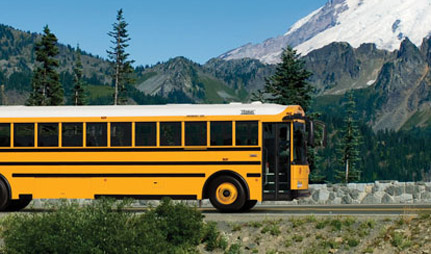 Seattle Wash. - April 30, 2019 - Zonar the leader in smart fleet technology, in partnership with the National Association of Pupil Transportation (NAPT), today announced that the Don Carnahan Memorial Grant is now open for applications. This is the 10th year of the Don Carnahan Memorial Grant, which gives school districts the opportunity to receive up to $50,000 in smart fleet hardware technology to help keep students safe and increase the efficiency and effectiveness of pupil transportation programs. Since 2011, Zonar has donated more than $500,000 in technology to over a dozen school districts and contractors across the United States and Canada.
"We're happy to continue partnering with Zonar for the 10th annual Don Carnahan Memorial Grant, knowing that Zonar has always made the safety of passengers on the road their top priority,""said Mike Martin, executive director at NAPT. "Through our partnership, our members will have access to Zonar technology and support that makes it easier for them to protect the students that ride buses every day."
Grant recipients can apply for Zonar fleet management technology, including Electronic Verified Inspection Reporting (EVIR®); high-definition GPS fleet tracking with live delivery of vehicle performance, subsystem, and diagnostic information in one device (V4™); student tracking (Z Pass™); Ground Traffic Control® web-based software; and real-time driver coaching (Zonar Coach).
"In a perfect world, every school bus fleet would be equipped with technology to accurately track routes, provide real-time vehicle performance reporting and monitor the movement and location of each student passenger," said H. Kevin Mest, senior vice president of passenger services at Zonar. "This grant allows school districts and contractors to up-level their safety, compliance and efficiency by leveraging Zonar's leading portfolio of smart fleet management solutions."
To be considered for the Don Carnahan Memorial Grant, applicants must be current NAPT members at the time of submission. Applications are accepted on a rolling basis throughout 2019 and applicants will be considered for full and partial grants of up to $50,000 in hardware costs.
For additional information on the Don Carnahan Memorial Grant or to apply, please visit the Don Carnahan Memorial Grant page
About Zonar
Founded in 2001, Zonar has pioneered smart fleet management solutions throughout vocational, pupil, mass transit and commercial trucking industries. Zonar helps fleets of all sizes maximize the use of their assets with solutions dedicated to improving compliance, efficiency, maintenance, ridership visibility, safety and tracking. Cloud-based services with open API's drive Zonar's smart fleet solutions by making it easy for fleet owners and managers to stay connected to their fleets and drivers and operators to dispatch. Headquartered in Seattle and majority-owned by technology company Continental, Zonar also has a Technology Development Center in downtown Seattle, a regional office in Cincinnati, and a distribution center outside of Atlanta. For more information about Zonar, go to www.zonarsystems.com
About NAPT NAPT is the world's premier market space for public and private student transportation service providers and the companies that provide valuable products and services to support safe student transportation. They believe transportation is integral to education, an invaluable component of a successful educational enterprise. As the leading trade association in the student transportation industry, NAPT is dedicated to helping their members engage in and influence policy making that will enhance operational safety and administrative efficiency. NAPT is headquartered in Albany, NY. www.napt.org
Our History
2001: Zonar established.
2002: Grows to 11 employees.
2003: EVIR® patent awarded; First Student becomes customer.
2004: Approximately 30 First Student sites installed.
2006: Filed for Ground Traffic Control® patent.
2007: HQ moves to current building.
2008: 50 million verified visual inspections conducted in U.S.
2009: 100th employee hired.
2010: Introduced Z Pass™; Zonar featured on NBC's Today Show.
2011: Partnership with Daimler.
2012: V3™ and 2020® released.
2013: Virtual Technician wins Edison Award.
2014: Exceeds 300,000 subscribers.
2015: Announces DTNA strategic investment.
2016: Announces Continental's majority investment
2016: Launches Connect™ next gen tablet and software ecosystem
2017: Integrates with ContiPressureCheck™ tire sensors
2017: Introduces Zonar Coach™ an in-cab driver coaching solution
2018: Frost & Sullivan Company of the Year
2018: Puget Sound Business Journal Best Places to Work
2018: Launches Zonar Verify™
2018: Zonar Reseller Program announced