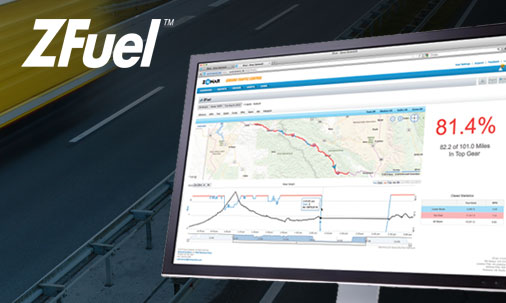 Precise Driver and Commercial Vehicle Efficiency Reporting to Save Fleets Tens of Thousands of Dollars in Fuel Savings Per Year
Seattle Wash. – March 21, 2016 – Zonar, a leading transportation technology company, announced today the general availability of the Ground Traffic Control (GTC) Performance package including the ZFuel application. GTC Performance, Zonar's cloud-based fleet management web-application, with ZFuel delivers fleets an unparalleled driver and truck analysis tool for uncovering areas for improved truck operation and performance. Fleet managers can use ZFuel to identify non-diagnostic issues with trucks as well as areas to coach, motivate and potentially incentivize best driving practices for their drivers to achieve greater efficiencies on less fuel.
ZFuel uses telematics data collected by the Zonar's V3 connected directly to the engine control unit (ECU) and analyzes it for a variety of factors. Then, using the data, the app ranks drivers in the system according to their total fuel efficiency – which also lists the money they could save on fuel by changing their practices behind the wheel.
"Monitoring your fuel usage by MPG alone is the way of the past," said Brett Brinton, co-founder and CEO of Zonar Systems. "If your fleet isn't taking into account additional data points that influence fuel consumptions and making appropriate adjustments with your driver, trucks and fleet operations, then you might as was well be tossing your money out the window."
According to the Federal Motor Carrier Safety Administration (FMCSA) "Study of the Impact of a Telematics System on Safe and Fuel-efficient Driving in Trucks," driver behavior is by far the largest single contributor to improving fuel economy. There can be as much as a 35-percent difference in fuel consumption between a good driver and a poor driver. Speeding, inappropriate gear selection, not maximizing the use of cruise control, and truck idling all contribute to inefficient fuel consumption.
Captured data utilized by ZFuel includes how often the driver uses cruise control, engine idle time, speed, and what gear the truck is in. These factors allow fleet managers to see an accurate measurement of fleet fuel efficiency based on the circumstances in which each driver was operating. With ZFuel, each driver earns an individualized Driver Efficiency Score, quickly uncovering performance areas in need of improvement. Fleet managers can then coach their drivers, incentivize with a proportion of the fuel saving and gamify the experience to increase driver retention while lowering fuel usage and increasing operating margins.
"To obtain an advantage in today's transportation industry, technologies such as ZFuel are necessary to provide drivers feedback, training, and/or incentive programs that can improve truck fleet management and reinforce safe and fuel-efficient driving behavior," said Clem Driscoll, president of C.J. Driscoll & Associates. "ZFuel is an important new feature for Zonar as it continues to grow its market share in the industry and with the eventual rise of fuel costs."
"We noticed an initial savings of over $300 per truck, per month with ZFuel. There's nothing else like it in the market today," said David Daniels, president of May Trucking. "Our trucks utilize Daimler's integrated Detroit Powertrain (iDP) combined with ZFuel resulting in a radical improvement in MPG."
Benefits fleets can expect from ZFuel include:
Maximizing MPG and controlling hard dollar fuel costs
Creating efficiency scores, by driver, to uncover training gaps
Normalizing metrics across age of truck and route terrain
Tracking key metrics that impact fuel costs, such as speeding
Flagging idle times outside of company policy, by individual truck profile
Protecting against fuel theft
Tracking driver behavior and monitor improvement over time
Quantifying the number and percentage of miles in top gear
Mapping cruise control
For more information on GTC Performance and ZFuel please visit: https://www.zonarsystems.com/zfuel
About Zonar
Founded 15 years ago, Zonar has pioneered smart fleet management technology by providing innovative technology that has changed fleet operations in the vocational, pupil, transit and commercial trucking industries. With a unique focus on this field, the Company offers a complete suite of solutions and specialized platforms for our customers in multiple markets. Our patented, award-winning technology keeps fleet owners and managers connected to their fleets and drivers to dispatchers. Headquartered in Seattle, Zonar also has a Technology Development Center in downtown Seattle, an office in Cincinnati, and a distribution center outside of Atlanta. For more information about Zonar Systems, go to www.zonarsystems.com