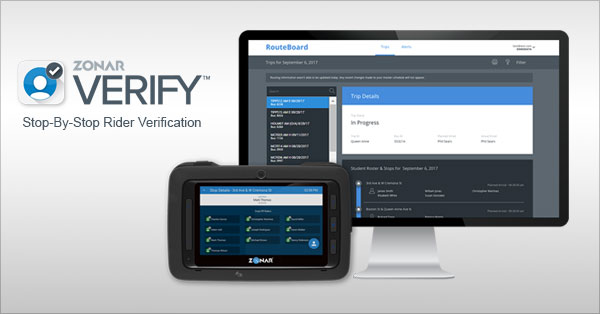 Zonar announced Zonar Verify™, a mobile app that provides daily routing and student rider information directly to the bus driver.

Innovative solution delivers routing and student roster information to bus drivers and helps manage daily routing exceptions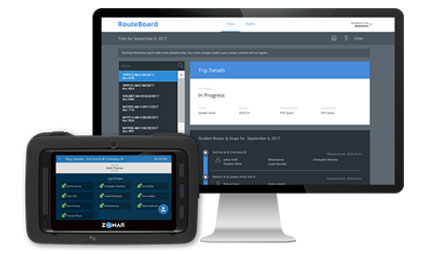 Seattle Wash. – November 7, 2017 - Zonar, the leader in smart fleet management technology, today announced Zonar Verify™, a mobile app that provides daily routing and student rider information directly to the bus driver. The app is powered by RouteBoard™, a market differentiating web-based tool that integrates with routing solutions to enable dispatchers and route coordinators to manage and plan for daily events like buses being out of service and other day-of bus changes.
Verify addresses challenges associated with students getting on the wrong bus or off at the wrong stop, provides data driven insights for accurate bus utilization, streamlines student tracking for Medicaid and other reimbursements, and makes managing of day-of bus changes easier. The Verify solution works by leveraging data from RouteBoard and Z Pass™, Zonar's RFID card and student visibility solution. The data is then delivered in real time directly to the driver on a Zonar Connect™ tablet.
"Verify bolsters the capabilities of routing solutions and brings the ridership visibility capabilities of our Z Pass solution directly to the driver so that he or she knows if a student is getting on the correct bus and off at their assigned stop." said, H. Kevin Mest, senior vice president and general manager of passenger services at Zonar. "With an estimated 25 million students being transported daily by school bus in the U.S., safety is a top priority and ensuring that no student boards the wrong bus or exits at the wrong spot is critical. Zonar is committed to innovating solutions like Verify to ensure that students get to and from school safely."
RouteBoard, Verify's online management portal, works by downloading daily routing information from routing systems and layers in the ability for dispatchers and route coordinators to easily change bus assignments when exceptions such as if a bus breaks down or is needed elsewhere. This data is then appropriately routed to the Zonar Connect for driver use. The data is also easily exported for analysis of stop times and actual versus planned route and rider events which can be leveraged to improve future routing needs.
Benefits fleets can expect from Zonar Verify
Limits incidents of students getting on and off the bus at the wrong stop and endangering their safety
Tracks the number of riders, and specific rider activity for accurate utilization and reimbursement
Prompts a 'child check' at the end of every route
Gives dispatchers a way to change buses on a route in moments
Provides information regarding planned vs. actual routes and rider activity to improve routing accuracy
For more information on Zonar Verify, please visit: www.zonarsystems.com/verify
About Zonar Founded in 2001, Zonar has pioneered smart fleet management solutions throughout vocational, pupil, mass transit and commercial trucking industries. Zonar helps fleets of all sizes maximize the use of their assets with solutions dedicated to improving compliance, efficiency, maintenance, ridership visibility, safety and tracking. Cloud-based services with open API's drive Zonar's smart fleet solutions by making it easy for fleet owners and managers to stay connected to their fleets and drivers and operators to dispatch. Headquartered in Seattle and majority-owned by technology company Continental, Zonar also has a Technology Development Center in downtown Seattle, a regional office in Cincinnati, and a distribution center outside of Atlanta. For more information about Zonar, go to www.zonarsystems.com
Our History
2001: Zonar established.
2002: Grows to 11 employees.
2003: EVIR® patent awarded; First Student becomes customer.
2004: Approximately 30 First Student sites installed.
2006: Filed for Ground Traffic Control® patent.
2007: HQ moves to current building.
2008: 50 million verified visual inspections conducted in U.S.
2009: 100th employee hired.
2010: Introduced Z Pass™; Zonar featured on NBC's Today Show.
2011: Partnership with Daimler.
2012: V3™ and 2020® released.
2013: Virtual Technician wins Edison Award.
2014: Exceeds 300,000 subscribers.
2015: Announces DTNA strategic investment.
2016: Announces Continental's majority investment
2016: Launches Connect™ next gen tablet and software ecosystem
2017: Integrates with ContiPressureCheck™ tire sensors
2017: Introduces Zonar Coach™ an in-cab driver coaching solution
2018: Frost & Sullivan Company of the Year
2018: Puget Sound Business Journal Best Places to Work
2018: Launches Zonar Verify™
2018: Zonar Reseller Program announced