The company's technology-forward strategies and superior service have given it a distinct competitive edge in both the school and transit bus transportation industries.
The company's technology-forward strategies and superior service have given it a distinct competitive edge in both the school and transit bus transportation industries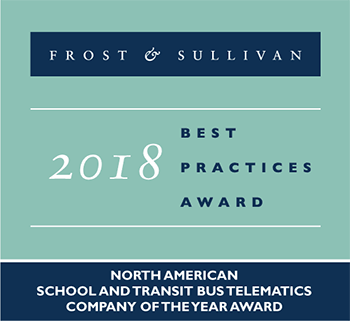 SANTA CLARA, Calif. - October 29, 2018 - Based on its recent analysis of the North American school and transit bus telematics market, Frost & Sullivan recognizes Zonar with the 2018 North American School and Transit Bus Telematics Company of the Year Award for its comprehensive telematics and inspection solutions in the school and transit bus market. Zonar's telematics solutions improve bus fleet operations by delivering increased safety, maintenance, fuel efficiency and driver productivity. The company's use of a radio identification (RFID) tag system for electronically verifiable inspections and various other innovative technologies to ensure safe, efficient and compliant school and transit bus fleets has established its leadership in smart fleet management.
"Zonar has bridged the gap between inspection and service with its Electronically Verified Inspection Reporting (EVIR®), which scans RFID tags that are placed in areas on commercial vehicles that the Federal Motor Carrier Association mandates be checked," said Gokulnath Raghavan, Team Lead & Industry Analyst. "All data from these tags are broadcast to the company's Web-based platform called Ground Traffic Control®, from where fleet managers can monitor digital logs that indicate whether a particular part requires immediate service or not. In addition, the tags can be used for child checks and verifiable driver clock-in times."
"We design every product in our suite of pupil solutions to ensure the safety of our children and to provide school and fleet administrators with a deep look into their processes. By helping them uncover insights into their operations, districts can increase efficiencies and cost savings across their fleets," said Ian McKerlich, CEO and president, Zonar. "This recognition from Frost & Sullivan validates our team's ongoing development of innovative and useful platforms, hardware and software – enabling us to remain our customers' most trusted insights advisor."
Acknowledging the need to ensure that every student riding a school bus is accounted for and gets on and off the at the correct stop, Zonar developed a mobile-based app called Zonar Verify™. This provides rider safety and visibility using its RFID-enabled Z Pass™. Zonar Verify is integrated with an online management portal, RouteBoard, to handle route exceptions and daily bus management. This technology solution helps ensure the 'right bus, right stop' scenario happens for every student by sending alerts to the driver, while also conducting student ridership verifications. Furthermore, Zonar addresses the need to comply with emission regulations using remote vehicle diagnostics. This technology can help reduce the costs incurred due to idling by more than 70%, saving fleets hundreds of dollars per vehicle per week.
In a significant move, Continental AG - a leading German automotive technology company and automotive manufacturer- acquired a majority stake in Zonar in 2016. This allowed Zonar to broaden its presence in the automotive industry and further innovate hardware and software solutions.
"Continental's investment in Zonar allows us to continue to enhance our already robust suite of solutions while broadening our business into connected and mobility services." said Dr. Michael Ruf, Head of the Commercial Vehicle & Aftermarket Business Unit, Continental AG. "Frost & Sullivan's recognition of Zonar's deep commitment to providing best-in-class fleet technology is another proof of how important Zonar's contributions to our business are,"
"Zonar also offers unique integrations, such as video-based safety solutions for coaching drivers. This service is accompanied by 24x7x365 technical support," noted Gokulnath Raghavan, Team Lead & Industry Analyst. "With over 100 existing and pending patents in fleet management solutions and proven validation of technologies, the Zonar solution addresses all the key logistical challenges in public and pupil transportation."
Each year, Frost & Sullivan presents a Company of the Year award to the organization that demonstrates excellence in terms of growth strategy and implementation in its field. The award recognizes a high degree of innovation with products and technologies, and the resulting leadership in terms of customer value and market penetration.
Frost & Sullivan Best Practices awards recognize companies in a variety of regional and global markets for demonstrating outstanding achievement and superior performance in areas such as leadership, technological innovation, customer service, and strategic product development. Industry analysts compare market participants and measure performance through in-depth interviews, analysis, and extensive secondary research to identify best practices in the industry.
About Zonar Founded in 2001, Zonar has pioneered smart fleet management solutions throughout vocational, pupil, mass transit and commercial trucking industries. Zonar helps fleets of all sizes maximize the use of their assets with solutions dedicated to improving compliance, efficiency, maintenance, ridership visibility, safety and tracking. Cloud-based services with open API's drive Zonar's smart fleet solutions by making it easy for fleet owners and managers to stay connected to their fleets and drivers and operators to dispatch. Headquartered in Seattle and majority-owned by technology company Continental, Zonar also has a Technology Development Center in downtown Seattle, a regional office in Cincinnati, and a distribution center outside of Atlanta. For more information about Zonar, go to www.zonarsystems.com
About Frost & Sullivan Frost & Sullivan, the Growth Partnership Company, works in collaboration with clients to leverage visionary innovation that addresses the global challenges and related growth opportunities that will make or break today's market participants. For more than 50 years, we have been developing growth strategies for the global 1000, emerging businesses, the public sector, and the investment community. Contact us: Start the discussion.