Zonar announced the availability of its Zonar MobileCommand™, a mobile driver workflow platform to improve the productivity and efficiency of over-the-road truck drivers and the fleets they work for.
Single interface to automate trip management and streamline driver communication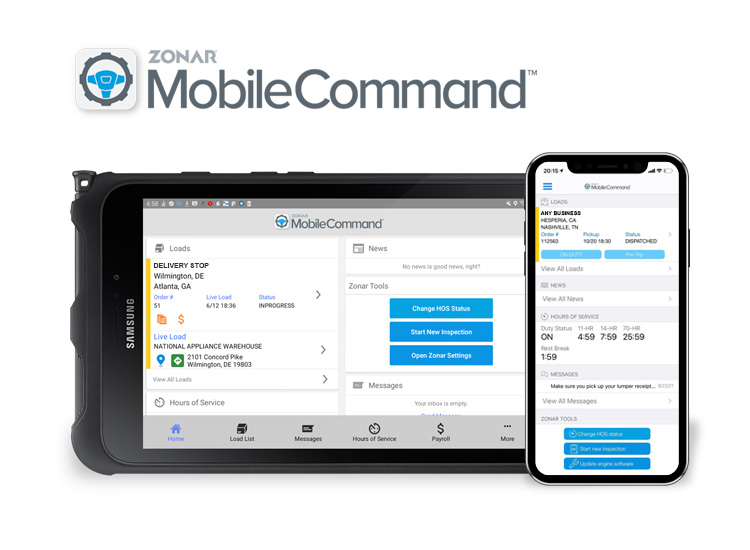 SEATTLE, Wash. - October 25, 2021 - Zonar, the leader in smart fleet technology, today announced the availability of its Zonar MobileCommand™, a mobile driver workflow platform to improve the productivity and efficiency of over-the-road truck drivers and the fleets they work for. The application delivers a highly customizable experience to meet the needs of fleets for backend efficiency. In addition, it gives drivers a modernized experience and professional tool that can increase their job satisfaction leading to higher retention rates.
Compatible with major transportation management system (TMS) platforms, MobileCommand enables dispatch offices to quickly understand what vehicles are available and what drivers are have hours to complete specific jobs while keeping the drivers informed in real-time with TMS-integrated messaging and company newsfeeds. Drivers, in the meantime, gain visibility into upcoming loads, the ability to submit related paperwork via a document scanner, pre-populate routes to safely navigate to a designation, as well as easy access to other Zonar applications, such as EVIR® for pre- and post-trip inspection records, ZLogs™ for hours of service and any other applications within the Zonar Mobile Ecosystem.
"With one application to install, one login to remember, and one interface to learn, we're providing drivers with every essential tool needed to complete a route safely and efficiently," said Wayne Deno, vice president of freight and over the road at Zonar. "Especially in a time when resources are under stress due to supply chain shortages, we aim to reduce the burden on both dispatchers and drivers with a platform optimized to ease communication and management."
According to the Commercial Vehicle Safety Alliance's (CVSA) 2021 International Roadcheck, hours of service was the most cited driver out-of-service violation, accounting for 41.5% (1,203) of all driver out-of-service violations. The MobileCommand's APIs for easy customization and automated features can help address this industry issue. With MobileCommand, truck drivers can easily see how their Hours of Service (HOS) aligns to their route to pre-plan truck stops, truck parking, rest stops, weigh stations, and more. In addition, when a stop is added, back-office dispatch can get real-time alerts on a driver's HOS status and vehicle location.
Zonar MobileCommand™ provides customizable options for medium to large-sized fleets, and off-the-road fleets, with features including:
ELD integration
In-depth trip planning
Voice-guided, turn-by-turn navigation
Equipment locator to see status of load in real-time
Intelligent locking to prevent distracted driving
Newsfeeds/media libraries
Two-way, real-time messaging
Administrative operations, including task lists and built-in payroll
Dynamic forms and high-quality document scanning
Visit the Zonar website for more information on Zonar MobileCommand™.
About Zonar Founded in 2001, Zonar has pioneered smart fleet management solutions throughout vocational, pupil, mass transit and commercial trucking industries. Zonar's mission is to enhance the safety, performance, and success of our customers by transforming the delivery of innovative insights for commercial fleets around the world. Zonar achieves this by helping fleets of all sizes maximize the use of their assets with solutions dedicated to improving compliance, efficiency, maintenance, ridership visibility, safety and tracking. Cloud-based services with open APIs drive Zonar's smart fleet solutions by making it easy for fleet owners and managers to stay connected to their fleets and drivers and operators to dispatch. Headquartered in Seattle and part of the Continental family, Zonar also has a Technology Development Center in downtown Seattle, a regional office in Cincinnati, and a distribution center outside of Atlanta.