Zonar announced it has been named an award winner in the Business Intelligence Group's 2021 Excellence in Customer Service and Artificial Intelligence Excellence programs.
Company receives accolades for its innovative commercial truck coaching technology and industry-leading customer support commitment
Seattle - May 3, 2021 -Zonar, the leader in smart fleet technology, today announced it has been named an award winner in the Business Intelligence Group's 2021 Excellence in Customer Service and Artificial Intelligence Excellence programs.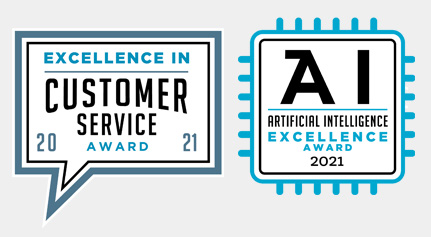 The Artificial Intelligence Excellence program recognizes organizations, products and people bringing artificial intelligence (AI) to life and applying it to solve real problems. Zonar Coach, a smart dashcam with real-time, in-cab coaching, has upheld commercial trucking safety standards by utilizing AI to detect distracted driving behaviors and keep truck drivers safe on the road.
"We are so proud to name Zonar as a winner in our inaugural Artificial Intelligence Excellence Awards program," said Maria Jimenez, chief nominations officer for Business Intelligence Group. "It was clear to our judges that Zonar was using AI to improve the lives of its customers and employees. Congratulations to the entire team."
The Excellence in Customer Service program celebrates companies achieving business success and growth by supporting their own customers and those who are developing the tools to help others find success. Zonar's dedicated customer success team is responsible for relationship building and management with customers. While most other companies in the industry provide a base-level customer support system, Zonar goes above and beyond to provide concierge-level service to all customers.
"On the frontline of our uncertain times are customer service professionals and suppliers without whom we wouldn't be able to live as comfortably as we have for the last year," Jimenez said. "It is our honor to recognize Zonar for leading by example and making real progress on improving the daily lives of so many."
Organizations from across the globe submitted their recent innovations and best practices for consideration. Nominations were then judged by a select group of business leaders and executives who volunteer their time and expertise to score submissions.
"Zonar's commitment to industry innovation and support is transformative. We are setting the bar high and seeing success through understanding our customer's top priorities and challenges," said Michael Gould, chief operating officer at Zonar. "We are thrilled to be recognized for technology that is keeping drivers safe on the road and exemplifying what it means to truly offer exceptional customer support."
Earlier this year, Zonar was also honored by Business Intelligence Group in its BIG Innovation Awards for its efforts to increase digitization in vocational, pupil transportation, mass transit and commercial trucking industries over the past 20 years.
About Zonar Founded in 2001, Zonar has pioneered smart fleet management solutions throughout vocational, pupil, mass transit and commercial trucking industries. Zonar's mission is to enhance the safety, performance and success of our customers by transforming the delivery of innovative insights for commercial fleets around the world. Zonar achieves this by helping fleets of all sizes maximize the use of their assets with solutions dedicated to improving compliance, efficiency, maintenance, ridership visibility, safety and tracking. Cloud-based services with open APIs drive Zonar's smart fleet solutions by making it easy for fleet owners and managers to stay connected to their fleets and drivers and operators to dispatch. Headquartered in Seattle and majority-owned by technology company Continental, Zonar also has a Technology Development Center in downtown Seattle, a regional office in Cincinnati, and a distribution center outside of Atlanta.
About Business Intelligence Group The Business Intelligence Group was founded with the mission of recognizing true talent and superior performance in the business world. Unlike other industry award programs, these programs are judged by business executives having experience and knowledge. The organization's proprietary and unique scoring system selectively measures performance across multiple business domains and then rewards those companies whose achievements stand above those of their peers.