Zonar, the leader in smart fleet management technology on Earth, is proud to announce its expansion into space fleet management.
Expanded ecosystem of partners and resellers provide customers with easy access to a broad suite of award-winning fleet management tools and services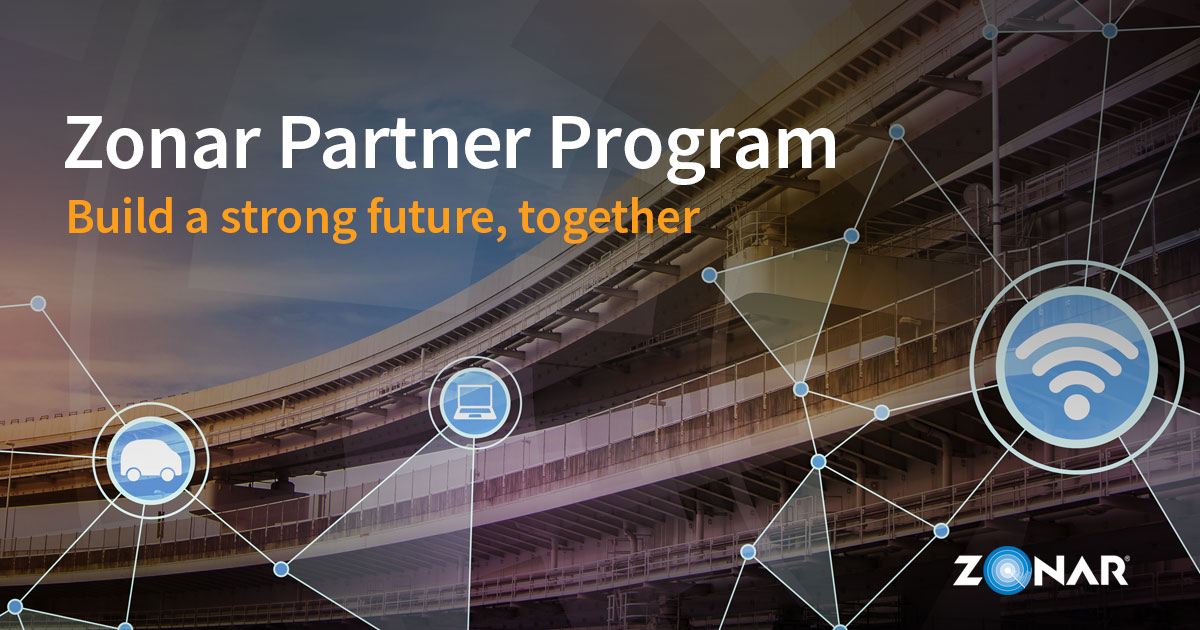 Seattle, Wash. – April 10, 2019 - Zonar, the leader in smart fleet management technology, today celebrates accelerated growth to its strategic partner program, with 21 new partners signed over the past year. This brings the total number of partners to 28, including five resellers. Zonar's ever-growing partner program helps businesses stay competitive; enhance, integrate with, and bolster their existing fleet management solutions; and meet rapidly-changing industry regulations.
Zonar's partners provide a wide array of product and service solutions that serve fleets of all sizes across vocational, pupil, mass transit and commercial trucking industries. The network of partners collaborating with Zonar impact critical safety, compliance and efficiency areas – ensuring customers can easily choose the best tools and services for their business. Zonar's partner program allows companies to make strategic investments without wasting time on sourcing reliable providers. Zonar's partner solutions are helping customers simplify and optimize routing, planning, and scheduling, and providing fleet diagnostic and maintenance information for crucial business insights.
"By collaborating with Zonar for several years, we've delivered integrated routing and maintenance solutions to school bus fleets throughout the country to help ensure buses stay on the road and are operating as efficiently as possible," said John Daniels, vice president of marketing at Transfinder. "With the growth of Zonar's partner ecosystem and activation of new partner tools, we'll have more opportunities to help school districts find comprehensive solutions to meet their complex needs while accelerating our growth."
"Together Zonar and RTA have a long history of providing fleet managers with solutions that help make our roads safer, their jobs easier and their fleets more efficient," said Josh Turley, CEO of RTA Fleet Management. "By integrating our maintenance system with their verified EVIR inspection data, our clients gain greater clarity, confidence and peace of mind while managing their operations, and achieve more powerful preventative – and proactive – fleet maintenance capabilities. Now as a Zonar Alliance Partner we look forward to our continued collaboration and growth together."
"Our transportation management system dispatches thousands of trucks across North America and we sought a leading telematics and smart fleet management partner to help us deliver a leading-edge, complete transportation management platform," said Ivan Demkovitch, President of Ditat. "With our integration with Zonar, Ditat is able to automate and streamline dispatch operations, driver communications and compliance, and fleet maintenance through a single mobile app solution."
"Our customers have always been our top priority, so we've taken great care to ensure our partner network empowers fleet managers with best-in-class products, services, and support that work seamlessly well together," said Gary Schmidt, vice president of business solutions at Zonar. "We make sure the partners we work with can differentiate themselves in the marketplace and grow their influence by reaching more fleets and gaining added go-to-market support from Zonar."
Zonar's partner program offers three partnership program levels for qualified businesses: Alliance Partners, Solution Partners and Master Partners, with different levels of Zonar support and training to accommodate a variety of business models and goals. Also available to partners is the Zonar Partner Center, a robust partner portal offering partners a broad array of on-demand product, training, and implementation tools and resources to accelerate and streamline partner onboarding, sales enablement, lead sharing, order processing, and cross-team communication.
Zonar's newest partners include:
Alliance Partners
CarriersEdge
Ditat
Dossier
DTSystems, Inc.
EBE Technologies
GeoRef/BusPlanner
Jonel
Justransform
Kronos
Project44
Shipwell
Stone Mountain
TimeClock Plus
Tranzlogix
Verra Mobility
Zello
Solutions Partners/Resellers
Assured Telematics
Day Wireless
Fleet Hoster
Native Innovation, Inc.
Rush Enterprises
For more information on Zonar's partner program, please visit: https://www.zonarsystems.com/partners/partner-program/
About Zonar
Founded in 2001, Zonar has pioneered smart fleet management solutions throughout vocational, pupil, mass transit and commercial trucking industries. Zonar helps fleets of all sizes maximize the use of their assets with solutions dedicated to improving compliance, efficiency, maintenance, ridership visibility, safety and tracking. Cloud-based services with open API's drive Zonar's smart fleet solutions by making it easy for fleet owners and managers to stay connected to their fleets and drivers and operators to dispatch. Headquartered in Seattle and majority-owned by technology company Continental, Zonar also has a Technology Development Center in downtown Seattle, a regional office in Cincinnati, and a distribution center outside of Atlanta. For more information about Zonar, go to www.zonarsystems.com