Zonar announced record sales growth of its pupil transportation solutions for the first half of 2022, at STN EXPO Reno.
Company receives accolades for leadership in electric vehicle inspection verification technology
SEATTLE, Wash – August 30, 2022 - Zonar, the leader in smart fleet technology, today announced its original electronic verification inspection reporting, EVIR® solution has been named a winner alongside Green Power Motors in the first annual School Transportation News EXPO 2022 Innovation Choice Awards for the "Best Green Technology" category. The award win exemplifies Zonar's commitment to providing innovative electric vehicle solutions that guarantee reliable safety features for mixed fleets and support green technology.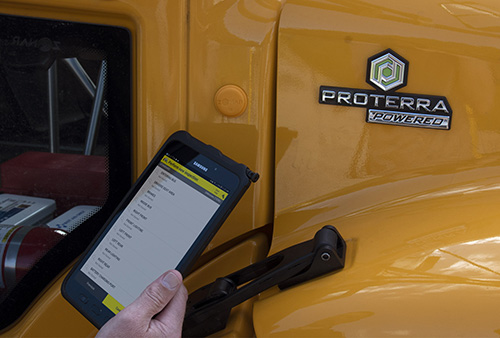 The STN EXPO Innovation Choice Awards recognize any individual, organization or authorized agent who exhibits at STN EXPO 2022 and promotes school transportation products. It is an attendee voting program compiled of four different categories, including, Best Hardware, Best Software, Best Health and Wellness Technology, and Best Green Bus Technology.
With Zonar EVIR solution, processes are digitally verifiable unlike traditional Driver Vehicle Inspection Report (DVIR), or electronic DVIRs (eDVIR). It provides hybrid fleets with proper pre- and post-trip inspections that not only ensure compliance with regular safety checks but also EV-specific inspections. This includes proper charge level, charge components, and verification that chargers are properly inspected. This award win highlights EVIR's patented ability to help drivers ensure their electric buses are adequately charged for their routes, including checking that chargers are disconnected before the bus moves and are reconnected at the end of operation.
"We're honored to receive recognition for our one-of-a-kind, patented EVIR technology," says Matt Dickey, regional vice president of sales at Zonar. "In 2021, we celebrated EVIR's 20th anniversary and have never wavered from our deep commitment to enhance student safety. Ensuring inspections are properly completed is foundational to running a quality student transportation operation."
To learn more about Zonar's recognition across the industry, visit our newsroom.
About Zonar Founded in 2001, Zonar has pioneered smart fleet mobility solutions throughout vocational, pupil, mass transit and commercial trucking industries. Zonar's mission is to enhance the safety, performance, and success of our customers by transforming the delivery of innovative insights for commercial fleets around the world. Zonar achieves this by helping fleets of all sizes maximize the use of their assets with solutions dedicated to improving compliance, efficiency, maintenance, ridership visibility, safety, and tracking. Cloud-based services with open APIs drive Zonar's smart fleet solutions by making it easy for fleet owners and managers to stay connected to their fleets and drivers and operators to dispatch. Headquartered in Seattle and part of the Continental family, Zonar also has a Technology Development Center in downtown Seattle and a distribution center outside of Atlanta.