Zonar has enhanced the senior executive team with the addition of Gareth Wade as the new Chief Revenue Officer.
Global Business Leader to Direct Expanded Growth and Oversee Successful Sales Operations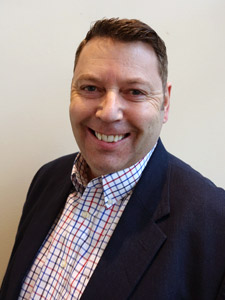 Seattle Wash. - January 30, 2019 - Zonar the leader in smart fleet technology, has enhanced the senior executive team with the addition of Gareth Wade as the new Chief Revenue Officer. Wade is an award-winning business and sales leader with more than 20 years of diverse global experience helping organizations increase revenue and build successful teams and programs. Wade is joining Zonar with a focus on revenue growth through direct sales, channel and reseller programs.
"This is an important time in our industry as both fleets and commercial vehicle OEMs are working to embrace and accelerate the digitization of their vehicles and businesses," said Ian McKerlich, President and CEO at Zonar. "Gareth's expertise in working with customers as they adopt new technologies as well as his ability to motivate and energize teams makes him the perfect addition to the Zonar family."
Wade joins Zonar as a seasoned leader of technology companies and sales teams in the UK, across Europe and North America. Most recently he served as US Director of Business Development & Strategic Alliances for GCI Communication Corp. Previously he was Chief Sales Officer at content26, Director of Channels Sales at Polycom, Inc. and Principal Revenue Growth Consultant at OneAccord Partners.
Before re-locating to the US from Edinburgh in the United Kingdom, Wade served as the founding Sales & Marketing Director of Viju, (formerly CityIS) in the UK and across Europe. Wade moved to Seattle in 2004 and as President and CEO of CityIS, Inc. he established a new subsidiary business. Wade has won many sales recognition awards, including being ranked in the top 25 Deloitte & Touche "Fastest Growing UK Companies" four years consecutively and "Best Director" in national awards sponsored by Scottish Enterprise. Wade serves as volunteer Chairman for British American Business Connections, Pacific Northwest and is a Vice President of the Seattle Saracens Rugby Club.
At Zonar, Wade will be focused on increasing revenue through designing and executing tailored sales and channel solutions, building high-performance teams, forging strategic partner ecosystems and providing executive leadership.
For more information on Zonar, please visit: https://www.zonarsystems.com.
About Zonar
Founded in 2001, Zonar has pioneered smart fleet management solutions throughout vocational, pupil, mass transit and commercial trucking industries. Zonar helps fleets of all sizes maximize the use of their assets with solutions dedicated to improving compliance, efficiency, maintenance, ridership visibility, safety and tracking. Cloud-based services with open API's drive Zonar's smart fleet solutions by making it easy for fleet owners and managers to stay connected to their fleets and drivers and operators to dispatch. Headquartered in Seattle and majority-owned by technology company Continental, Zonar also has a Technology Development Center in downtown Seattle, a regional office in Cincinnati, and a distribution center outside of Atlanta. For more information about Zonar, go to www.zonarsystems.com
Our History
2001: Zonar established.
2002: Grows to 11 employees.
2003: EVIR® patent awarded; First Student becomes customer.
2004: Approximately 30 First Student sites installed.
2006: Filed for Ground Traffic Control® patent.
2007: HQ moves to current building.
2008: 50 million verified visual inspections conducted in U.S.
2009: 100th employee hired.
2010: Introduced Z Pass™; Zonar featured on NBC's Today Show.
2011: Partnership with Daimler.
2012: V3™ and 2020® released.
2013: Virtual Technician wins Edison Award.
2014: Exceeds 300,000 subscribers.
2015: Announces DTNA strategic investment.
2016: Announces Continental's majority investment
2016: Launches Connect™ next gen tablet and software ecosystem
2017: Integrates with ContiPressureCheck™ tire sensors
2017: Introduces Zonar Coach™ an in-cab driver coaching solution
2018: Frost & Sullivan Company of the Year
2018: Puget Sound Business Journal Best Places to Work
2018: Launches Zonar Verify™
2018: Zonar Reseller Program announced