Zonar and Cummins drive more uptime.


Telematics you trust, and engines you count on.
Cummins engines are renowned for powering on-highway and off-highway fleet assets and industrial equipment. Zonar has been innovating smart fleet management solutions, including our V4™ telematics control unit (TCU), for 20 years.
This partnership pairs Zonar precision telematics technology with Cummins advanced diagnostic capabilities.
By working together, we continually monitor your Cummins engines to deliver prioritized reporting, expert analysis and advanced solutions to keep each engine in tip-top health. We keep a close watch on your engine, so you can keep your fleet moving forward.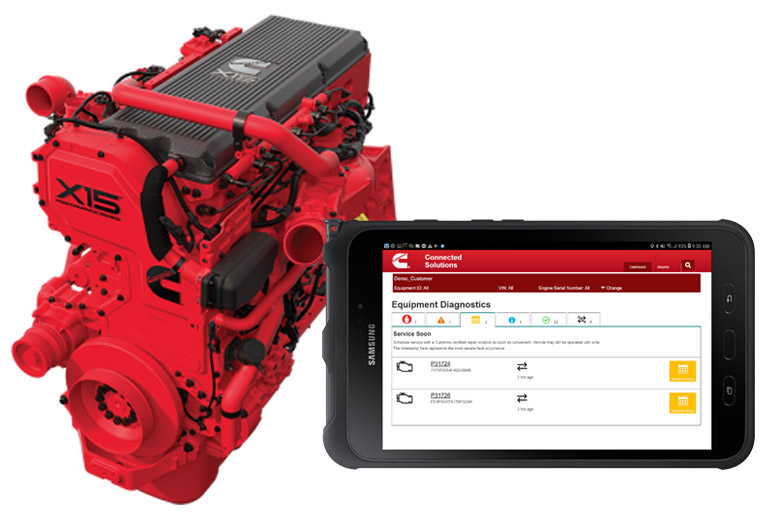 Install engine updates over the air.
Use the free Zonar OTAir™ mobile app to authorize any appropriate personnel such as drivers, maintenance technicians and fleet managers to download and install Cummins engine updates over the air—anytime, anywhere. No in-cab hardware required.
Update Cummins engines in as little as 5 minutes.
Perform updates at the driver's convenience, such as over a break.
Reduce pricey shop visits and costly downtime.
Automatically rollback if there's an issue.
Cummins and Zonar, committed to helping your fleet's Cummins engines run their best, longer.
We are a participating telematics provider for the Connected Diagnostics with Connected Advisor and Connected Software Updates service. Our TCU seamlessly transmits engine system fault data to Cummins for expert analysis, so you can extend each vehicle's lifespan. It also enables over-the-air engine updates—anytime, anywhere. (Read on for more on this.) All you need to do is opt in. No charge for the service.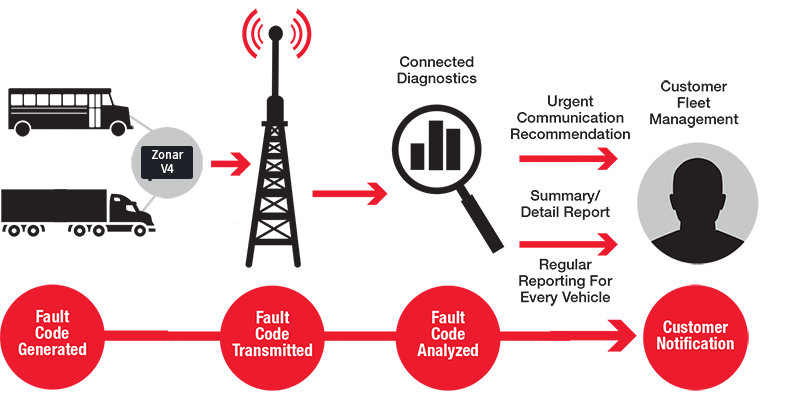 Keep each vehicle in top shape.
The Zonar V4 TCU taps into the Cummins engine control module (ECM) to gather a continual stream of detailed data. Cummins Connected Diagnostics uses that data to wirelessly, continually monitor and diagnose system fault alerts.
This unique analysis:
prioritizes fault codes
determines their probable cause
reports all of this information to fleet management
Prevent progressive engine damage.
We look deep into the engine. Cummins tells you what was found and offers guidance if faults are uncovered. Vehicles run better, longer and with less downtime or roadside breakdowns. You avoid dealing with progressive engine damage through faster diagnostics and proactive action plans.

Precision telematics data shows how each vehicle is performing so you can maintain fleet health.

Clear, prioritized reporting empowers you to make informed decisions, faster.

Cummins expert analysis helps you avoid progressive engine damage.
Act before pending derates do.
Make informed, time-critical decisions seconds after a fault occurs. Connected Diagnostics also reports engine performance derate timers that a fault may have triggered. Know the time and impact of a pending derate, so you can reduce the risk of—even avoid—progressive engine damage. And the expensive equipment recovery charges that often come with it.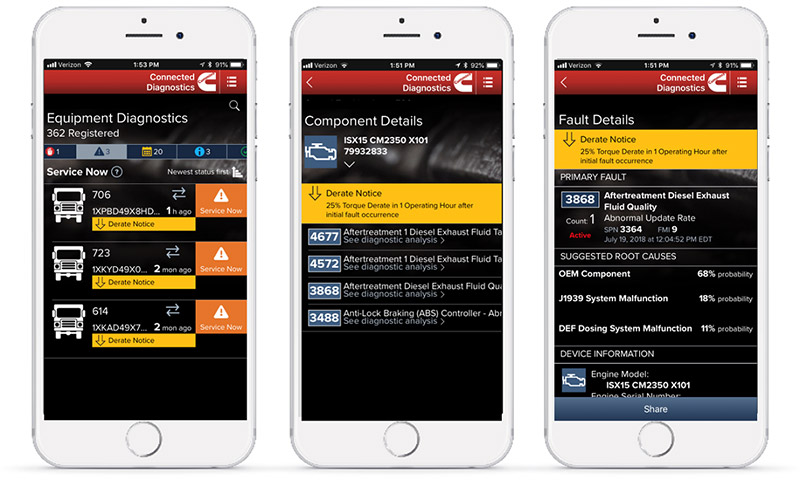 Put expert analysis to work.
Cummins Connected Advisor applies advanced analytics and expertise to interpret diagnostic engine data. Then, it emails you fleetwide and equipment-specific health reports that rank and prioritize service issues.
Advisor does the deep digging and analysis to give you time to act.
Streamline fault data.
Daily statements highlighting the most significant fault and failure notifications
Monthly Campaign and Account Team Coverage (ATC) notifications
Flexibility to specify who receives notifications and reports
Control maintenance scheduling.
Equipment-specific and fleetwide health reports, with potential performance impacts
Timelines for acting on recommendations
Prioritized fault notifications assist with maintenance triage and scheduling
Plan more informed workflows.
Expert recommendations outline exact issue and root cause
Resolution strategy for higher first-time fix rates and technician efficiency
Necessary information and timeframes to develop maintenance calendars