Zonar today announced it is expanding its driver-focused offerings to include the Samsung Galaxy Tab E tablet. With Zonar's solution on the Galaxy Tab E, commercial fleets receive a managed and secure mobile solution.

Expanded tablet portfolio offers more choice and support for fleet managers and operators to increase business efficiencies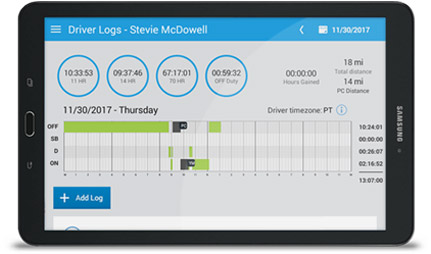 Seattle Wash. - June 7, 2018 - Zonar, the leader in smart fleet management technology, today announced it is expanding its driver-focused offerings to include the Samsung Galaxy Tab E tablet. With Zonar's solution on the Galaxy Tab E, commercial fleets receive a managed and secure mobile solution that provides vehicles, operators and fleet managers with critical information such as vehicle health, driver Hours of Service (HOS) and other insights to help businesses ensure the safety of their fleets. This also provides an effective solution to manage compliance with industry regulations, such as the Electronic Logging Device (ELD) requirements determined by the Federal Motor Carrier Safety Administration (FMCSA).
With the addition of the Samsung Galaxy Tab E into Zonar's existing solution set, the company can deliver its industry-leading fleet management solutions with a growing list of trusted third-party apps to enable customers to address additional business needs. Fleet managers, for instance, can use the solution to increase performance and asset utilization, streamline data capture, reporting and analysis, and ensure compliance and data security.
"Zonar understands that fleet management solutions are not one size fits all. We are pleased to include Samsung in our tablet portfolio solutions, enabling us to deliver customizable business critical apps drivers depend on, wherever they go," said Larry Jordan, chief product officer at Zonar. "The apps Zonar offers meet a stringent set of criteria before release to ensure they meet the high levels of security, versatility, and support that our customers have come to expect."
Together, the Zonar and Samsung Galaxy Tab E solution serves as a secure, managed alternative to unmanaged and unprotected personal devices. By using Zonar's trusted ecosystem of hardware, software and apps, fleet managers can minimize security risks and ensure operators are using updated and regulation-compliant devices. The Samsung-Zonar solution also incorporates Samsung Knox, the company's defense-grade mobile security platform and Zonar Mobile Shield for mobile device management. The Zonar-Samsung solution is available immediately and Zonar will serve as the point of contact for sales, warranties, data management, customer service and compliance expertise.
"Today's rapidly evolving supply chain is placing additional pressures on fleets, requiring secure, user friendly and compliant telematics solutions from trusted partners that are able to scale and provide value-added services from security to apps to mobile device management," said Susan Beardlee of ABI Research.
For more information on the Galaxy Samsung Tab E with Zonar visit: www.zonarsystems.com/solutions/samsung-tablets/
About Zonar Founded in 2001, Zonar has pioneered smart fleet management solutions throughout vocational, pupil, mass transit and commercial trucking industries. Zonar helps fleets of all sizes maximize the use of their assets with solutions dedicated to improving compliance, efficiency, maintenance, ridership visibility, safety and tracking. Cloud-based services with open API's drive Zonar's smart fleet solutions by making it easy for fleet owners and managers to stay connected to their fleets and drivers and operators to dispatch. Headquartered in Seattle and majority-owned by technology company Continental, Zonar also has a Technology Development Center in downtown Seattle, a regional office in Cincinnati, and a distribution center outside of Atlanta. For more information about Zonar, go to www.zonarsystems.com
Our History
2001: Zonar established.
2002: Grows to 11 employees.
2003: EVIR® patent awarded; First Student becomes customer.
2004: Approximately 30 First Student sites installed.
2006: Filed for Ground Traffic Control® patent.
2007: HQ moves to current building.
2008: 50 million verified visual inspections conducted in U.S.
2009: 100th employee hired.
2010: Introduced Z Pass™; Zonar featured on NBC's Today Show.
2011: Partnership with Daimler.
2012: V3™ and 2020® released.
2013: Virtual Technician wins Edison Award.
2014: Exceeds 300,000 subscribers.
2015: Announces DTNA strategic investment.
2016: Announces Continental's majority investment
2016: Launches Connect™ next gen tablet and software ecosystem
2017: Integrates with ContiPressureCheck™ tire sensors
2017: Introduces Zonar Coach™ an in-cab driver coaching solution
2018: Frost & Sullivan Company of the Year
2018: Puget Sound Business Journal Best Places to Work
2018: Launches Zonar Verify™
2018: Zonar Reseller Program announced