Add telematics to your EPA-funded EV school buses.

Realize each EV bus's potential as you support clean air initiatives.
According to the EPA, school buses travel about four billion miles and transport more than 25 million children each year. Nationally, more than 95 percent of school buses still run on diesel, and their student riders are exposed to the toxic exhaust.
Demand to replace aging diesel-powered school buses with cleaner electric school buses has risen. As of September 2022, the number of committed electric school buses in the U.S. is more than 13,000 and growing. To accelerate electric vehicle (EV) adoption, the EPA's Clean School Bus Program provides $5 billion through 2026 for decarbonizing the nation's school bus fleets.
As you invest in EVs, adding telematics to manage your entire school bus fleet is one more way to:
Understand your EV's background to enhance utilization.
A full-size type C or type D electric school bus can cost $320,000 to $440,000, as opposed to a Type C or D diesel bus, which costs just under $100,000. And a propane-powered bus costs roughly $98,000. Investing in EV buses means that, in addition to transitioning to a cleaner fleet, you also expect to save costs through each bus's lifespan. No oil changes, air filter changes, smog checks, coil replacements and so forth. Because EVs have fewer parts, fuel and maintenance savings alone could add up to $50,000 a year over fossil-fueled buses.
Utilization also adds to your overall savings—if you play your data right.
Purchasing EV buses with telematics hardware already on board affords you the opportunity to enhance EV bus utilization from the moment it becomes part of your fleet. All by using OEM-grade telematics technology from a provider whom the OEM and its dealers trust enough to serve their customers.
Capture detailed EV data to justify the vehicle's purchase price, deployment and routing.
Trust the pre-installed, proven OEM-grade hardware to capture accurate, reliable data.
Reduce or avoid future telematics implementation costs and installation downtime.
Compare the EV's performance, operation, charge and health history to your fleet's real-world usage from the start.
Identify inefficiencies, trends and potential issues by looking at the EV's comprehensive maintenance history.
If your chosen EV's manufacturer doesn't automatically line-fit the telematics hardware you want, request that they do so as part of your order. The telematics provider may offer a free trial of its smart fleet management solution for evaluating how well the platform enables you to centralize school bus management.
Evaluate the telematics provider as well as its hardware.
Regardless of how many electric school buses you ultimately plan to adopt, optimal ROI takes optimal utilization. And that requires telematics technology from a proven provider. Leading EV school bus manufacturers will install quality hardware by quality providers so that you, their customer, can trust the data you get.
Features an online smart fleet management platform for managing EVs alongside diesel-powered school buses together
Builds telematics solutions that capture EV-specific data such as state-of-charge (SoC), charge status and idling so you can monitor and manage each electric bus effectively
Is trusted by several of the industry's leading school bus manufacturers so you can trust the vehicle and the telematics data
Offers award-winning 24/7/365 customer support for its own solution from the time of activation
Partners with EV industry leading organizations who specialize in infrastructure, charging, deployment and adoption to help make transition seamless
Capture EV-specific data to see inside each electric school bus.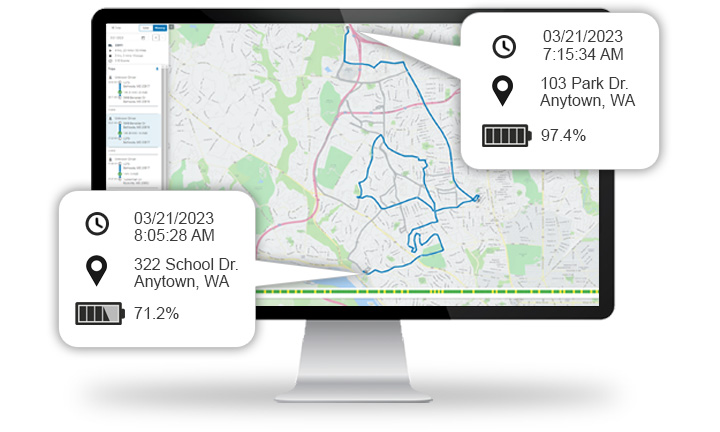 Telematics on an EV school bus function the same as they do on diesel vehicles. The telematics control unit (TCU) is attached to the engine control module (ECM) and feeds data on multiple components, as well as vehicle location. Authorized personnel such as fleet managers collect and evaluate that data to make operational decisions to manage vehicle health, routing, deployment, efficiency and so on. That's the basic gist.
Electric school bus telematics also capture idling, battery and charging data for optimizing EV bus utilization, battery power consumption and range awareness.
Real-time bus location
Real-time and historical state-of-charge (SoC)
Trip history, including stop-by-stop analysis
Battery and distance consumption for each route
No matter how many buses you have, you have only one fleet to manage as a single operation. Incorporating EV buses into your fleet at your own pace means managing and operating your new EVs alongside current non-electric buses. When you purchase a new EV school bus, ensure its OEM telematics devices are from a smart fleet management provider whose platform can host data for your entire fleet.
One view for every bus's location, activity, path history and route streamlines overall management and enables easier decision-making.
EV telematics also powers insight into the infrastructure's charging stations.
Bus fleet electrification leaders often partner with select telematics providers for insight into the district's EV charging infrastructure. Charging costs vary and to protect customer budgets, these fleet electrification companies need insight to understand how far on a real-world route each EV school bus will go on its charge.
These companies rely on their partnered telematics provider to capture and share two key pieces of data.
Real-time bus location and activity
Each bus battery's state-of-charge (SoC)
With those insights, the company can manage the fleet's charging schedule to ensure each bus has sufficient charge for its route while respecting the school's budget. Read this case study to learn more.
Expand your fleet's utilization, health and student safety potential.
Quality telematics technology for your EVs is step one. As you expand your fleet's operational potential with electric school buses, consider other pupil transportation solutions for route optimization, vehicle health and student safety.
| Consider this technology… | To accomplish this enhancement… |
| --- | --- |
| Create, modify and approve efficient routes with turn-by-turn navigation and on-the-fly route recording. | Increase EV range and utilization. Optimize routing and eliminate wrong turns. |
| Track ridership for each bus for visibility into how many students each route and stop accommodates. | Enhance fleetwide bus utilization, bus stop planning and EV battery power. |
| Electronically verify each bus inspection, including for EVs, with an appropriate inspection configuration. | Ensure school bus components are inspected to catch minor defects and issues early. |
| Receive real-time fault codes for standard vehicle components, even for EV buses, with preventative maintenance. | Prevent roadside breakdowns and avoid stranding student riders. |
| Monitor each tire with a remote, online tire pressure monitoring system (TPMS). | Maximize efficient use of battery charge and prevent failures. |
| Digitize key driver tools, ensure compliance, and streamline key tasks using driver tablets. | Make the job easier and more efficient for every driver, including full-time, temporary and substitutes. |
| Empower parents with a precision bus-tracking mobile app for their tablet or phone. | Reduce parent calls and open communications around bus, route, time and stop changes. |
| Instantly verify each student getting on and off each bus, stop by stop. | Enhance student rider safety by preventing wrong bus, wrong stop incidents and emergencies. |
Build your case for meeting select Clean School Bus Program requirements.
Certain eligibility requirements apply to qualify or be prioritized for funding under the EPA's program. Collecting telematics data on your electric bus will help you make your case by providing proof of meeting specific requirements.
Use the telematics provider's smart fleet management platform to monitor, manage and operate your EV as part of your fleet for at least five years.
Integrate fuel tracking and analytics to show you're also working to further reduce fleet emissions by addressing diesel-powered buses' aggressive idling and speeding.
Track student ridership and optimize routes to reduce emissions, energy consumption and students' exposure to harmful fumes.
Integrate vehicle data and electronic inspection results with your enterprise asset management (EAM) platform to digitally document that each EV is maintained, operated and charged according to recommendations.
Download the EPA's Clean Bus Program eligibility requirements overview. And visit the EPA Clean School Bus Program online for more information and resources.
Zonar smart fleet management and telematics technology is already part of the EV school bus industry. Our Zonar V4™ TCU already supports more than 500 EVs, and we partner with electrification providers who make the transition to electric buses seamless. Learn more about our Electric Vehicle Services Program, then contact us with your questions.