Zonar and Transfinder have entered into a strategic partnership to equip school district bus fleets with smart fleet management and routing solutions.
Two Industry-leading Innovators Work Together to Optimize Routing, Increase Fleet Safety and Improve Maintenance Productivity
Seattle, Wash. – January 25, 2021 - Zonar, the leader in smart fleet technology, and Transfinder, the national leader in intelligent transportation systems, have entered into a strategic partnership to equip school district bus fleets with smart fleet management and routing solutions. As a Zonar reseller in the United States and Canada under a new reseller agreement, Transfinder will sell Zonar solutions along with its school bus routing and transportation management technologies.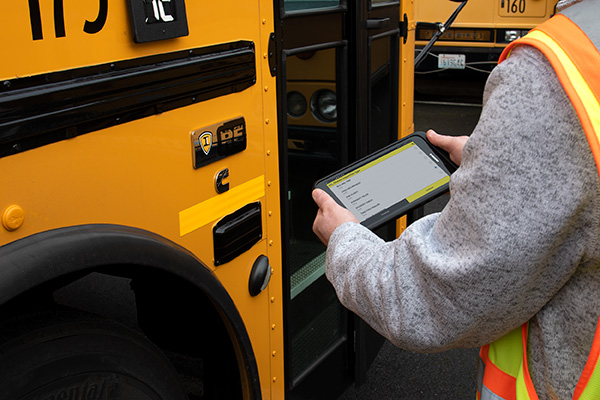 This partnership integrates Transfinder technologies seamlessly with Zonar APIs, leveraging its GPS data and EVIR® and for Transfinder's Routefinder and Servicefinder solutions. The compatibility will ensure school and district transportation fleets benefit from more accurate and efficient route optimization, increased fleet safety and ridership visibility, and improved maintenance shop productivity.
"It is our top priority to ensure the safety of students and productivity of our transportation customers through the use of innovative technology," said Ian McKerlich, president and CEO at Zonar. "Our partnership with Transfinder is allowing Zonar to further equip school districts across the country with intuitive tools for coordinating fleet management with transportation logistics."
For Transfinder, the partnership with Zonar marks a technical and corporate evolution – moving beyond being a routing company and to becoming an all-in-one solution for school transportation departments. Zonar's GPS technology is a key component that works seamlessly with Transfinder solutions, including Routefinder, Transfinder's award-winning routing software, and the Transfinder driver app Wayfinder.
"Our partnership with Zonar is a major advancement for the school transportation industry. With the development of our latest solutions, combined with Zonar's long-standing history in the industry, together we make it easier for school districts to deploy smart technologies," said Antonio Civitella, president and CEO of Transfinder. "We are proud to partner with the most proven and used hardware and software on the market and continue to make the roads safer for all."
One of the largest school districts in the U.S. uses both Zonar and Transfinder technologies to keep students safe, easily manage bus routes, students and drivers as well as ensure its bus fleets are efficiently maintained. The successful collaboration of Zonar's technology with Transfinder's solutions ensure districts and families nationwide can depend on safe, reliable and efficient transportation for drivers and passengers.
The announcement was made today at the STN Expo Virtual Conference put on by School Transportation News, January 25-27, 2021, where Zonar's Chief Operating Officer, Mike Gould, gave the keynote address on 3 Key Opportunities For 2021.
About Zonar Founded in 2001, Zonar has pioneered smart fleet management solutions throughout vocational, pupil, mass transit and commercial trucking industries. Zonar's mission is to enhance the safety, performance and success of our customers by transforming the delivery of innovative insights for commercial fleets around the world. Zonar achieves this by helping fleets of all sizes maximize the use of their assets with solutions dedicated to improving compliance, efficiency, maintenance, ridership visibility, safety and tracking. Cloud-based services with open APIs drive Zonar's smart fleet solutions by making it easy for fleet owners and managers to stay connected to their fleets and drivers and operators to dispatch. Headquartered in Seattle and part of the Continental family, Zonar also has a Technology Development Center in downtown Seattle, a regional office in Cincinnati, and a distribution center outside of Atlanta. For more information about Zonar, go to www.zonarsystems.com
About Transfinder Founded in 1988 and headquartered in Schenectady, New York, Transfinder is a national leader in intelligent transportation systems, providing transportation management systems and services to municipalities, school districts and adult care facilities. Transfinder, an Inc. magazine "fastest-growing company" for 11 consecutive years, has offices in Austin, Texas, and Shanghai, China. The software company, named a Best Place to Work and Top Workplace, develops and supports routing and scheduling solutions for optimal transportation logistics. For more information about Transfinder, go to www.transfinder.com.