Zonar LD
™
fleet tracking device
Track light-duty vehicles with ease and precision.
Manage
more of your fleet, more efficiently
Monitor
location, activity and data in real time
Reduce
install downtime and depreciation
Understand
diagnostic fault codes faster & more easily
Keep detailed tabs on smaller vehicles—wherever they go.
Know where your light-duty fleet vehicles are and what they're doing—at all times. The Zonar LD is a plug-and-play telematics control unit (TCU) designed for your fleet's trucks, vans, SUVs and passenger cars. Access detailed vehicle telematics data and diagnostics so you can improve performance, efficiency and security.
Track each vehicle and its activity in real time.
Access diagnostics data to maintain vehicle health.
Include these vehicles and drivers in fleet safety efforts.
Maintain end-to-end data security to protect your operation.
Install in minutes, with no downtime, expertise or special tools.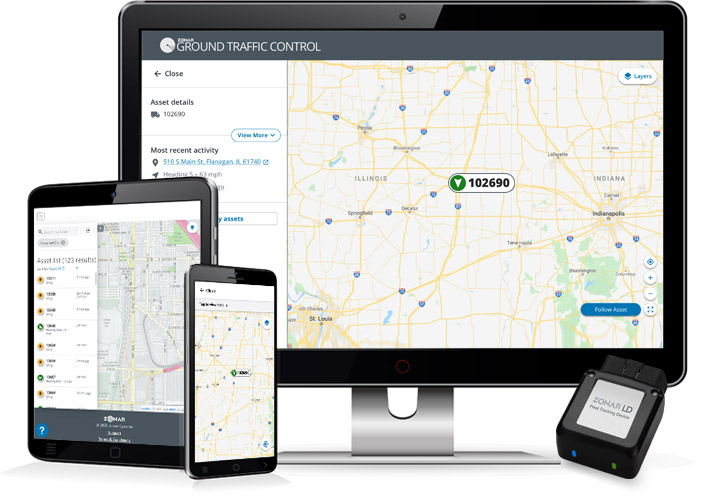 See where each vehicle goes—and how it performs.
See where each vehicle goes—and how it performs.
Light-duty vehicles go where others can't, leaving the door open for unauthorized use, fuel waste and theft. Install a Zonar LD TCU on each light-duty vehicle in your fleet to know exactly where it is, and how it's doing—anytime.
Pinpoint vehicle location in real time with GNSS positioning services, which use GPS, GLONASS, Galileo and BeiDou satellites.
Uncover hidden costs and fuel inefficiencies by looking at speed, distance, historical path and idling.
Enhance scheduling and security by tracking when vehicles arrive and leave, and how often they're late or on time.
Monitor your fleet anywhere you go.
Access vehicle data and reports online and on your mobile device through our secure, web-based fleet management platform. Built for any mobile device, Ground Traffic Control® keeps live operations and activity at your fingertips, literally.
All on a screen that fits in your pocket.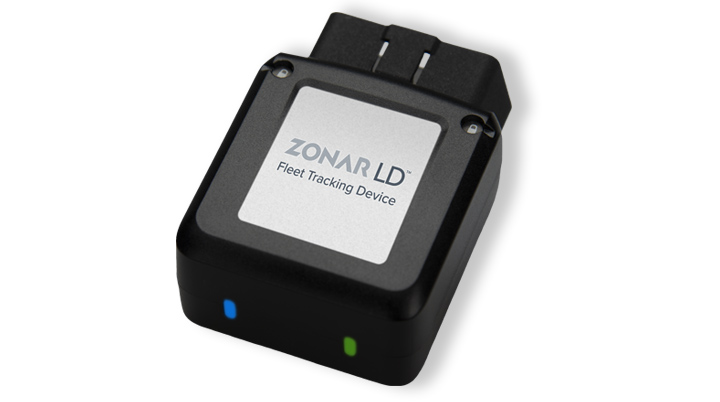 Deliver more uptime with diagnostics.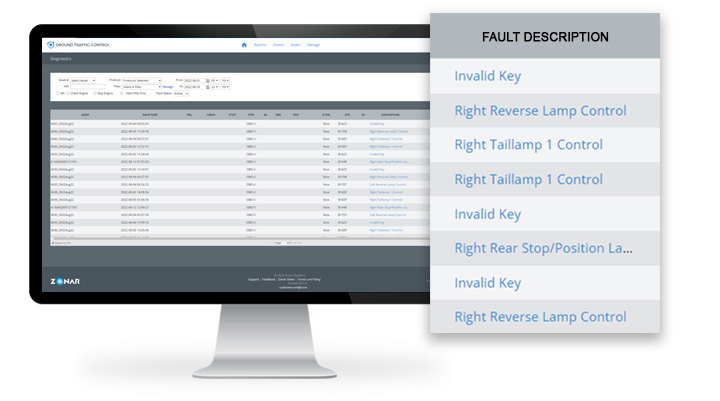 Deliver more uptime with diagnostics.
Check engine lights indicate a problem—and that's it. You need to know what the problem is and how critical. Capture and receive Level 1 and Level 2 proprietary OEM diagnostic data in Ground Traffic Control to fully understand incoming fault codes.
Even enable maintenance personal to receive real-time alerts once a diagnostic code triggers. The sooner they know about the problem, the better they can prioritize it.
Prioritize maintenance and audit vehicle utilization.
Reduce frequency of costly towing fees, shop fees and substitutions.
Consolidate shop visits for greater uptime and proactive maintenance.
Install in minutes. No specialists needed.
Connect your light-duty vehicles and start collecting their telematics data with almost zero downtime. The Zonar LD TCU is housed in a small, durable casing that anyone can install just by plugging it into the vehicle's OBD-II port.
No special tools, no cables, no wire-splicing, no antennas and no technician experience required.
Maximize vehicle uptime.
Breakdowns, tows and substitutions cost money that add up, even for light-duty vehicles. The Zonar LD TCU delivers detailed vehicle diagnostics, status and data such as VIN, odometer, engine faults and then some. Keep each vehicle performing its best so you can keep it working longer.
Prevent roadside breakdowns and operational disruptions.
Reduce frequency of towing fees, shop fees and vehicle substitutions.
Prioritize maintenance and audit vehicle utilization.
Consolidate shop visits for greater uptime and proactive vehicle maintenance.
Save thousands in critical-issue repair costs.
Key features
Plugs into OBDII port
No professional install required
Level 1 (SAE) & Level 2 (OEM) diagnostics
Real-time alerts
Diagnostic portal
4G LTE
Operates in extreme temperatures
GNSS positioning that uses GPS, GLONASS, Galileo & BeiDou satellite
Speeding, fuel use trends
Offline store-and-forward mode
Automatic VIN discovery
Extend safety and compliance with more mobile solutions.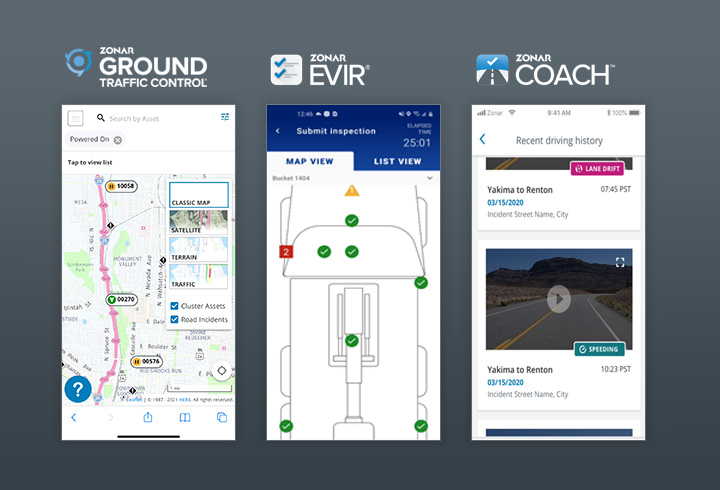 Extend safety and compliance with more mobile solutions.
The safer your vehicles and drivers, the fewer incident-related costs you risk paying. Keep your light-duty vehicles in safer mechanical condition through electronically verified inspection reporting. And protect your operation with in-cab driver safety technology.
Slow depreciation and comply with OSHA regulations with our EVIR® inspection system.
Integrate EVIR results with your maintenance platform for faster prioritization and resolution.
Deploy Zonar Coach™ to prevent accidents, incidents and citations through in-cab driver coaching.
Protect against false accusations and fraudulent claims with Coach's dual-facing, HD dashcam and on-demand, online video footage.