Killpack Trucking, Inc.
Customer Spotlight

Driver-centric carrier readies itself for growth with seamless integrations.
Killpack Trucking is a second-generation family business that began as a regional hauler, hauling potatoes. Over the past 40 years, Killpack has evolved into a nationwide hauler that ships to east, central and midwest states. Four decades after loading its first spud, Killpack is still expanding. Zonar smart fleet management solutions are a core component of the company's strategy to grow while minimizing its need for new staff.
Out with the unreliable. In with seamless TMS integration. Killpack had been using the same transportation management software (TMS) since 1994. Before partnering with Zonar, drivers used in-cab devices from a different provider. But what Killpack saw in that provider was a growing concern. "So we started looking around and came upon Zonar," explains Blaine Killpack, CEO. "And we liked what we were seeing. Liked that flow of information into the cab. And liked the integration with the transportation management software suite that we were already using."
Seamless integration with the new smart fleet management technology was a must-have, and Zonar solutions fit like natural pieces of the puzzle.
With Zonar tablets already on board its trucks, Killpack agreed to beta test Zonar MobileCommand, which unifies every driver tool onto one app, with one user interface to interact with the TMS. The Zonar professional leading the project had previously worked with Killpack's TMS provider and knew the solutions inside and out. Implementation and integration were practically seamless.
Dispatchers have more time to hunt for more loads. Before adopting MobileCommand, Killpack dispatchers had to manually enter arrival and departure times for 75 drivers. Now that drivers enter their own times, dispatchers are free to focus on looking for new loads and lining out the loads.
Different generations operate alongside each other. MobileCommand has helped Killpack close the gap between generations as new drivers enter the industry to operate beside more experienced drivers.
Blaine smiles when asked how receptive his drivers are to MobileCommand. "The more tech-savvy drivers love it. They understand computers and they understand information flow." And, because MobileCommand is such a visual, userfriendly tool, "drivers who aren't as computer literate find it easier, too. All it's taken is a little education into how the tool makes their job easier."
Plus, Killpack's safety manager can easily pull a driver into the office for a quick tutorial. And remotely walk them through the process when they're out driving a haul.
Driver retention rates reflect the job satisfaction. Killpack's been just as vulnerable to driver turnover as any commercial trucking fleet. Now, however, that the carrier has adopted MobileCommand to streamline driver workflows, Blaine knows the tool is helping the company keep drivers on staff.
"I'm sure there's a direct correlation. The easier interface and the easier they can interact with dispatch, I know it's making a difference."
Safety and driver satisfaction are balanced. Playing Big Brother and keeping drivers happy is a tightrope exercise; no one likes feeling watched. Killpack's safety manager now uses the Zonar Coach in-cab driver safety solution and smart dashcam to strike the right chord. The moment Coach detects an unsafe event, it captures video, which the safety manager can view online through Zonar Ground Traffic Control.
With on-demand access to footage of specific types of unsafe events, Killpack's safety manager closely monitors:
lane drifts
hard braking
speeding
tailgating
rolling stops
Having Coach in the cab provides real-time feedback on which drivers are struggling to curb which unsafe habits.
Blaine realizes that not every driver will automatically embrace Coach, even though it only records when it detects specific unsafe events. "All we have to do is show them a couple of accidents we've been in and say 'Hey, without a camera, this would still be in litigation.' And you wouldn't be driving."
Using Zonar Ground Traffic Control, the safety manager also keeps an eye out for logbook violations to help drivers avoid costly non-compliance violations. Safer for everyone on the road. And fewer violation costs.
Proactive safety strategies lowered insurance rates. The insurance company appreciates that Killpack uses Coach as part of its proactive stance on driver and vehicle safety.
They view the carrier as being lower risk and have factored that into the carrier's insurance rates.
"Of course, the insurance companies love it when you have those types of devices on board," says Blaine. "They love to see things in place to help increase safety. If we're always doing what's right, we don't have anything to hide."
Inspections are now electronically verified for every tractor and trailer. The insurance company appreciates that Killpack uses Coach as part of its proactive stance on driver and vehicle safety.
Before switching to Zonar EVIR, Killpack vehicle inspections were performed on the honor system and the results were written on paper. Drivers who were coming in after completing a trip would leave a piece of paper with a list of needed repairs on the truck's dashboard. Of course, that was provided they inspected the truck in the first place. Who wants to inspect a big rig in the pouring rain?
With Zonar tags now on every truck and trailer, Killpack electronically and remotely verifies that inspections are performed, even if the weather is foul. They can also identify which drivers are consistent and which are not, and address any issues accordingly.
Trucks are repaired and turned around two days faster. Killpack trucks run 3,800 to 4,000 miles in six or seven days. Then they return and the drivers take a couple of days off before heading back out again. Waiting for the truck to come home with a written list of repairs also meant waiting to order the parts needed to make those repairs. Sometimes, a truck would be waiting on a small part that could have easily been ordered ahead of time if the shop had been given a heads up.
Integrating EVIR with the maintenance shop's workflow sped up the process by enabling technicians to proactively manage repairs, order parts and reduce vehicle downtime.
Now technicians review EVIR inspection results online in the shop while the truck is still out on a trip. With the click of a button, technicians create a pending repair order, and parts are ordered and repairs are scheduled before the truck arrives home. Drivers who are ready to head back out again can be deployed sooner because repairs are finished faster.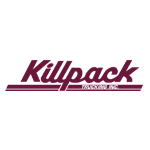 Organization
Killpack Trucking, Inc.
Industry
Freight
Location
Idaho Falls, Idaho
Website
Operation
Solution
Zonar Ground Traffic Control®
Zonar V4™
Zonar MobileCommand™
Zonar EVIR®
Zonar Coach
Zonar Logs™
Benefits
Unified TMS interface
Clear dispatch to driver communications
Higher driver retention
Lower insurance rates
Safer drivers and trucks
Faster repair turnarounds