Compliance and ELD Experts
In the transportation industry, compliance and safety programs are paramount for your success. To support you in these endeavors, Zonar has a dedicated team of compliance and ELD experts with decades of experience in transportation. They work closely with our product development teams to innovate, design and implement smart fleet solutions that assist you in adherence to federal and state regulations. If you have any questions about current or proposed industry regulations, feel free to contact us for a complimentary consultation.
Fred Fakkema, VP of Compliance at Zonar, covers what you need to know about ELD compliance
Hot Topics
AOBRD Phaseout Under ELD Rule Could Pose Challenges for Fleets and Vendors, Experts Warn
Nearly all motor carriers subject to the federal electronic logging device mandate have complied with that regulation, but another significant transition remains for fleets still using older e-log systems that predate the ELD rule, industry experts said.
Read the letter
FMCSA Seeking Comments on ATA-filed State Meal and Rest Break Petition
After an unsuccessful attempt to persuade Congress to include state meal and rest break pre-emption language in a recently passed Federal Aviation Administration reauthorization law, the American Trucking Associations' (ATA) moved its focus on the issue from Congress to the USDOT.
Read full article
FMCSA Plans to Dramatically Expand Use of 'Off-site' Investigations/Reviews
Recently, FMCSA decided to expand its 'off-site' investigation/review process from 10 States where it has been used since initial implementation of CSA, to all 50 States
Read full article
.
Meet our compliance leadership
Our experts are available for compliance consulting and will work directly with you to better understand the specific needs of your business. Contact us to get the conversation started.
Fred Fakkema, Vice President of Compliance
Fred is currently Vice President of Compliance for Zonar, where he leads product development to meet the safety and compliance needs of customers today and tomorrow. Fred has been deeply involved in the development of the ELD (electronic logging devices) mandate, from the policy level down to the compliance level for Zonar's mobile telematics tablet.
Prior to joining Zonar in 2010, enjoyed a successful a 25-year career with the Washington State Patrol (WSP). During his career, he commanded the WSP Academy, Government and Relations Division and the Commercial Vehicle Division. He is the Past President for the Washington Chapter, FBI National Academy Associates. Fred is a member of the American Trucking Association (ATA) Safety Policy Committee, Technology and Engineering Policy Committee, Association of Equipment Management Professionals (AEMP) Safety Committee, Truck Renting and Leasing Association's Government Relations Committee and Equipment Technology Advisory Council. Fred earned his Master's Degree in Public Administration from the University of Washington.
Ron Cordova, Compliance Manager
Ron Cordova recently joined Zonar as Compliance Manager. Ron served more than 21 years with the New Mexico Department of Public Safety, Motor Transportation Police where he worked up to the Rank of Major. Ron managed multiple aspects of the Commercial Vehicle Enforcement Unit, including as Commercial Vehicle Information Systems and Networks (CVISN) Program Manager. He retired with the Curry County Sheriff's Office. While in law enforcement, Ron served in many different capacities with the Commercial Vehicle Safety Alliance (CVSA) including president in 2005-2006.
Subsequently, Ron worked for Xerox/PrePass as State Partner responsible for site training of PrePass Sites and served as the point of contact for state agencies responsible for commercial vehicle enforcement. Most recently, Ron worked as Regional Manager, Safety & Security, for ABF Freight overseeing compliance in both short- and long-haul operations across a five-state region. When not focused on commercial transportation and public safety, Ron enjoys hunting, fishing, running and spending time with his wife, children and grandchildren.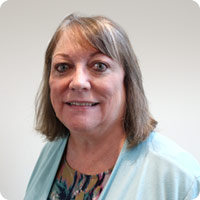 Jill Snyder, Compliance Manager
Jill joined the Zonar team in September of 2018. With more than 33 years of experience in transportation safety, Jill is the second person in Washington State to receive her nationally certified Director of Safety credentials from the North American Transportation Management Institute in 2000. Jill has been an active member of the WTA's Safety Management Board of Directors since 1995 and recently was recognized as Safety Professional of the Year in 2013. Jill enjoys watching football, baseball and professional bull riding. Spending time with her family is a priority; she and her husband also enjoy traveling as well.
Associations
We actively participate in a number of associations, organizations and industry events. This provides our leadership with a critical understanding of the state of the industry, its trends and best practices.

American Bus Association

Association of Equipment Management Professionals, Safety Committee

American Trucking Association, Safety Policy and Technology and Engineering Committees

Canadian Council of Motor Transport Administrators

Commercial Vehicle Safety Alliance, Served as Ad-hoc ELD committee chair

FBI National Academy Associates

Motor Carrier Safety Advisory Committee (MCSAC)

CVSA's North American Inspectors Championship

National Private Truck Council

National Tank Truck Carriers

TCA's Safety & Security Division

Truckload Carriers Assn (TCA)

ATA's Technology & Maintenance Council, EOBR/ELD task force
Truck Renting and Leasing Association

Washington Trucking Association