Connected Diagnostics™
for Cummins Engines

Protect Your Investment
Cummins Engines power nearly every type of vehicle and industrial equipment for many of the world's best manufacturers. Your existing fleet is likely capable of benefiting from Connected Diagnostics —which gives you a direct line to your Cummins engine data to help avoid engine damage, protect the health of your vehicle and reduce expensive maintenance charges.
Effective Guidance to Minimize Downtime
The unique analytics data sent by Cummins Connected Diagnostics is more valuable than a simple lamp on the dash and more complete than raw data pulled from the electronic engine system. It identifies and prioritizes the fault codes, determines the probable cause of the fault, and reports this information to fleet management. Receive this critical data in the form of reports, email notifications, a mobile app and an online portal. Facilitate repairs, minimize downtime and enjoy the added peace of mind due to the additional assurance Cummins Connected Diagnostics provides.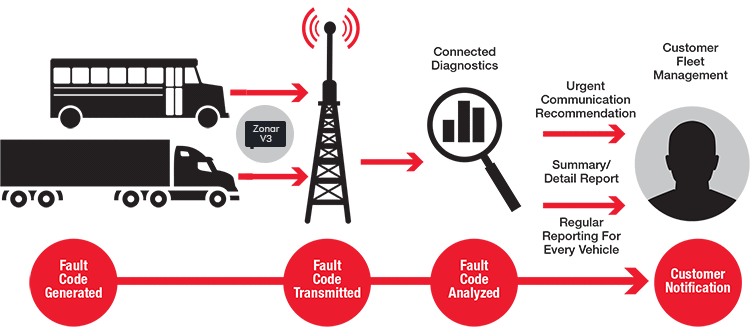 Preferred Provider
Zonar is a preferred telematics provider for the Cummins Connected Diagnostics™ application. With a direct connection to the vehicle engine control unit (ECU), our powerful telematics unit seamlessly transmits this engine system fault data to Cummins for expert analysis.
Already a Zonar customer? Contact Us to get started today!
Some words from Leadership
We believe that by offering the advantages of Connected Diagnostics through Zonar telematics, Cummins engine customers will be empowered with actionable data to proactively manage their engines and increase the uptime of their vehicles.
Larry Jordan, Chief Product Officer, Zonar

Cummins Connected Diagnostics
Connected Diagnostics is your lifeline to Cummins when you need it most.