Zonar ConnectTM Next-Generation Tablet for Smart Fleets
Compliant
with industry regulations
Durable
outer-shell & long-lasting battery life
Connected
with LTE, Wi-Fi & Bluetooth
Integrate
with Zonar & third-party Software
The next-generation of fleet management
Zonar Connect™ is the next-generation, always-connected device built to meet driver and fleet needs for today and into the future. Its innovative design incorporates feedback from current customers, industry research and best practices.
Safety, efficiency and compliance
Connect runs custom applications for all types of fleets, including commercial trucking, vocational and passenger transportation.

Electronic Verified Inspection Reporting (EVIR®)
The only patented verified solution of its kind on the market today. Capture, transmit and record inspection data with ease.
View more

Zonar Logs™ Hours-of-Service
Zonar Logs has completed FMCSA end-to-end testing, is independently third-party validated and also FMCSA self-certified.
View more

Zonar Forms™ Messaging
Replace paper forms with electronic, automated forms customized just for your business.
View more

Advanced Navigation
Provide drivers with GPS route information and an easy way to correct behaviors such as speeding and hard-braking.
View more

Camera
Capture and send pictures of inspection defects and logistics documents.
Android Platform
Operate with Zonar's suite of apps or choose to customize the experience with your own.
Built to Expand
Over-the-air software update capability provides room for growth and technology innovation.
Smarter fleets
For drivers, Connect efficiently and reliably streamlines daily tasks. Fleet managers and dispatch gain insight into everything that's happening—or not happening—on the road, on-site or in the yard.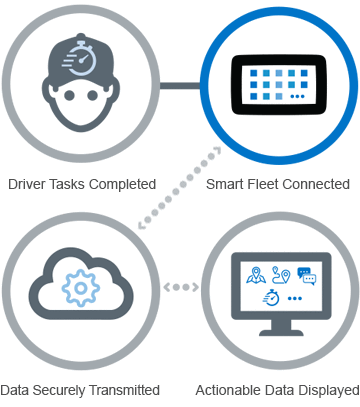 Why make the drive alone?
Drivers and operations are fully supported by Zonar's U.S.-based customer success team—available 24/7/365, which means you can always reach a real person. Find out why more than 99% of our customers continue to keep doing business with us year after year.

Want to learn more?
Get the details and see some specifications. Download the Zonar Connect cutsheet.
With Zonar Logs™ Hours of Service, Connect is a fully compliant Automatic On-Board Recording Device
ELD Self-Certified Hours of Service
32GB of storage and 2GB of RAM
Scalable Android™ software platform
Supports various Zonar and third-party applications
Meets MIL, SAE and ISO standards on environment
Integrates with Zonar's Ground Traffic Control® web portal
Backed by a U.S.-based customer success team available 24/7/365
Download the cutsheet