Continental will use this year's ConExpo/ConAgg to show how it is set to support the upcoming productivity leap in the construction and mining industries triggered by digitalization.
Global technology company sees enormous potential for future business in construction and mining
Continental's comprehensive set of digital services for conveyor surveillance and management has been nominated as a finalist for ConExpo Next Level Awards Program
Digitalization, Automation, Connectivity, Material Competence, Sustainability: At ConExpo/ConAgg Continental showcases future of construction sites and mines, today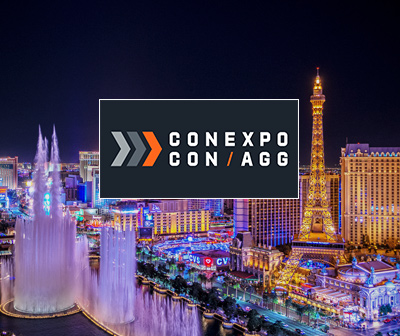 Hanover, Germany, Las Vegas, March 14, 2023. Continental will use this year's ConExpo/ConAgg to show how it is set to support the upcoming productivity leap in the construction and mining industries triggered by digitalization. The nomination of Continental's Smart Conveyor Management, a set of digital services for asset surveillance, asset management and asset productivity being nominated as a finalist for the ConExpo Next Level Awards Program gives the company´s fair presence tailwind in the direction Continental is headed. Continental is set to show industry stakeholders how its broad portfolio of rubber products and electronic hardware is complemented by solutions that foster technological progress in the fields of Digitalization, Automation, Connectivity, Material Competence and Sustainability. At ConExpo/ConAgg (booth N11251), the company shows how it interprets its role as an innovation partner under the motto "We build tomorrow. Now."
"The construction industry is about to undergo a profound transformation in the coming years. Productivity per construction machine is set to significantly rise thanks to digitalization, creating more value throughout the construction industry", says Mario Branco, Head of Business Development Off-Highway at Continental. "Continental is ideally positioned to support the industry as a reliable innovation partner. As an automotive supplier and technology company, Continental has set itself the ambitious goal to help shape tomorrow's construction and mining industry today. Thanks to our broad expertise in the fields of digitalization, automation, connectivity, material competence and sustainability we are extremely well positioned to realize this technological leap together with the industry".
Adapting what works for passenger cars, trucks or busses
Continental is achieving further innovations by using passenger car technology and adapting it for construction and mining machinery. For the digital surround view system ProViu 360, the technology company will present several software-based features. Worker Detection, for example, allows the system to detect people near a machine and warn them of collisions. For the ProViu 360 system a platform approach ensures that customers can easily upgrade with new functions without having to make changes to hardware or install new software.
Another benefit of the platform approach is that sensors other than camera, like radar, will be added to ProViu 360 in the future taking the next step toward automating construction machinery. Another innovation based on a Continental solution for road traffic is the Digital Safety Assistant. In the adaptation of this system for the construction site, people, machines and vehicles communicate with one another via signals that they send through a smartphone or telematics unit. In this way, every machine and every person can be warned in real-time of an impending collision.
Great potential for the construction and aggregates industries lies in Continental's Telematics and Connectivity portfolio. Backed by the company's 27 years of experience with connecting passenger cars and trucks and, overall, more than 42 million connected vehicles on the road, Continental has started to market their competency to construction manufacturers. Continental relies on its success with Commercial Vehicle manufacturers where several projects have already been awarded, for example with 5G-Hybrid-V2X solutions. Also, as the technology company is used to looking at least one technological generation ahead, 6G development has started at the labs of the company´s Software and Central Technologies unit.
Ismail Dagli, head of the Automotive Business Area Smart Mobility wraps it up: "We are sure that the construction and mining industries will benefit strongly from automotive technology in the years to come, and that the industries are only just beginning to see how big this potential is."
Building asset management and IoT solutions to reap an enormous productivity potential
Tire data, such as air pressure and temperature, is recorded and evaluated with the help of the digital tire management system ContiConnect 2.0. If the tire pressure is too low or there is a risk of overheating, the driver is informed directly via a warning system. This ensures a fail-safe, long tire life and fuel-efficient operation. At Continental, all radial tires for Earthmoving are equipped with a sensor ex-factory, making them ready for use with ContiConnect. Complementing this, the new generation also offers the ability to track tires both in stock and in use to support predictive maintenance. The next system update, coming in the second quarter of 2023 will enable the monitoring of tires via Bluetooth connected devices.
The revised app-based service platform Conti+2.0 integrates numerous conveyor monitoring systems and processes in a single application and analyzes all important sensor data. This helps companies improve the productivity of their operations and extend the life of their conveyor belts.
With its new IoT solution Zonar SightIQ (IoT = Internet of Things), Continental is setting new standards for productivity management in quarries, mines and on construction sites. The solution is developed by the fleet and asset management experts of Seattle based Continental subsidiary Zonar and already productive with pilot customers in the aggregates industry. SightIQ integrates all available data from mobile machines, vehicles and stationary equipment such as conveyors or tools in a cloud application, regardless of the manufacturer. SightIQ Predict collects and decodes proprietary ECM data across major manufacturers and translates that data into actionable insights and predictive diagnostics, inspection, and peripheral data. SightIQ Optimize consolidates site data into real-time information, regardless of location, across entire fleets. It grants select personnel access to the data so they can streamline site processes and enhance location efficiencies. The IoT suite can be expanded to include other digital solutions from Continental, such as Conti+ for intelligent conveyor management or ContiConnect for safe and efficient tire management. In developing this innovative solution, Continental drew on its cross-industry expertise. "We developed SightIQ by combining our knowledge of the construction and mining industries with our expertise in fleet management for trucking companies. SightIQ enables our customers to take an important step towards increasing their productivity," explains Ismail Dagli, head of the Smart Mobility business area at Continental. SightIQ, among other fleet and asset management solutions will be presented at Zonar´s own booth N11577, in the same hall as the Continental main stand.
Sustainability is the standard of the future – environmentally and commercially
"We are convinced that sustainable and responsible business practices will increase our innovative capacity and future viability and are essential for Continental's future success. For this reason, we are actively researching products and solutions for a carbon-free future," explains Song Qi, head of the Conveying Solutions business area. Transparency about activities on the construction site plays a vital role in this context. Continental was one of the first manufacturers in the world to work with the U.S. Association for Rubber Products Manufacturers (ARPM) to develop an energy efficiency label. The label helps conveyer belt system operators make informed decisions to lower their energy consumption when selecting conveyor belts.
Transparency is also generated by Continental's Net|Zero|Now immediate action program for climate change mitigation. The program already offers customers the opportunity to neutralize CO2 emissions for their business with Continental to achieve carbon neutrality along the entire value chain. To this end, Continental is working with renowned partners who are committed to ecosystem restoration and reforestation initiatives.
The electrification of Off-Highway machines increases efficiency as well as productivity and can help to limit emissions. With its holistic approach, Continental offers a comprehensive portfolio of hardware and software for electric machinery with e.g., Architecture and Consulting, Software or Product Development. Products like Power Electronics, Low Voltage Electronic Control Units, Powertrain Auxiliaries or Sensors will be on display at ConExpo.
Material competence enables better productivity and lower TCO In 2022, Continental acquired family-owned belting manufacturer WCCO Belting headquartered in Wahpeton, North Dakota. Now, at ConExpo 2023 Continental will, for the first time present a product innovation that shows what great material competency has been added to the technology companies' knowledge base. WCCO Belting's patented Direct X conveyor belt technology for crushing, grinding, sorting, screening and piling operations in the aggregate and recycling industries is now available for purchase by original equipment manufacturers (OEMs) and the aftermarket. The patented Direct X cleat profile increases conveyor capacity by capturing more material across the belt width than standard industry patterns. Combined with the benefits of a specialized belt construction that is thinner, yet stronger and more flexible in design, the product is a high-value solution that reduces cover wear, increases energy savings, and improves belt life.
For the first time on display in North America is Continental's ConveyorInspect drone-based service. An infrared and RGB camera-equipped drone inspects both sides of the conveyor following a pre-programmed flight routine. With the Drone Pilot inspection service, a certified pilot controls the drone and collects data in dangerous or hard to reach places. Visual data is uploaded to the cloud via the ConveyorInspect portal, and the data is then processed and analyzed by an Artificial Intelligence based data pipeline, customized to detect conveyor component damage.
This service is only one element in Continental's comprehensive range of monitoring systems and services that enable predictive maintenance and thus reduce downtime. Their holistic approach to Smart Conveyor Management has been recognized by this year's jury of industry leaders and has been chosen as a finalist for the inaugural Next Level Awards Program through ConExpo/ConAgg. The ConExpo/ConAgg Next Level Awards celebrate exhibiting companies that are pushing the boundaries and developing next-level products, technologies and services designed to advance the construction industry.
Also designed with the aim to reduce downtime, are Continental's top selling hoses of the Gorilla series. The tube is made from carboxilated nitrile and provides superior oil and abrasion resistance. Gorilla hoses can soon be used in diesel applications, too. The hose experts of Continental's business area Industrial Fluid Solutions are available at Continental's second ConExpo booth at the International Fluid Power Exhibition (Booth S82411) to explain how they made this adaptation happen.
Continental's new SAM (Shock Absorbing Mount) is the airless solution for spring replacement, vibration isolation and shock impact. Its innovative design will cut costs in most industrial applications as it is maintenance-free and thus reduces downtime. Its rubber and fabric compound are designed to handle damp and corrosive environments. SAM also dramatically reduces the noise level and can therefore help to improve working conditions.
About Continental Continental develops pioneering technologies and services for sustainable and connected mobility of people and their goods. Founded in 1871, the technology company offers safe, efficient, intelligent and affordable solutions for vehicles, machines, traffic and transportation. In 2021, Continental generated preliminary sales of €33.8 billion and currently employs more than 190,000 people in 58 countries and markets. On October 8, 2021, the company celebrated its 150th anniversary.
Continental offers a wide-ranging portfolio for off-highway applications which makes construction, agricultural and transport machinery and vehicles safer, more efficient, more comfortable and more connected. The corporation supplies interdivisional solutions for monitoring the condition of components and systems as well as technologies for information management, rubber and plastic products, and tires – all tailor-made and from a single source.