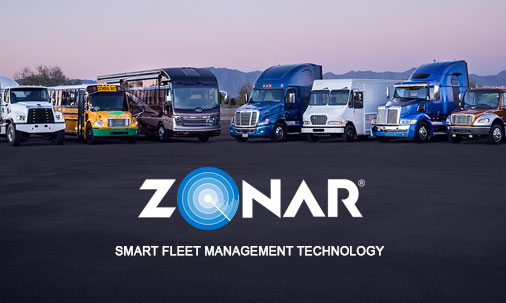 Continental further expands the fleet management service business
Extended portfolio of services and increased scale
Innovative cloud-based SaaS telematics platform for public and private commercial vehicle fleets in North America
Regensburg, Villingen-Schwenningen/Germany, Seattle/USA, October 4, 2016. Continental is intensifying its ongoing activities in the fleet management service business and is acquiring a majority stake in the smart fleet management technology provider Zonar. This venture has the potential to chart the course of the future of smart fleet management globally. The contract was signed on September 23rd and has obtained the required vote of the shareholders, but remains subject to final approval of the US Federal Trade Commission and US Department of Justice. Daimler Trucks North America LLC confirms its continuous commitment to the company and is retaining its minority stake. Zonar, headquartered in Seattle, USA, employs a staff of over 300. Zonar is a technology solution provider that offers a range of fleet management offerings to public and private commercial vehicle fleets in North America. With the investment in Zonar by Continental, the two enterprises will combine their complementary strengths to become a major supplier in the sector and further expand both companies' portfolios to offer additional smart fleet solutions to the market.
"With this move, we are further expanding our portfolio and expertise in the arena of mobility services, and fostering our regional balance by investing into a fleet management provider in the US that gives us access to a broad customer base and existing sales channels", said Helmut Matschi, President of the Interior Division and Member of the Executive Board of Continental.
"It is exciting to move into a new chapter in Zonar history with the backing of a respected global brand that recognizes our need to serve our markets as a nimble, innovative, customer-focused company as we have for the past 15 years," said Ian McKerlich, President of Zonar. "Customers will receive the same productive partnership and innovation they have come to expect with Zonar, as well as expanded technological resources and capabilities from Continental."
Established in 2001, Zonar pioneered smart fleet telematics with patented and award-winning operations technology across all commercial transportation markets: commercial trucking, vocational and passenger fleets. The complete suite of solutions drives safety, efficiency and fuel savings—from drivers to dispatch to administrative operations. Notable patents include the only Electronic Verified Inspection Reporting system available today, which ensures pre- and post-trip inspection compliance. The company's tablet technology is AOBRD self-certified and ELD-ready. Zonar is also the exclusive OEM partner for Daimler Trucks North America's Virtual Technician solution installed on more than 200,000 Daimler trucks.
"Through the integration of new smart technology solutions, we can enhance our existing fleet management services. In addition, with regard to remote diagnostics for commercial vehicles, we can broaden our existing Continental diagnostics capabilities through new backend services," added Dr. Michael Ruf, Head of the Commercial Vehicle & Aftermarket Business Unit at Continental, where the acquisition will be integrated.
"Continental's investment in Zonar presents a great opportunity to bring the best in both hardware and software solutions to the industry. Daimler Trucks North America will continue its partnership with Zonar building upon the success we have enjoyed over the last 5 years and Zonar will continue to be an integral part of our connectivity solutions," said Martin Daum, President and CEO, Daimler Trucks North America.
When the process is complete, Continental will further expand its already existing product, solution and service portfolio in the area of mobility services for fleet management of commercial vehicles and aftermarket.
About Continental
Continental develops intelligent technologies for transporting people and their goods. As a reliable partner, the international automotive supplier, tire manufacturer, and industrial partner provides sustainable, safe, comfortable, individual, and affordable solutions. In 2015, the corporation generated sales of €39.2 billion with its five divisions, Chassis & Safety, Interior, Powertrain, Tires, and ContiTech. Continental currently employs approximately 215,000 people in 55 countries.
Information management in and beyond the vehicle is at the very heart of the Interior division. The product portfolio for different types of vehicles includes: instrument clusters, multifunctional and head-up displays, control units, access control and tire-information systems, radios, infotainment systems, input devices, control panels, climate control units, software, cockpits as well as services and solutions for telematics and Intelligent Transportation Systems. The Interior division employs more than 40,000 people worldwide and generated sales of €8.2 billion in 2015.
Within the Interior Division the Commercial Vehicles & Aftermarket Business Unit accommodates the specific requirements of the commercial vehicle, special vehicle and aftermarket sector. A global network of sales and service companies ensures proximity to local customers. Covering the product brands Continental, VDO, ATE, Galfer and Barum the Business Unit offers web based managed services, fleet management and tachograph solutions electronic products, systems and services for commercial and special vehicles, a broad selection of products for specialized workshops and spare parts for the Independent Aftermarket and the Original Equipment Services after end of series production of the vehicle manufacturer.
About Zonar
Founded in 2001, Zonar has pioneered smart fleet management technology by providing innovative technology that has changed fleet operations in the vocational, pupil and commercial trucking industries. With a unique focus on this field, the Company offers a complete suite of solutions and specialized platforms for our customers in multiple markets. Our patented, award-winning technology keeps fleet owners and managers connected to their fleets and drivers to dispatchers. Headquartered in Seattle, Zonar also has a Technology Development Center in downtown Seattle, a regional office in Cincinnati, and a distribution center outside of Atlanta. For more information about Zonar Systems, go to www.zonarsystems.com
This press release is available in English and German language
Links
Press portal in internet: www.continental-presse.de
Media data base: www.continental-mediacenter.com
Video portal: videoportal.continental-corporation.com
Contacts for journalists:
Ben Hohmann
Sr Public Relations Specialist
Zonar
18200 Cascade Ave S., Seattle, WA 98188
Tel: 206.384.1410