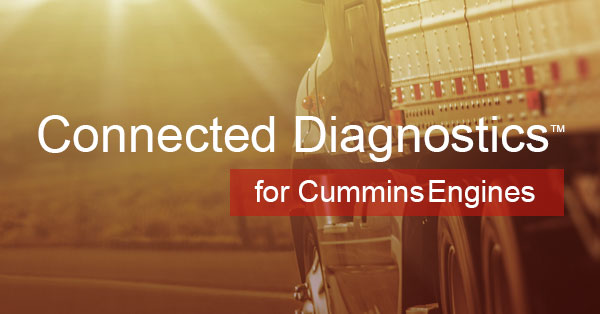 Delivering Immediate Recommendations for Engine Maintenance and Repair with Expert Guidance from Cummins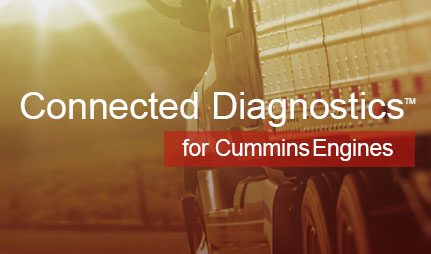 Seattle Wash., Aug 08, 2017 – Zonar, the leader in smart fleet management technology, and Cummins Inc. (NYSE: CMI), the leading independent manufacturer of diesel and natural gas engines, controls, and emission solutions are announcing the availability of Cummins Connected Diagnostics to customers using Zonar's smart fleet management solution, delivering critical information to operations managers that can help optimize the performance of their fleets.
By obtaining data through Zonar's V3™ telematics control unit, Cummins Connected Diagnostics wirelessly connects your engine to Cummins for immediate diagnosis of engine fault alerts. Using unique Cummins algorithms, Connected Diagnostics prioritizes engine fault information and translates it into clear, actionable recommendations that are immediately sent to operations managers. With this report, fleet managers can quickly intervene when service is needed immediately, or can proactively schedule a service event to prevent progressive damage to a vehicle.
"Offering even more of our customers access to Connected Diagnostics through Zonar's V3 device, we're able to deliver the information our customers need to avoid unexpected downtime and maintenance costs, as well as improve efficiencies across their operations," said Sherry Aaholm – Vice President and Chief Information Officer at Cummins.
"We believe that by offering the advantages of Connected Diagnostics through Zonar telematics, Cummins engine customers will be empowered with actionable data to proactively manage their engines and increase the uptime of their vehicles," said Larry Jordan, Chief Product Officer at Zonar. "We see a large opportunity to help more fleets maintain a high level of fleet performance and safety while on the road through our Cummins relationship."
Connected Diagnostics is available today on vehicles operating with Zonar's V3 solution. For existing Zonar customers Connected Diagnostics can be enabled with an easy over-the-air update. Contact Zonar at 1-877-843-3847, followed by #2 for pricing and details, or contact Cummins through your Cummins representative or Cummins Care at 1-800-CUMMINS™ (1-800-286-6467) in North America to enable the Connected Diagnostics product. To learn more, visit cumminsengines.com/connected-diagnostics or zonarsystems.com/cummins
About Zonar
Founded in 2001, Zonar has pioneered smart fleet management solutions throughout vocational, pupil, mass transit and commercial trucking industries. Zonar helps fleets of all sizes maximize the use of their assets with solutions dedicated to improving compliance, efficiency, maintenance, ridership visibility, safety and tracking. Cloud-based services with open API's drive Zonar's smart fleet solutions by making it easy for fleet owners and managers to stay connected to their fleets and drivers and operators to dispatch. Headquartered in Seattle and majority-owned by technology company Continental, Zonar also has a Technology Development Center in downtown Seattle, a regional office in Cincinnati, and a distribution center outside of Atlanta. For more information about Zonar, go to www.zonarsystems.com
About Cummins Inc.
Cummins Inc., a global power leader, is a corporation of complementary business units that design, manufacture, distribute and service diesel and natural gas engines and related technologies, including fuel systems, controls, air handling, filtration, emission solutions and electrical power generation systems. Headquartered in Columbus, Indiana, (USA) Cummins currently employs approximately 55,200 people worldwide and serves customers in approximately 190 countries and territories through a network of approximately 600 company-owned and independent distributor locations and approximately 7,200 dealer locations. Cummins earned $1.4 billion on sales of $19.1 billion in 2015. Press releases can be found on the Web at www.cummins.com. Follow Cummins on Twitter at www.twittter.com/cummins and on YouTube at www.youtube.com/cumminsinc.