Carriers using AOBRDs will have less than 18 months to transition from their current solution to an Electronic Logging Device (ELD).

Zonar checklist helps fleet managers easily navigate the transition from AOBRDs to ELD compliance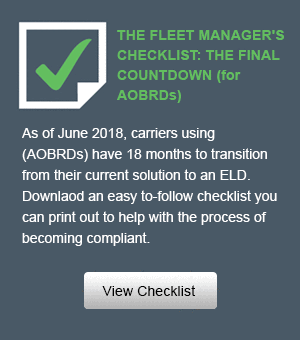 Seattle Wash. - June 25, 2018 - As of June 2018, carriers using Automatic On-board Recording Devices (AOBRDs) will have less than 18 months to transition from their current solution to an Electronic Logging Device (ELD). To help businesses during this period, Zonar – the leader in smart fleet management technology – developed an easy-to-use checklist for decision-makers responsible for getting fleets compliant with federal regulations. This guide outlines how carriers can find the best solution to fit their needs, avoid dealing with faulty products or services, and reach full compliance with the ELD mandate by December 17, 2019.
The ELD mandate was introduced by the Federal Motor Carrier Safety Administration (FMCSA) to help the commercial transportation industry increase safety for all drivers on the road through in-vehicle technology to easily log data such as hours of service. While many fleets are now using ELDs, some companies are still using AOBRDs for data collection – older versions of FMCSA-approved devices that will no longer be compliant next December.
"While 18 months may seem like plenty of time, some fleets are now finding their new ELDs or vendors aren't up to par.These mistakes can cost companies thousands of dollars – not just to replace devices but for potential fines and out-of-service violations caused by faulty solutions," says Fred Fakkema, vice president of compliance at Zonar. "Because we have nearly twenty years of experience in the industry and with support from Continental, we have a deep understanding and expertise on how to ensure fleets are compliant with regulations including the ELD mandate."
Businesses can print the downloadable guide here which includes:
A workback calendar in checklist form
Information fleet managers should collect from operators and stakeholders before vendor discovery
How to assess potential vendors and the questions decision-makers need to ask before purchase
Zonar creates technology solutions that collect and analyze data from a wide variety of vehicles including trucks, school buses, transit vehicles and construction equipment. This information empowers drivers and fleet managers with the data and analysis needed to better navigate any route and safely manage passengers and cargo.
About Zonar
Founded in 2001, Zonar has pioneered smart fleet management solutions throughout vocational, pupil, mass transit and commercial trucking industries. Zonar helps fleets of all sizes maximize the use of their assets with solutions dedicated to improving compliance, efficiency, maintenance, ridership visibility, safety and tracking. Cloud-based services with open API's drive Zonar's smart fleet solutions by making it easy for fleet owners and managers to stay connected to their fleets and drivers and operators to dispatch. Headquartered in Seattle and majority-owned by technology company Continental, Zonar also has a Technology Development Center in downtown Seattle, a regional office in Cincinnati, and a distribution center outside of Atlanta. For more information about Zonar, go to www.zonarsystems.com
Our History
2001: Zonar established.
2002: Grows to 11 employees.
2003: EVIR® patent awarded; First Student becomes customer.
2004: Approximately 30 First Student sites installed.
2006: Filed for Ground Traffic Control® patent.
2007: HQ moves to current building.
2008: 50 million verified visual inspections conducted in U.S.
2009: 100th employee hired.
2010: Introduced Z Pass™; Zonar featured on NBC's Today Show.
2011: Partnership with Daimler.
2012: V3™ and 2020® released.
2013: Virtual Technician wins Edison Award.
2014: Exceeds 300,000 subscribers.
2015: Announces DTNA strategic investment.
2016: Announces Continental's majority investment
2016: Launches Connect™ next gen tablet and software ecosystem
2017: Integrates with ContiPressureCheck™ tire sensors
2017: Introduces Zonar Coach™ an in-cab driver coaching solution
2018: Frost & Sullivan Company of the Year
2018: Puget Sound Business Journal Best Places to Work
2018: Launches Zonar Verify™
2018: Zonar Reseller Program announced