On average during the holiday season, there are approximately 36 percent more vehicles on the road. With higher traffic, changing weather conditions…
Zonar presents the most accident-heavy roads for operators to keep drivers safe during the holidays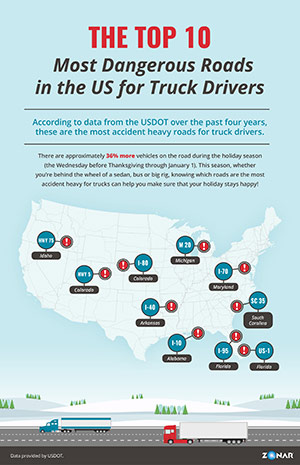 Seattle Wash. – November 14, 2017 - Just ahead of the holiday driving rush Zonar, the leader in smart fleet management technology, shared the top 10 most dangerous roads in the U.S. for truck drivers. On average during the holiday season, there are approximately 36 percent more vehicles on the road. With higher traffic, changing weather conditions and decreased sunlight due to Daylight Savings ending, truck drivers and anyone planning to get on the road this winter are at even more risk of getting into an accident.
"Look around any room and you'll find the majority of the things you see and use are there because of the approximately 3.5 million truck drivers on the road at any given time. With more people behind the wheel during the holidays, we want to make sure everyone knows which routes require a bit more caution driving through," says Gary Schmidt, vice president, business solutions at Zonar. "While we offer solutions that help fleets and vehicles improve their performance, stay compliant and increase efficiencies, our top priority when designing any product is to ensure that everyone on the road stays safe – whether you're a truck driver headed cross country or a family on a road trip to Thanksgiving dinner."
Zonar, which creates solutions that collects data from a wide variety of vehicles including trucks, school buses and construction equipment, provides drivers and managers with the information and analysis needed to better navigate any course and safely manage passengers and cargo. Knowing which stretches of road are the most dangerous for trucks (in terms of total accidents) can help operators and fleet managers potentially decrease their chances of getting into an accident and help keep other drivers safe – by adjusting their routes or schedules, varying driving times and loads, or increasing inspections and checkpoints. According to the US Department of Transportation, the top ten most dangerous roads for truck drivers based on total accident volume between 2013 -2016 are:
| | |
| --- | --- |
| Road | State |
| I-10 | Alabama |
| I-95 | Florida |
| HWY 75 | Idaho |
| I-40 | Arkansas |
| US-1 | Florida |
| M 20 | Michigan |
| I-80 | Colorado* |
| HWY 5 | Colorado |
| I-70 | Maryland |
| SC 35 | South Carolina |
Additional findings include:
The increased volume of drivers on the road during the holidays are comprised of private passenger cars (23%), delivery fleets (10%) and people-carrier traffic such as rented busses and shuttles (3%).
More than half the trucks involved in accidents were found to have at least one vehicle defect; 30 percent of these were found to be directly caused by equipment failure including brake, tire, light and transmission failure as well as vehicle overload.
Adverse weather caused 14.7 percent of accidents, with rain as the most common cause (72.6 percent) as well as fog (12.5 percent) and snow (10.12 percent)
For more details on the survey findings, see the infographic or contact Zonar. All data provided is based on US Department of Transportation findings.
*Reported accidents occurred on an off-ramp between Nebraska/Colorado state line.
About Zonar Founded in 2001, Zonar has pioneered smart fleet management solutions throughout vocational, pupil, mass transit and commercial trucking industries. Zonar helps fleets of all sizes maximize the use of their assets with solutions dedicated to improving compliance, efficiency, maintenance, ridership visibility, safety and tracking. Cloud-based services with open API's drive Zonar's smart fleet solutions by making it easy for fleet owners and managers to stay connected to their fleets and drivers and operators to dispatch. Headquartered in Seattle and majority-owned by technology company Continental, Zonar also has a Technology Development Center in downtown Seattle, a regional office in Cincinnati, and a distribution center outside of Atlanta. For more information about Zonar, go to www.zonarsystems.com