Zonar was recognized as one of Washington's Best Workplaces by the Puget Sound Business Journal (PSBJ) among other businesses with more than 250 employees.
Company receives accolades for its commitment to employee satisfaction and innovation achievements
Seattle - August 27, 2021 - Zonar, the leader in smart fleet technology, today announced it was recognized as one of Washington's Best Workplaces by the Puget Sound Business Journal (PSBJ) among other businesses with more than 250 employees. The award is based on an independent survey of employees across four size categories, who judge their workplace on several criteria and satisfaction scores. Companies were honored and celebrated during a virtual ceremony on August 26, 2021.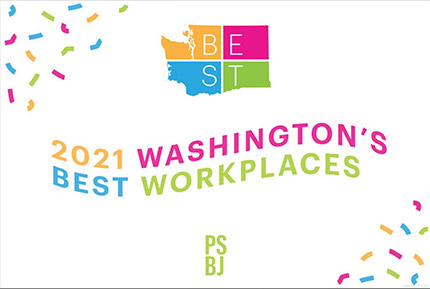 "I am proud of the resilience demonstrated by our team during the past year and our unwavering commitment to cultivating a supportive environment in which we foster collaboration and teamwork," said Paul Kemp, chief people officer at Zonar. "For two decades, the Zonar team has excelled in the industry as the critical link between customers and innovative technology, always maintaining the high level of service standards fleet managers, truck drivers and operators have come to expect from us."
This year, the company is celebrating 20 years of providing fleets and operators with unmatched solutions and services across a variety of industries, including vocational, transit, freight, and pupil transportation – an accomplishment owed in part to Zonar's exceptional workforce. Zonar was previously named to PSBJ's list in 2020 and 2018.
As the company continues to innovate across transportation industries, employees expressed pride in working with a brand that is laser focused on increasing safety on the road for everyone while improving efficiencies for customers and exceeding their expectations.
In 2021, Zonar has been recognized as an industry leader for remarkable work in customer service, artificial intelligence, and advanced transportation technology. So far this year the company has received accolades from the 2021 American Business Awards, Business Intelligence Group, and the American Best in Business program.
For more information about Zonar, including careers, visit: https://www.zonarsystems.com
About Zonar Founded in 2001, Zonar has pioneered smart fleet management solutions throughout vocational, pupil, mass transit and commercial trucking industries. Zonar's mission is to enhance the safety, performance, and success of our customers by transforming the delivery of innovative insights for commercial fleets around the world. Zonar achieves this by helping fleets of all sizes maximize the use of their assets with solutions dedicated to improving compliance, efficiency, maintenance, ridership visibility, safety and tracking. Cloud-based services with open APIs drive Zonar's smart fleet solutions by making it easy for fleet owners and managers to stay connected to their fleets and drivers and operators to dispatch. Headquartered in Seattle and part of the Continental family, Zonar also has a Technology Development Center in downtown Seattle, a regional office in Cincinnati, and a distribution center outside of Atlanta.