Zonar announced the availability of Zonar SightIQ™, a real-time analytics solution for construction aggregate operations.
Consolidation of all asset diagnostic and worksite metrics reveals areas to reduce cost-per-ton and drive uptime
SEATTLE, Wash. - March 15, 2022 - Zonar, the leader in smart fleet technology, today announced the availability of Zonar SightIQ™, a real-time analytics solution for construction aggregate operations. The asset productivity and health solution increases the efficiency and cycle times in pits and quarries by delivering a real-time, consolidated view of - and insights into - an operation's equipment, machines and vehicles regardless of make, model, year, manufacturer or asset location.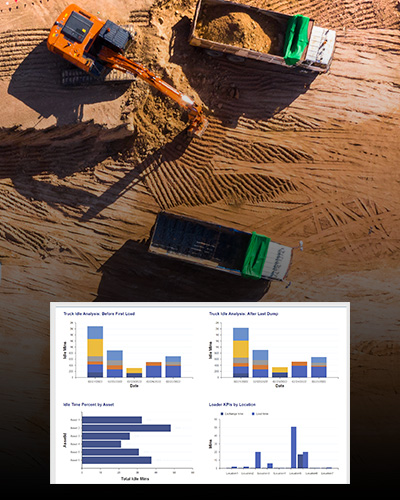 With SightIQ, construction aggregate site operators eliminate the need to manually collect and analyze data from disparate sources and time-consuming production impact studies. In return, operators can focus on unearthing enhanced profits by leveraging SightIQ insights to avoid costly breakdowns and fine-tune site processes. For example, SightIQ-driven insights can identify unnecessary idle time, inefficient use of fuel, or non-optimal timing of maintenance across assets which is considerably costly for heavy-duty fleets. Even a 58-second longer cycle time can cost quarry fleets over $180,000 in lost productivity per day. Additionally, SightIQ meets the Association of Equipment Manufacturers (AEMP) 2.0 telematics standard, pulling asset data from all major yellow-iron OEMs into a singular unified view accessible through Zonar Ground Traffic Control®.
"The future of construction-aggregate site operations is in leveraging not only more but better data and technology for improving the speed of business, growth of production while ensuring best practice safety and environmental conditions are met," said Nick Grandy, general manager of vocational and industrial services at Zonar. "It is imperative and extremely impactful for customers with these types of fleets to have the real-time, detailed performance data, trending and automated, custom reporting which SightIQ delivers."
The SightIQ asset productivity and health solution is scalable and powered by VizaLogix, a data stream and remote support software solutions provider. At launch, SightIQ includes the following solutions with additional asset productivity and health offerings forthcoming:
SightIQ Predict – Collects diagnostic information and OEM data from all assets within a fleet at multiple work sites in one continuous data stream, providing predictive and preventative maintenance guidance with asset health scoring, which can easily be leveraged to improve asset uptime.
SightIQ Optimize – Connects previously manually captured production study data with telematics and OEM data streams from all fleet assets to help increase productivity by reducing the cost-per-ton of aggregate while saving time and money with reporting on operator management, idle times, and fuel efficiency.
"Given how much this new, very easy to use, platform is capable of, we're excited to partner with Zonar to instantly drive down costly worksite inefficiencies resulting in a dramatic uptick in profitability for Zonar vocational fleet customers," said Shawn Bonnington, chief revenue officer at VizaLogix. "Everyone wants to get more done in less time and having instant and holistic operational metrics at their fingertips, the ability to make immediate corrections expedite productions."
For more information about SightIQ, please visit https://www.zonarsystems.com/solutions/site-optimization/
About Vizalogix Founded in 2021 from the successful merger of SiteVantage and Tethr It, Vizalogix is an augmented reality and artificial intelligence SaaS company providing a single integrated platform solution that combines data from multiple sources that previously existed only in siloed offerings. The company's proprietary software collects telematics, diagnostics, electronic inspection, fluid analysis and aggregated data from machine sensors in one continuous data stream, then analyzes and configures the data to create predictive analytics that increase site productivity, operational efficiency, and equipment & asset up-time, along with generating insights for leadership around margin control & profitability. Three software products headline the Vizalogix line up. Vantage Point is a site productivity solution that offers real time production studies on your desktop. 3602 simplifies the headache of fleet managers having to log in to multiple OEM telematic solutions by aggregating all the data into one single sign on. 3602 also produces a health maintenance score for all assets in your fleet. Tethr it is a real-time, video-calling platform that connects experts with users to troubleshoot technical problems. It's a time-saving tool for maintenance and training mangers. It also digitizes and analyzes conversations to identify patterns on a dashboard using natural language processing (NLP) algorithms which allow customers to continuously learn from recorded conversations.
About Zonar Founded in 2001, Zonar has pioneered smart fleet management solutions throughout vocational, pupil, mass transit and commercial trucking industries. Zonar's mission is to enhance the safety, performance, and success of our customers by transforming the delivery of innovative insights for commercial fleets around the world. Zonar achieves this by helping fleets of all sizes maximize the use of their assets with solutions dedicated to improving compliance, efficiency, maintenance, ridership visibility, safety, and tracking. Cloud-based services with open APIs drive Zonar's smart fleet solutions by making it easy for fleet owners and managers to stay connected to their fleets and drivers and operators to dispatch. Headquartered in Seattle and part of the Continental family, Zonar also has a Technology Development Center in downtown Seattle and a distribution center outside of Atlanta.