Zonar announced the availability of its Light Duty Transmission Control Unit (TCU), built in conjunction with its parent company Continental, a leading connectivity solution provider.
New plug-and-play telematics control unit designed to monitor light-duty vehicles with ease and precision.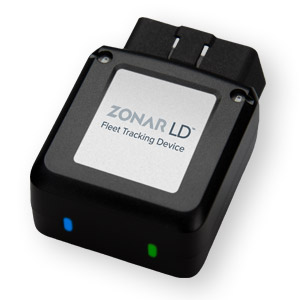 SEATTLE, Wash. - December 21, 2021 - Zonar, the leader in smart fleet technology, today announced the availability of its Light-Duty Telematics Control Unit (TCU), built in conjunction with its parent company Continental, a leading connectivity solution provider. The Zonar LD™ TCU is designed to meet the evolving needs of light-duty vehicles within fleets, including access to detailed vehicle telematics data and diagnostics to improve performance, efficiency, and security.
Light-duty vehicles make up over 60 percent of today's vocational fleets, and many school districts and transit services rely on light-duty vehicles such as passenger vans to transport riders safely and reliably. The LD TCU provides these fleets with a simple plug and play telematics solution for their light duty vehicles, providing the same essential Zonar Ground Traffic Control® reporting as the Zonar V4 telematics device designed for light-duty, heavy-duty and off-highway vehicles.
Data collected by the LD TCU is compressed, encrypted, and transmitted to Zonar data centers over a private VPN. This high-resolution path data allows users to see the location of every one of their vehicles, with an exact record of every action performed, during every trip.
Additionally, last mile delivery is responsible for more than 50% of supply chain distribution costs. COVID-19 has accelerated the demand of the Zonar LD TCU to support retail, grocery, and package deliveries to homes. As fleets experience significant labor shortages, last mile delivery operations are looking for ways to optimize their operations through telematics solutions that help them with the following:
Uncover hidden costs and fuel inefficiencies by looking at speed, distance, path and idling. Ground Traffic Control provides fleet managers with advanced analytics through a cloud-based web platform, supporting all major mobile devices and computers.
Track each of their light-duty vehicles' locations and activities in real time. The LD TCU uses advanced GNSS positioning technology (GPS, GLONASS, Galileo and BeiDou satellites).
Maintain optimal vehicle health to improve safety and compliance for the entire fleet. The LD TCU is a small handheld device that plugs directly into the vehicle's OBD2 port for full access to diagnostics data.
Enhance scheduling and security by tracking when vehicles arrive and leave, and how often they're late—or on time.
"With the Zonar LD TCU, we are providing a plug and play, cloud-powered, end-to-end telematics solution for fleets with light-duty vehicles," said Will Cousins, vice president of product management at Zonar. "Pickups, cars, vans, minivans, SUVs: if they're part of your fleet, they need to be tracked and monitored. And when fleets combine the LD TCU with our other mobile solutions such as EVIR® Mobile and Zonar Coach™, they can extend their safety and compliance strategies without hardwired technologies and installation downtime."
For more information on the Zonar Light Duty Dongle please visit: https://www.zonarsystems.com/zonarld
About Zonar Founded in 2001, Zonar has pioneered smart fleet management solutions throughout vocational, pupil, mass transit and commercial trucking industries. Zonar's mission is to enhance the safety, performance, and success of our customers by transforming the delivery of innovative insights for commercial fleets around the world. Zonar achieves this by helping fleets of all sizes maximize the use of their assets with solutions dedicated to improving compliance, efficiency, maintenance, ridership visibility, safety and tracking. Cloud-based services with open APIs drive Zonar's smart fleet solutions by making it easy for fleet owners and managers to stay connected to their fleets and drivers and operators to dispatch. Headquartered in Seattle and part of the Continental family, Zonar also has a Technology Development Center in downtown Seattle and a distribution center outside of Atlanta.