Zonar today announced a program enabling technology solution providers to sell Zonar solutions to businesses and schools. Authorized resellers will be able to sell and support Zonar solutions.

Partnerships to focus on enablement programs and support for increasing smart fleet safety, efficiency and compliance initiatives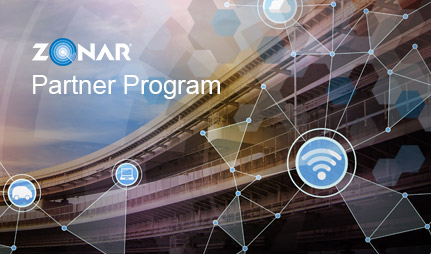 Seattle Wash. - July 31, 2018 - Zonar, the leader in smart fleet management technology, today announced a program enabling technology solution providers to sell Zonar solutions to businesses and schools. Authorized resellers will be able to sell and support Zonar solutions for customers of all sizes, creating new revenue opportunities for partners and easier access to Zonar smart fleet offerings for more businesses.
"The introduction of Zonar's reseller program is part of our ongoing commitment to the channel and helps our partners grow their business and expand their reach into other verticals," said Gary Schmidt, vice president of business solutions at Zonar. "Our channel partners are instrumental to our company's growth and the Zonar reseller program will ensure everything we do – from the development of our products and solutions to our sales, support and marketing frameworks – supports them."
Zonar will provide resellers with training, support, and tools for sales and marketing, as well as access to tools for integrating Zonar solutions into their customers' business operations. Resellers can bill their customers directly, enabling them to retain a close relationship with customers. Resellers can also bundle additional services and support with Zonar's industry-leading smart fleet management solutions. Zonar will provide resellers with subject matter experts for any customer-specific business and technical requirements.
Zonar is rolling out the program to pilot partners across North America.
"The program also will expand opportunities for Zonar partners that do not offer fleet management technology today," added Schmidt. "As resellers join the program, Zonar will extend its reach into the markets it serves and the resellers will gain entry into Zonar's market differentiation – if you take into consideration the pace of innovation, the collaboration tools, and customer support – which is not available anywhere else."
Authorized Zonar reseller benefits include:
A partner portal with a rich set of business, sales and marketing and technical information including features supporting simplified partner onboarding, deal registration, pipeline management, and channel team collaboration
Sales training, technical training, and customer marketing materials and in the future a Zonar University Certificate Program
Reseller tools for setting up customers, provisioning end users and management of devices
Zonar-integrated complementary and proprietary products and services
Tiered service-level options to include, sales, training, support and subject matter expert assistance needed to ensure a full-service customer journey
Data integration capabilities
Access to additional sales and marketing benefits such as partner exclusive events and partner level badges for partnership promotion
The Zonar reseller program is now open for applications from interested companies. Potential resellers will be evaluated based on relevant experience and credit worthiness, and can learn more and apply at www.zonarsystems.com/partnerprogram. Applications are encouraged from companies with business models built around providing value-added services and solutions.
About Zonar Founded in 2001, Zonar has pioneered smart fleet management solutions throughout vocational, pupil, mass transit and commercial trucking industries. Zonar helps fleets of all sizes maximize the use of their assets with solutions dedicated to improving compliance, efficiency, maintenance, ridership visibility, safety and tracking. Cloud-based services with open API's drive Zonar's smart fleet solutions by making it easy for fleet owners and managers to stay connected to their fleets and drivers and operators to dispatch. Headquartered in Seattle and majority-owned by technology company Continental, Zonar also has a Technology Development Center in downtown Seattle, a regional office in Cincinnati, and a distribution center outside of Atlanta. For more information about Zonar, go to www.zonarsystems.com
Our History
2001: Zonar established.
2002: Grows to 11 employees.
2003: EVIR® patent awarded; First Student becomes customer.
2004: Approximately 30 First Student sites installed.
2006: Filed for Ground Traffic Control® patent.
2007: HQ moves to current building.
2008: 50 million verified visual inspections conducted in U.S.
2009: 100th employee hired.
2010: Introduced Z Pass™; Zonar featured on NBC's Today Show.
2011: Partnership with Daimler.
2012: V3™ and 2020® released.
2013: Virtual Technician wins Edison Award.
2014: Exceeds 300,000 subscribers.
2015: Announces DTNA strategic investment.
2016: Announces Continental's majority investment
2016: Launches Connect™ next gen tablet and software ecosystem
2017: Integrates with ContiPressureCheck™ tire sensors
2017: Introduces Zonar Coach™ an in-cab driver coaching solution
2018: Frost & Sullivan Company of the Year
2018: Puget Sound Business Journal Best Places to Work
2018: Launches Zonar Verify™
2018: Zonar Reseller Program announced