Zonar received third party certification from Transport Canada's accreditation body, COMDriver, for use by Canadian fleets and federally regulated carriers crossing the U.S. and Canada border.
Zonar Logs certified by Transport Canada's accreditation body, COMDriver
SEATTLE, Wash. - June 28, 2022 - Zonar, the leading provider of smart fleet solutions, announced today that its Electronic Logging Device (ELD) solution, Zonar Logs™, received third party certification from Transport Canada's accreditation body, COMDriver, for use by Canadian fleets and federally regulated carriers crossing the U.S. and Canada border. For fleets that travel across the U.S.-Canada border, full enforcement of the Canadian ELD mandate begins on January 1, 2023.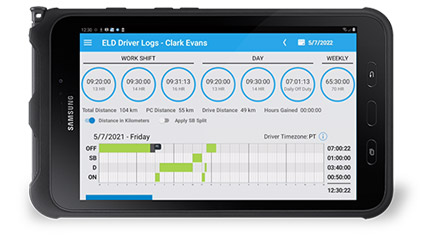 In addition to receiving certification, Zonar Logs also meets the Canadian ELD Hours of Service (HOS) requirement for fleets to switch from using paper logbooks to track HOS to ELDs. Zonar Logs makes adoption and use simple for drivers by providing automated status updates based on vehicle data and alerts when approaching a violation. Zonar Logs also helps fleet managers monitor a driver's live status, real-time location and avoid violations. The rigorous testing was completed over a several-week period.
"Zonar has worked with Transport Canada, the Canadian Trucking Alliance, and CCMTA on certification since the inception of Canada's ELD mandate by providing input on ELD standards throughout the process," said Fred Fakkema, vice president of compliance at Zonar. "With more than 30 percent of U.S.-based freight companies conducting business in Canada, we feel that we're best equipped to set our customers up for a successful transition and ensure compliance."
Key Compliance Features of Zonar Logs:
Third Party Certification checks all the boxes from Transport Canada and the Federal Motor Carrier Safety Administration for certified use by federally regulated carriers in the U.S. and Canada.
Compliance Insights provide managers with key driver data such as live status reports, availability, performance, and hours of service.
Automated Regulation Updates ensure that as regulations evolve, drivers and fleet managers avoid violations and stay compliant.
Zonar's Dedicated Team of Experts make HOS compliance easier for drivers, managers, and law enforcement by providing around-the-clock support as well as educational resources.
"By now, fleets should know whether or not their ELD vendors are certified and that they understand the difference in requirements for HOS," said Fakkema. "Zonar conducts regular webinars and training programs to help fleets understand the differences between the U.S. and Canadian mandates, know which exemptions apply to their fleet, and develop a law-enforcement checklist to guide drivers through roadside inspections."
Begin Your ELD Transformation Today
To learn more about Zonar Logs and the Canadian ELD mandate, visit our website to view our ELD resource guide or contact a member of our safety and compliance team.
About Zonar Founded in 2001, Zonar has pioneered smart fleet management solutions throughout vocational, pupil, mass transit and commercial trucking industries. Zonar's mission is to enhance the safety, performance, and success of our customers by transforming the delivery of innovative insights for commercial fleets around the world. Zonar achieves this by helping fleets of all sizes maximize the use of their assets with solutions dedicated to improving compliance, efficiency, maintenance, ridership visibility, safety, and tracking. Cloud-based services with open APIs drive Zonar's smart fleet solutions by making it easy for fleet owners and managers to stay connected to their fleets and drivers and operators to dispatch. Headquartered in Seattle and majority-owned by technology company Continental, Zonar also has a Technology Development Center in downtown Seattle, a regional office in Cincinnati, and a distribution center outside of Atlanta.