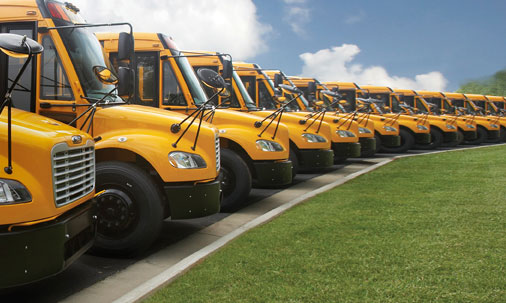 Smart Fleet Technology Hardware Grants for up to $50,000 Available for Improving Bus Transportation Safety, Security, and Efficiency
Seattle Wash. – June 14, 2016 – Zonar, and National School Transportation Association (NSTA) announced today the 2016 Don Carnahan Memorial Grant program for school bus contractors. The grant program is designed to support and promote the improved safety and efficiency of pupil transportation programs in the U.S. and Canada. Up to $50,000 of the latest bus safety, security, and efficiency technology hardware is awarded to grant recipients.
Applications will be accepted through December 16, 2016. This year's recipients will be awarded on a rolling basis and formally announced at NSTA's midwinter meeting.
The grant opportunity has been made available annually to eligible NSTA members since 2011. It enables more school districts in the U.S. and Canada access to Zonar's industry-leading smart fleet technologies with inspection, tracking, and reporting capabilities that will empower school districts to manage their bus fleet operations more effectively.
"We are excited to partner again with Zonar on this grant opportunity and are pleased that this opportunity helps another one of our contractor members become safer and more efficient," said Ronna Weber, NSTA Executive Director. "This opportunity affords members access to valuable tools to improve operations and keep them at the forefront of the industry's best practices."
"We understand NSTA members want to provide the schools that they serve with leading-edge technology with the potential to significantly improve student safety and reduced business costs," said H. Kevin Mest, senior vice president of business development, Zonar Systems. "Zonar is committed to delivering smart transportation technology to achieve safety initiatives in student transportation, and we are proud to offer this grant program for the sixth consecutive year to help NSTA members meet this goal."
For more information on the Don Carnahan Memorial Grant or to submit an application, visit http://www.yellowbuses.org/awards-and-grants/grants/zonar-grant/
About Zonar
Founded 15 years ago, Zonar has pioneered smart fleet management technology by providing innovative technology that has changed fleet operations in the vocational, pupil, transit and commercial trucking industries. With a unique focus on this field, the Company offers a complete suite of solutions and specialized platforms for our customers in multiple markets. Our patented, award-winning technology keeps fleet owners and managers connected to their fleets and drivers to dispatchers. Headquartered in Seattle, Zonar also has a Technology Development Center in downtown Seattle, an office in Cincinnati, and a distribution center outside of Atlanta. For more information about Zonar Systems, go to www.zonarsystems.com
About NSTA
NSTA is the leading advocate for the private school bus industry in the United States and Canada. The association engages with policy makers, regulators and school transportation officials making school bus operations safe, affordable and efficient. Offices are at 122 South Royal Street, Alexandria, VA 22314. Phone: 703-684-3200. Fax: 703-684-3212.Visit us at www.yellowbuses.org