Zonar has been named a Top Company for Women to Work for in Transportation by the Women in Trucking Association (WIT).
Zonar prioritizes commitment to the recruitment, success, and career longevity of women in the trucking industry
SEATTLE, Wash. – November 14, 2022 - Zonar, the leader in smart mobility solutions, today announced it has been named a Top Company for Women to Work for in Transportation by the Women in Trucking Association (WIT). The recognition demonstrates Zonar's commitment to developing a corporate culture that fosters gender diversity, provides competitive compensation and benefits, and champions professional development opportunities and career advancement for women in the industry. This is the second consecutive year that Zonar has been recognized.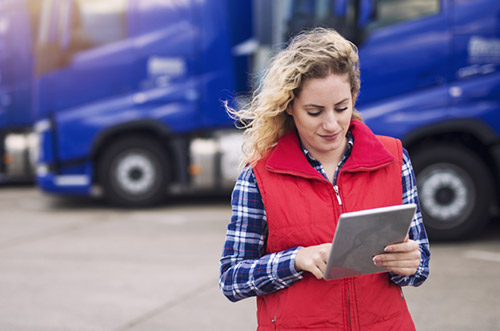 The annual WIT award honors companies that are focused on attracting and retaining women in the trucking industry, while also demonstrating a commitment to continually improving their work environments.
"We're honored to be recognized as a Top Company for Women to Work for in Transportation and continue our close partnership with the Women in Trucking Association," said Jill Snyder, director of safety and compliance at Zonar. "In this traditionally male-dominated field, a company's biggest strengths lie within its ability to encourage diversity and empower women to achieve their career goals. Receiving this award for the second year in a row demonstrates our commitment to our employees."
Through the award, Zonar is recognized for its:
Corporate culture supportive of gender diversity
Flexible hours and work requirements
Competitive compensation
Quality benefits package (i.e., paid maternity leave)
Continued education and development support, including career advancement opportunities
Well-maintained and safe equipment and facilities
Reinforcing its commitment to diversity, Zonar has a women's networking group, A.S.P.I.R.E, which aims to promote professional growth, mentorship and recruiting more women in STEM professions. Zonar has dedicated talent efforts toward promoting women to senior roles across departments – including product, human resources, marketing and finance.
Zonar's award selection was validated by an industry-wide vote involving more than 22,000 professionals in transportation. Visit womenintrucking.org for more information and a full list of winners.
Zonar will be recognized at the WIT Accelerate! Conference and Expo November 13-14 in Dallas, TX where Snyder will speak on safety culture for women in the industry in the "Safety Matters: Corporate Culture, Operations, and More" panel discussion.
About Zonar Founded in 2001, Zonar has pioneered smart fleet management solutions throughout vocational, pupil, mass transit and commercial trucking industries. Zonar's mission is to enhance the safety, performance, and success of our customers by transforming the delivery of innovative insights for commercial fleets around the world. Zonar achieves this by helping fleets of all sizes maximize the use of their assets with solutions dedicated to improving compliance, efficiency, maintenance, ridership visibility, safety and tracking. Cloud-based services with open APIs drive Zonar's smart fleet solutions by making it easy for fleet owners and managers to stay connected to their fleets and drivers and operators to dispatch. Headquartered in Seattle and part of the Continental family, Zonar also has a Technology Development Center in downtown Seattle and a distribution center outside of Atlanta.